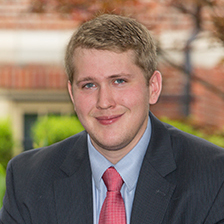 A Florida State University psychology major studying the causes of suicide, particularly in the military community, has been named a 2015 Truman Scholar, a prestigious national award given to college juniors who seek to improve their communities through public service.
Daniel Hubbard, 27, a junior from Tallahassee who spent five years as an Army medic before enrolling at Florida State, is among this year's class of 58 Truman Scholars and the only one from Florida. He was selected from a pool of 688 candidates nominated by 297 colleges and universities.
"Daniel's academic, personal and professional journeys have all converged in a manner that makes him an ideal recipient of the Truman Scholarship," said Craig Filar, director of the FSU Office of National Fellowships. "His dedication and determination to improve the quality of services available to all members of our military illustrate the characteristics of service, leadership and scholarship that define a Truman Scholar."
Hubbard's capacity for compassion and his sharp intellectual acumen, Filar said, will allow him to become a leader and a scholar in the field of military suicide prevention.
Through the scholarship, Hubbard will have opportunities to participate in professional development programming in preparation for a career in public service leadership and receive $30,000 to study at the graduate school of his choice.
"I hope to attend the clinical psychology program here at Florida State because, in recent years, it has led the way in suicide research and social psychological research and it is considered by many to be one of the leading clinical psychology schools in the nation," Hubbard said.
This year's Truman Scholars will receive their awards in a ceremony Sunday, May 24, at the Harry S. Truman Presidential Library and Museum in Independence, Mo.
FSU President John Thrasher commended Hubbard for his military service and the importance of his research.
"It's a prestigious award and to have someone at Florida State University receive it is an incredible honor," Thrasher said. "This is a recognition that this young man has stood out among his peers from all over the country. It is a great recognition for Daniel and the work he has done."
Since coming to Florida State as a junior transfer student in summer 2014, Hubbard has used his undergraduate experience to learn the basics of psychology, sociology and how to conduct research to set the stage for graduate school. His goal? A doctoral degree in clinical psychology focused on understanding suicide, particularly in the military community.
"I think that for most people who have lost a friend or family member to suicide, the largest unanswered question we have is 'Why?'" Hubbard said. "I ask this question, too. But after delving into literature on military suicide, I have changed it to 'How can I help those, particularly soldiers, suffering from thoughts of suicide in the future?' I care about this population, and I want to be a part of the discussion that ameliorates this issue over the coming years."
Last fall, Hubbard worked as a research assistant in the laboratory of Thomas Joiner, Florida State's Bright-Burton Professor of Psychology and one of the nation's leading experts on suicide. He was assigned to assist one of Joiner's graduate students who conducted an experimental study observing the effects of a pharmaceutical and a behavior intervention on a known suicide risk factor.
"Working with the Joiner Lab has given me the opportunity to immerse myself in literature relating to suicide," Hubbard said. "With the assistance of Bruno Chiurliza, my understanding of the interpersonal Theory of Suicide has developed enough to begin exploring the questions that I have. While my experience with this lab has been exceptional to this point, I look forward to continuing my involvement to increase my understanding of this theory and how it applies to the military population."
In preparing to make a presentation on the study at Florida State's Spring Undergraduate Research Symposium, Hubbard conducted an intensive review of the body of literature that served as a basis for this study and, in so doing, developed a profound understanding of it, according to Joiner.
"What impressed me most about Daniel was his eagerness to learn, ask questions and be actively involved in research," Joiner said.
Hubbard's intellectual curiosity became evident during his deployment as a junior medic with the Army's 3-71 Cavalry Squadron, 3rd Brigade, 10th Mountain Division at an austere forward operating base in Afghanistan in 2008 and 2009, Because of his self-starting initiative, Hubbard quickly revealed his innate leadership qualities and transformed himself into the go-to guy among his fellow medics.
Army Maj. Kirk Liesemer, a pediatric cardiologist with the Madigan Army Medical Center who served with Hubbard from late 2008 through 2009 in Afghanistan as part of Operation Enduring Freedom, characterized Hubbard as the best medic he had ever seen in 14 years of medical practice.
"He independently read about and researched his patients' diagnoses and therapies and, after just a couple of months, all the medics began asking him for his opinion or assistance, even those who outranked him," said Liesemer in a letter supporting Hubbard's nomination. "Remarkably, by the end of our deployment, Daniel's medical knowledge and judgment were on par with that of a resident physician."
In addition to his academic work at Florida State, Hubbard is a volunteer with Legal Services of North Florida, responsible for assisting clients and recruiting other student volunteers.
Monique Richardson, senior attorney with Legal Services of North Florida, praised Hubbard's medical and military background as the basis for his special insight in relating to clients who are veterans.
"It is clear that Daniel has a passion for helping underserved, whether low income, military veterans or clients who are experiencing homelessness," said Richardson in a letter supporting Hubbard's nomination. "He is resourceful and will continue hunting for a solution until the problem is solved."
After attending the 2016 Truman Scholarship Summer Institute, Hubbard intends to continue his community involvement by joining Rotoract and volunteering with the Advocates for Veterans Housing and 2-1-1 Big Bend.
The mission of the Harry S. Truman Scholarship Foundation is to select and support the next generation of public service leaders.