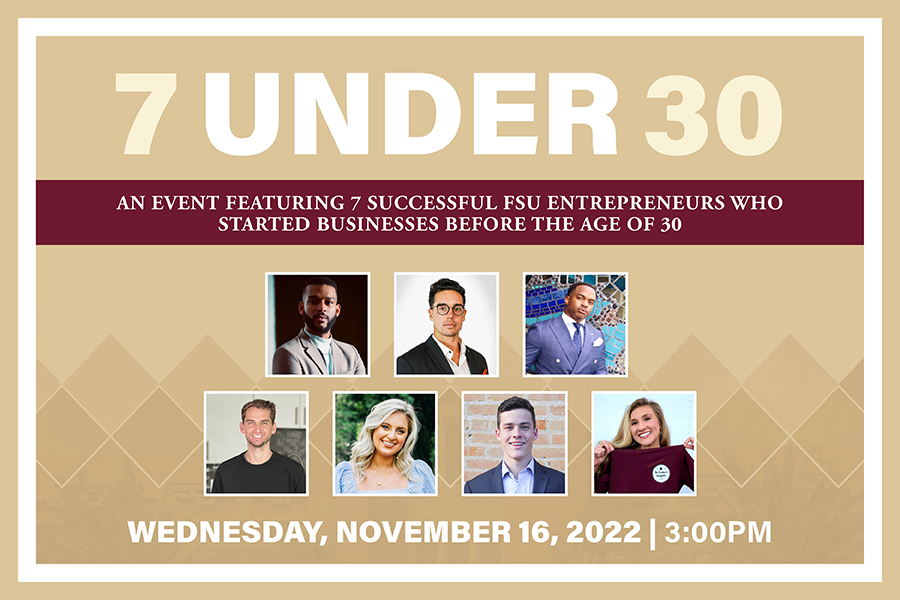 One alumnus is chief executive of a company that guarantees clients "a custom, profitable and fully automated client-acquisition system" within three days.
Another is CEO of a modern creative agency and production company that aims "to help visionaries deliver value."
Still another is owner of a custom clothing company that aims to turn every customer into "a walking masterpiece."
And they're just a sample of Florida State University graduates who will speak Wednesday, Nov. 16, at the Jim Moran College of Entrepreneurship's 11th annual "7 Under 30" event.
The event honors FSU alumni who are making it as entrepreneurs after starting their businesses before they turned 30. The presentations begin at 3 p.m. Wednesday at the Jim Moran Building. Get the details here.
"It's always such a special time to highlight our successful students who have graduated and to hear about all they have done," said Susan Fiorito, dean of the Jim Moran College of Entrepreneurship. "Our students get a huge charge out of that. They get excited, and they get motivated because they can picture, 'Those people were in my seat, and now look at all the fabulous things they're doing.'"
Fiorito noted that the "7 Under 30" honorees hail from various disciplines at FSU and have created and innovated in multiple industries.
The Jim Moran College is spotlighting the event in conjunction with Techstars Startup Week Tallahassee, which continues through Friday with speakers and events that celebrate the spirit of entrepreneurship.
Startup Week events include Charlie Ward, who won a Heisman Trophy and led the FSU football team to a national championship before playing 11 seasons in the National Basketball Association. Ward will be keynote speaker for an event at 5:30 p.m. Tuesday.
See the full schedule of events here.
"Tallahassee offers so many valuable organizations that can help entrepreneurs," Fiorito said. "We've been teaching entrepreneurship at Florida State University since 2008, and we're just one part of it. We need to let everybody know all the opportunities in Tallahassee for inspiring, supporting and building entrepreneurship."
Here's a look at this year's "7 Under 30" honorees:
---
Ravi Abuvala
Miami, FL
CEO, Scaling With Systems
B.S. Political Science, B.S. International Affairs (2016)
Organizations:  Phi Delta Theta, Business Case Competition, Honors Student
DuBois A'Keen
New York, NY
CEO, A'Keen Brand, LLC
B.F.A. Dance, Choreography & Performance; M.S. Entrepreneurship, Social & Sustainable Enterprises (2022)
Organizations:  Black Student Union, Tutor for the Center for Intensive English Studies
Array Culmir
Jacksonville, FL
Owner, Arraé Culmir Custom Clothing
B.S. Management & Marketing (2018)
Organization:  FSU Football Team 2015 – 2018
Sean Hall
Oviedo, FL
Founder & CEO, Wellious
B.S. Hospitality Management (2014)
Lauren Seymour
Tallahassee, FL
Co-Founder, Lobo's Boutique
B.S. Entrepreneurship (2019)
Organizations:  American Association of Textile Chemists and Colorists (AATCC), Phi Sigma Theta
John Wilcox
Atlanta, GA
CEO, Diatech Diabetes, Inc.
B.S. Biological Science (2018)
Organizations:  Service Scholars, Beta Theta Pi, Undergraduate Research Opportunities Program (UROP), Honors Program, American Medical Student Association, Member of Garnet and Gold Key, Power of We Co-Founding Member
Rosalyn Wilsey
Tallahassee, FL
Owner & Founder, The Frother's Daughter
B.S. Marketing (2019)
Organizations:  Executive Board Member of The American Marketing Association, Writer for the National Collegiate Online Platform, FSU HerCampus, Executive Board member of Autism Speaks, Member of Women in Business, FSU Advertising Club