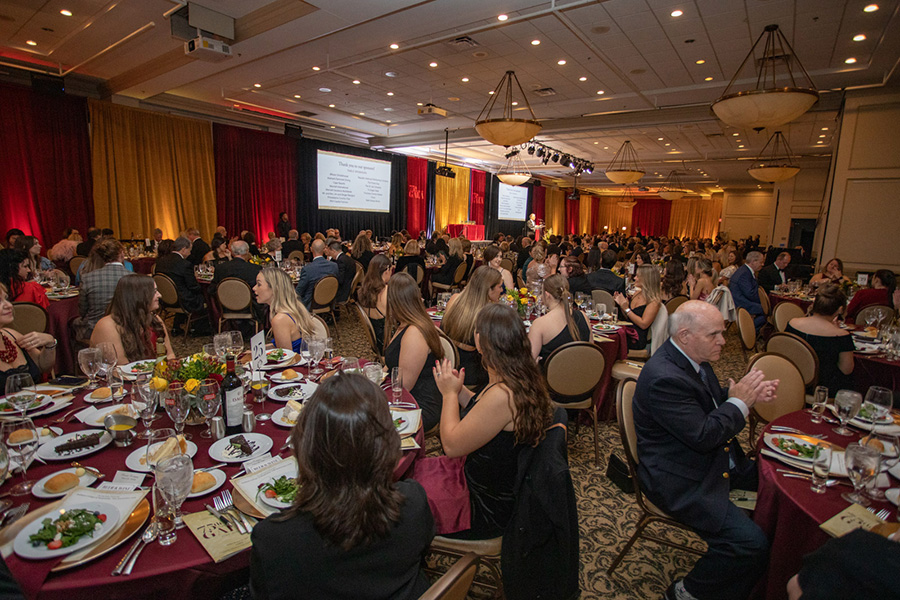 About 300 alumni, faculty and staff gathered recently as the Dedman College of Hospitality at Florida State University celebrated its 75th anniversary.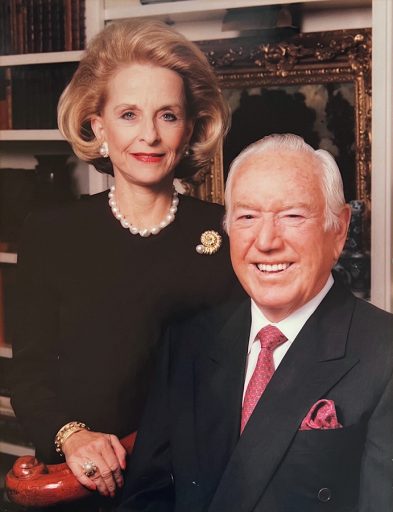 The event took place at the Dunlap Champions Club and included presentations of the 2022 scholarship recipients, Emerging Professional awards and the inaugural induction into the newly established Hall of Fame.
Formerly known as the Alumnus of The Year, the Hall of Fame celebrates individuals who embody the qualities that make the Dedman College of Hospitality an unparalleled place to learn. Inductees have excelled in their careers and have made significant contributions to the college's mission.
Sponsored by Legends Hospitality, the event also raised more than $41,000 through a silent auction that will fund Dedman's student scholarship fund.
Three alumni were selected for the 2022 Emerging Professional Award, which recognizes Dedman alumni who have graduated in the past 10 years and have shown outstanding professional growth and a commitment to the hospitality industry.
Those honorees are:
Matt Cahill ('13) graduated with majors in professional golf management and finance. He began his career at Oakmont Country Club in Oakmont, Pa., and soon became an assistant golf professional at The Kittansett Club in Marion, Mass., where he worked for just over a year before being recruited to Seminole Golf Club in Juno Beach, Fla. In 2021, Cahill was promoted from assistant golf professional to head golf professional at the prestigious club, which consistently ranks amongst the top golf courses in the nation.
Alyssa Nelson ('14) earned a degree in hospitality management along with minors in business and entrepreneurship. She entered the hotel industry as a sales and marketing coordinator with Four Seasons Hotel Miami, where she worked for two years before accepting a position as events and sales manager at Zuma Restaurants. In 2018, Nelson leveraged her experience and moved to the banking industry. She began working with JPMorgan Chase as an event management associate and has since earned the title of vice president and manager for the company's Southeast regional client centers.
Olivia Weston ('13) majored in hospitality management. She worked as a server at Waffle House while she was a student. Upon graduating, she entered the Waffle House management program and became a unit manager. In the years following, she has been promoted to district manager, division manager and now regional vice president in the company. Weston is responsible for 26 restaurants in three states, with 35 managers and well over 400 associates working under her direction.
Previous recipients of the Alumnus of the Year were inducted into the Hall of Fame. Of the 28 past awardees, 12 inductees were in attendance: Jim Riscigno (1995), Ken Creely (1997), Chris Borders (2001), Jeff O'Hara (2004), Bill Wagner (2005), Cyd Bougae (2006), Anne Hamilton (2008), Joe Douglas (2010), Carol Dover (2012), Janine Budzius (2017), Brian Ford (2018) and Tony Leung (2020).
Nancy and Robert H. Dedman Sr. were announced as the 2022 Hall of Fame inductees. Dedman Sr., who passed away in 2002, was the founder of Dallas-based ClubCorp, a leading operator of golf courses, private clubs and resorts. His ambition for success was clear early on in life. At just 18, he set a goal to make $50 million by age 50 and give $1 million a year to charity. Dedman would end up going above and beyond this goal.
In 1999, the Dedman Foundation donated $7 million, later matched by the State of Florida, to the department of hospitality administration and to establish the Dedman Endowment in Hospitality at Florida State University. In 2001, the department became the Dedman School of Hospitality.
"The Dedmans' support has been instrumental in the college's success," said Don Farr, dean of the Dedman College of Hospitality. "Their generosity provides resources needed for us to continuously improve the quality of education. Thanks to Nancy and Robert, we are a Top 5 hospitality and tourism program in the nation."
ClubCorp also contributed $1.5 million toward the completion of the University Center and to establish the University Center Club.