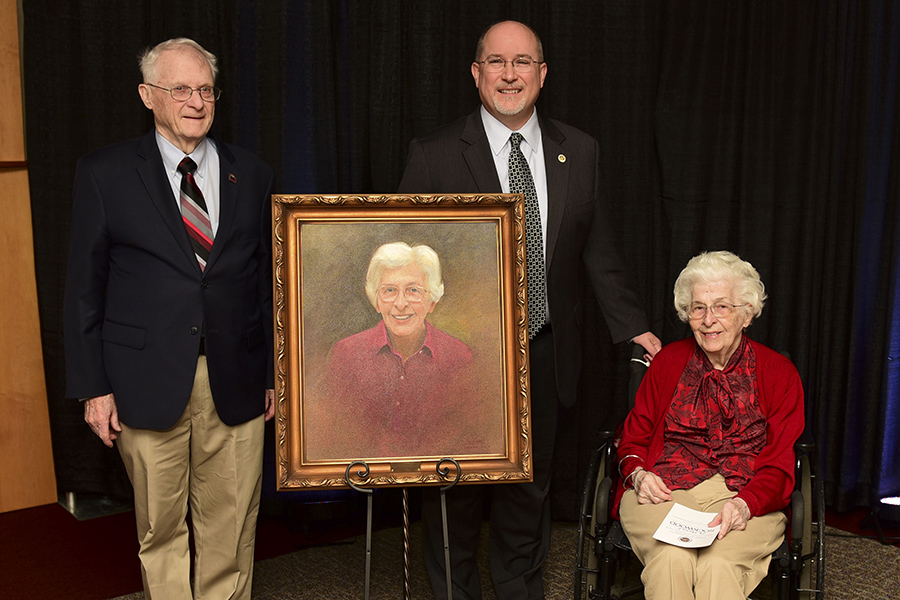 A game-changing $10 million gift to the Florida State University College of Business will establish the Dr. Persis E. Rockwood School of Marketing in honor of the late trailblazing FSU professor emerita and will provide transformational support to marketing students and faculty members in the nationally ranked program.
The Florida State University Board of Trustees approved the naming of the school during its June 22 meeting.
College officials believe it to be the first U.S. school of marketing named for a woman, and they say the gift will help bolster the marketing program's rise in national rankings. One of six nationally recognized programs in the college, FSU's undergraduate marketing program ranks No. 17 among public schools by U.S. News and World Report.
The gift from Rockwood, who died in May 2021 at age 97, and her surviving husband, FSU Professor Emeritus Charles Rockwood, continues a legacy of major donations from the couple to the college and university.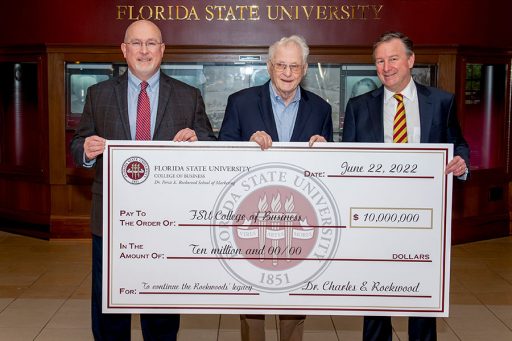 Their latest gift also will establish – among numerous initiatives and priorities – the Dr. Persis E. and Dr. Charles E. Rockwood Eminent Scholar Chair in Marketing.
"This is a historic moment in the life of the university, the college and more specifically the Department of Marketing," said Michael Hartline, dean of the College of Business. "The transformational nature of this gift cannot be overstated, as it will have a life-changing impact on our faculty and students, as well as our college."
In total, the gift provides:
A $3.5 million endowment for faculty support, including funding for the eminent scholar chair, professorships, emerging scholars and research
A $3 million endowment for student support in the form of scholarships for graduate and undergraduate students and funding for student professional development
A $2.5 million endowment for "preeminence," providing discretionary funding for the Rockwood School's most pressing needs
$1 million for Legacy Hall, the college's state-of-the-art future home, specifically to fund the Dr. Persis Rockwood Academic Programs Suite and the Dr. Persis Rockwood Academic and Behavioral Research Lab
The Rockwoods – significant supporters of Tallahassee's arts community – also have provided major gifts to the College of Music and the College of Social Sciences and Public Policy, including a $2.2 million donation for a custom-built pipe organ at FSU's College of Music.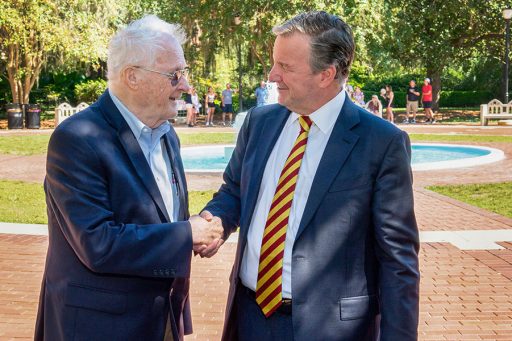 "This momentous gift will forever stand as a testament to the work, impact and memory of the late Persis Rockwood," said FSU President Richard McCullough. "She and Charlie will always have a special place in the Florida State family, and their generosity will help blaze new trails and opportunities in marketing research and education."
Mike Brady, the longtime chair of the marketing department, who also serves as the Bob Sasser Professor of Marketing, said: "We are absolutely thrilled with the generosity and support that Persis and Charlie bestowed upon us. I told our faculty this is a game-changing gift, and our job moving forward is to change the game."
At an event in April, Charles Rockwood joined Hartline and Brady to announce the gift to faculty and staff members. In his comments, Rockwood focused entirely on his wife, who taught in the College of Business for three decades, beginning in 1960.
"She loved FSU," he said of his wife. "She was very modest. She did not tell students her background, I don't think ever. She would ask them things like, 'What is your goal outside of your work ethic? What have you got for a goal in life?'"
Her background featured an array of firsts for women. That includes the first woman, in 1960, to earn a Ph.D. in marketing from Stanford University; the first woman at FSU, in 1973, to attain the status of full professor of marketing; and the first woman elected as president of the Southern Marketing Association, of which she was a founding member. That organization evolved into the Society for Marketing Advances.
In 2018, she became one of the first seven faculty members – and the first woman – inducted into the FSU College of Business' Charles A. Rovetta Faculty Hall of Fame.
During her career, she specialized in research areas such as location theory and retail leasing and worked as a senior economist with the Federal Deposit Insurance Corporation. She also championed diversity and equity and chaired a university committee that created policy on gender equity in faculty salaries.
Rockwood retired in 1989, and colleagues and students remember her for her humor, reason, thoughtfulness, graciousness and courage.
Charles Rockwood also credited his wife as "a very clever investor" who managed her own finances.
They met at FSU and were married for 52 years.
Like his wife, Charles Rockwood quickly established himself as an influential scholar after he joined the FSU faculty in 1960. He retired as professor emeritus of economics in 1991.