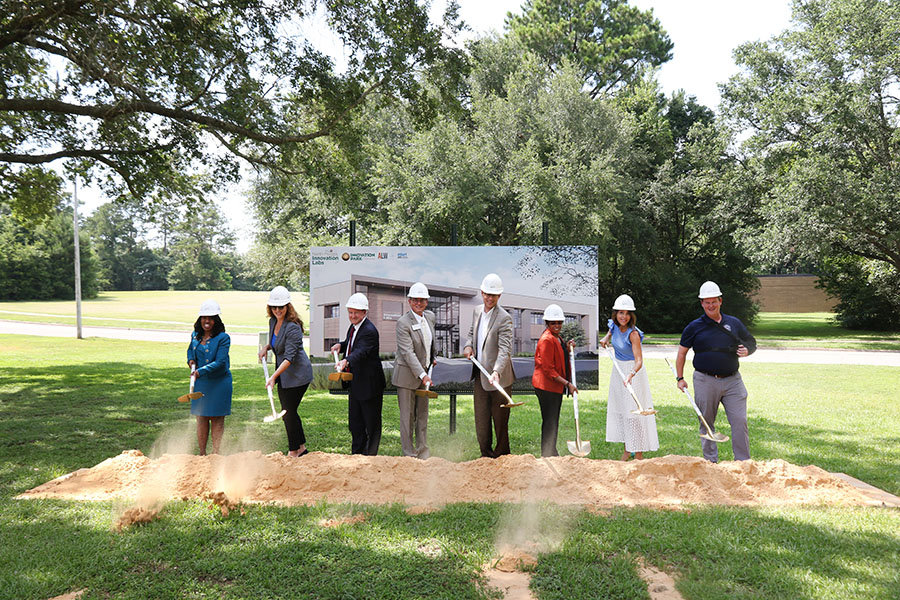 Members of the Tallahassee and Florida State University communities celebrated the groundbreaking of a new high-tech business incubator Tuesday.
They hailed North Florida Innovation Labs as a community-wide collaboration that will house startups and growing technology companies in need of specialized lab space to continue their work and grow their businesses.
"North Florida Innovation Labs will provide a diverse group of high technology entrepreneurs with facilities and resources to bring their research and innovation to the market, to create their own success stories," said Bill Lickson, director of the incubator.
The groundbreaking celebration featured Leon County R&D Authority Chair Kevin Graham, FSU President Richard McCullough, Florida A&M University Vice President for Advancement Shawnta Friday-Stroud, Tallahassee Community College Vice President for Workforce Innovation Kimberly Moore, Tallahassee-Leon County Office of Economic Vitality Director Cristina Paredes, Tallahassee Mayor John Dailey and Leon County Commissioner Kristin Dozier.
The 40,000-square-foot building will have 31 labs and 20 offices as well as coworking spaces, conference rooms and a machine shop to create product prototypes. The labs and their programs are projected to support up to 100 technology companies and ultimately produce more than 600 full-time jobs in Tallahassee and across the region.
The facility will be located in the Innovation Park corridor, already home to several high-tech labs and companies as well as the FAMU-FSU College of Engineering and the National High Magnetic Field Laboratory.
McCullough, himself the founder of two companies, called the new facility a "tremendous opportunity" for the community and for entrepreneurs looking for space and support to grow their companies.
"We are very, very proud at Florida State University to be a part of this project, and it is my personal goal to help drive an entrepreneurial spirit in Tallahassee that will emanate from the university — and I want to do that with all of you as partners," McCullough told the crowd gathered for the groundbreaking. "We all agree that this is the right thing to do for this region. And I can tell you it can be done."
Providing space for startup companies will help both FSU and FAMU as they develop technologies that could be brought to market.
McCullough's vision for the university's research enterprise includes a major investment in fostering a culture in which new businesses and established corporations alike are utilizing the university's arsenal of patents, developing new technologies and commercializing products.
The university already boasts an impressive research portfolio and connections with private industry, but the development of NFIL is a critical tool in helping the university bolster startup companies.
The nearly $25 million facility has been funded through a partnership of local entities, including FSU. The university provided a $2.6 million gift as well as a $3 million loan to support construction of the facility. The partnership was also able to secure a $12.6 million federal grant from the U.S. Economic Development Administration.