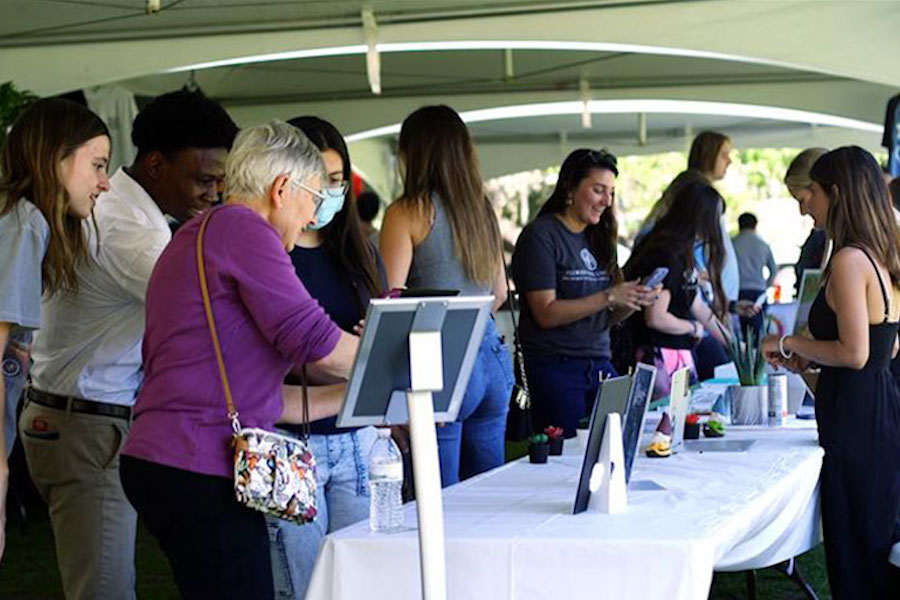 About 60 student-run businesses gathered on Landis Green Monday at the annual Entrepreneurship Expo hosted by the Jim Moran College of Entrepreneurship at Florida State University.
Near-perfect weather greeted the buzzing crowds gathered to see the latest products and services offered by FSU's burgeoning entrepreneurs. 
John Breed, teaching faculty at the Moran College, helped launch the Business Expo a decade ago and said the event has more than quadrupled in size since those early years. But Breed said the expo's mission remains the same.
"Our students learn how to build businesses," he said. "That's the point of the college and that's in our DNA."
Handmade jewelry, vintage sneakers, soaps, shampoo, queso, beauty products and gymnastics gear were just a few of the products for sale. 
Junior entrepreneurship major Cody Kassack sat behind his table adorned with printed materials and cards for his business, American Exterior Cleaning. Kassack started the company when he was in high school, but he elevated it with what he's learned at the Moran College.
"Accounting and things like licensing and insurance and getting my LLC — I didn't have an idea about them," he said. "You learn how to start a business, and you learn from people who have made it."
Kassack credited the faculty who own businesses with helping the college's students. 
"It's extremely inspiring to see those people come back to FSU to help teach the next generation," he said. 
Susan Fiorito, dean of the Moran College, said she was thrilled to see crowds of students together sharing ideas and enthusiasm.
"They take so many of their classes together so there is collaboration, and they build  camaraderie," she said.
Decked out in a hot dog costume, Mathew Liebman, a junior from Ft. Lauderdale, was emblematic of that team spirit as he sought to trumpet, The College Dog, a hot dog stand that caters to the latenight student crowd by setting up shop next to popular night spots.
Liebman and fellow entrepreneurship majors, Isaac Heuchan and Matthew Lansburgh, said The College Dog is a way for folks with the late-night munchies to stay out of their vehicles and avoid long lines at fast food restaurants.
"We know that a lot of other food establishments close at 10 o'clock and lines are long at the ones that are open," Heuchan said.
Liebman added: "We felt there was an opportunity here to give people another option. Other students love it, too, that the business is run by college students."
Breed said the expo is driven by the notion of building an entrepreneurial skillset that transcends any particular product or service. 
"Whether it's ecommerce, manufacturing or retail they are learning the skills of building a business," he said. "That's transferrable no matter what they are looking to sell or make."