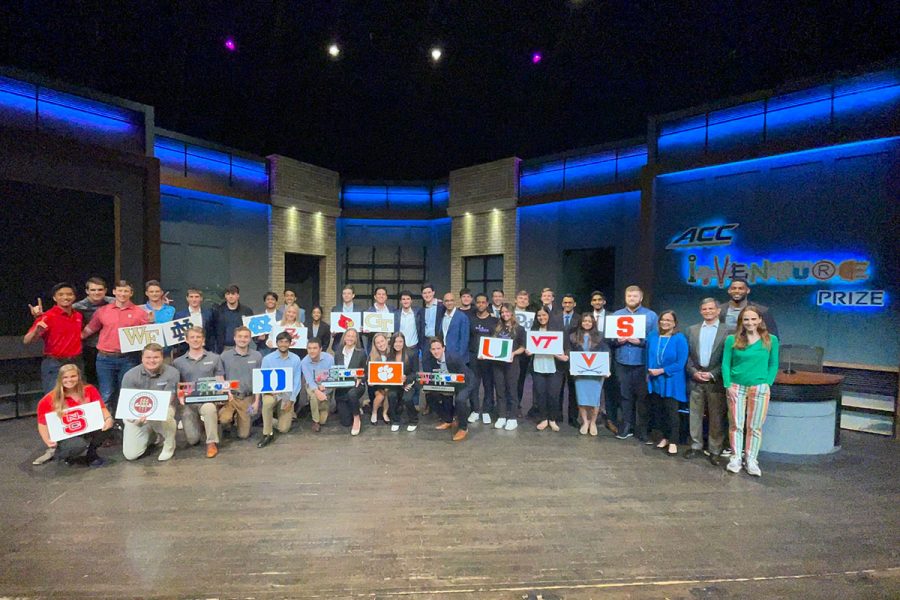 Florida State University hosted the sixth annual Atlantic Coast Conference (ACC) InVenture Prize competition Saturday, April 2, demonstrating the university's dedication to fostering innovation and encouraging entrepreneurship amongst its students. 
Undergraduate students from all 15 ACC universities competed in the televised Shark Tank-style competition at FSU's Ruby Diamond Concert Hall, pitching their creative projects in front of a live audience and a panel of expert judges.  
"This competition allows students to interact with one other, helping them to build a lot of self-confidence," said Sri Divakaruni, 2022 ACC InVenture Prize judge and Vice President of Innovation Business Development at Rhizome Network. "At the end of the day, it's important to have the validation that you can succeed, and I think this forum provides exactly that." 
Since its establishment in 2016, the ACC InVenture Prize has grown to become the nation's largest student innovation competition and has helped fund multiple student inventions and projects throughout the years.  
Representing FSU was team "Barbot," made up of FAMU-FSU College of Engineering students Brett Scharmett, Patrick Manser and Charlie Edbrooke. Their at-home, automated robotic bartender won $5,000 and the People's Choice Award, which is determined by online voting during the final round and given to the fans' favorite invention. 
"It really felt like everyone wanted us to win a trophy tonight," said Patrick Manser, a mechanical engineering student. "The entire FSU community truly united around us and helped us win the People's Choice Award." 
While the group competed on separate teams during the 2022 inNOLEvation Challenge on March 4, with Manser and Edbrooke winning the top prize for Firebird, a tabletop computer numeric control milling machine, and Scharmett winning the Most Innovative Award for Barbot, they came together for this competition.  
"We want to take this $5,000 and build the next best prototype so that we can show the public all that Barbot offers," Manser said. "We will continue growing and competing and hope to see Barbot through until it becomes something huge."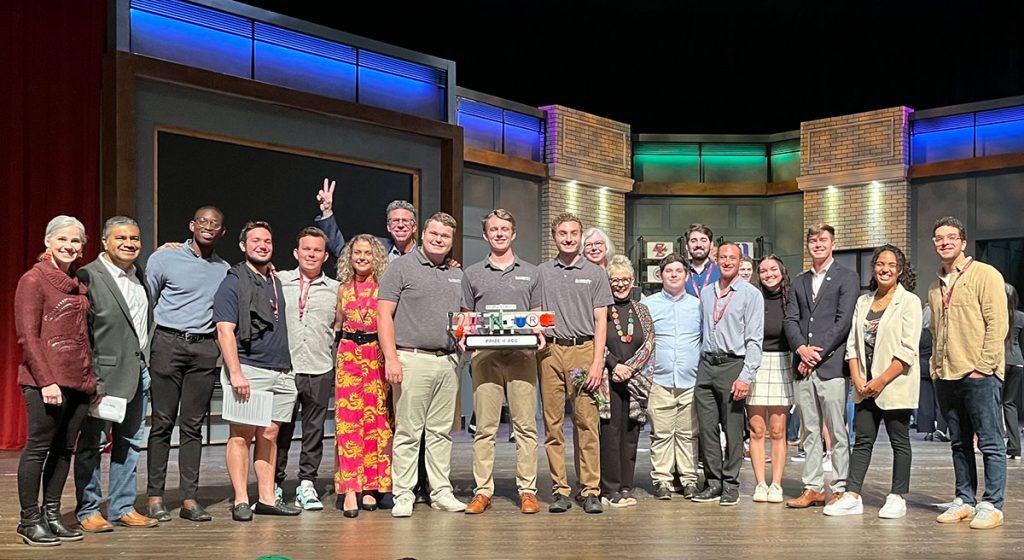 This year's first-place winner was carSEAL representing Georgia Tech, a team of five biomedical engineering undergraduates. As the winning team, they received $15,000 to help them continue to develop and refine their carotid artery closure device. 
Sponsored by the Mayo Clinic, the carSEAL device is designed to close the carotid artery after a clot-removing catheterization for stroke patients. By entering the carotid, the team believes they can cut the procedure time in half and save millions of neurons that would otherwise die from lack of oxygen. 
"This competition has been an incredible opportunity for our team, and it has undoubtedly ignited our passion for biomedical engineering," said senior Joshua Cruz, one of the Georgia Tech team members. "Everyone on the team is also on the pre-med track, so we hope to continue this work as doctors one day."  
Contestants were able to tour FSU's Innovation Hub, the High-Performance Materials Institute and other campus landmarks before Saturday's competition at Florida State.  
Following the competition, a reception in Dodd Hall was held where students had the opportunity to collaborate with one another, network and further pitch their ideas. 
CatheSure representing Clemson University and Holoriff representing Duke University tied for second place, winning $5,000 each for their inventions. CatheSure is a wireless device that detects a shunt malfunction in Hydrocephalus patients in under five minutes, and Holoriff is a device that uses gesture recognition to convert hand motions into mouse input for any computer. 
To learn more about the competing teams and students, please visit https://accinventureprize.com/.