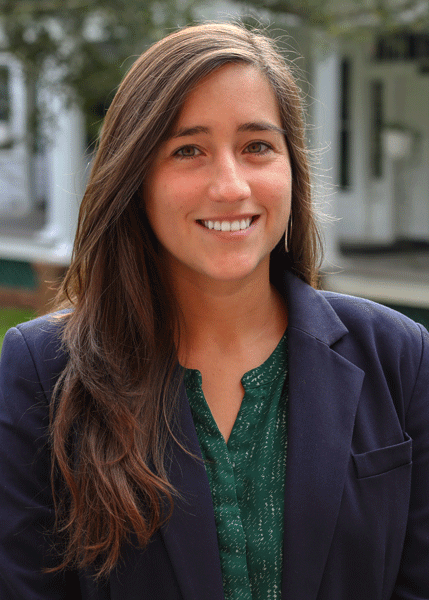 Immigration has been a part of Daniela Donoso's life since she and her family left Quito, Ecuador, for Miami when she was six months old.
Now, just months after graduating with her law degree from  Florida State University's College of Law, she's going to put that passion and education to work with the backing of a two-year, $100,000 fellowship from the Equal Justice Works Foundation to focus on immigration advocacy. Tallahassee law firm Greenberg Traurig, LLP and the Florida Bar sponsored Donoso's application.
"I love this community and I owe a lot to my mentors for encouraging me," she said. "It's very exciting to continue doing this work."
Equal Justice Works is a nonprofit organization that features an "extensive network of law students, lawyers, legal services organizations and supporters to promote a lifelong commitment to public service and equal justice."
Donoso said she'll be working to help the underserved immigrant population spread across the six counties from Tallahassee to Pensacola. 
"The Florida Panhandle has huge agricultural and tourism industries, so there is a big population of immigrants," she said. "There is a great need for legal help in this population."
Donoso said given the shifting nature of today's political climate and changing immigration policies, the need for help is profound.  
Among other duties, Donoso's work will include helping immigrants and refugees know their rights and assisting them with legal paperwork, petitions and access to health care and educational programs. She'll be working out of the offices of Legal Services of North Florida. 
Donoso earned her undergraduate degree in International Affairs from Florida State in 2016, was a 2015 Social Science Scholar and won a Student Seminole Award in the 2016 Student Leadership Awards.  As an undergraduate student at FSU, Donoso worked in the university's Center for the Advancement of Human Rights, and as a law student, her studies focused on immigration rights. 
Donoso credits her mentors at the Center for the Advancement of Human Rights and the College of Law for encouraging her to apply for the fellowship. Part of the appeal in applying for Donoso was the opportunity to tailor the fellowship to address her area of interest rather than having to fit her qualifications to meet rigid criteria. 
"There are specific requirements for designed fellowships but it's really cool because you have to explain your vision for it," she said. "It's an amazing opportunity — and to get paid to do what you want is special." 
To learn more about the Equal Justice Works Fellowship and other fellowships and awards that support graduate education, contact the Office of Graduate Fellowships & Awards.