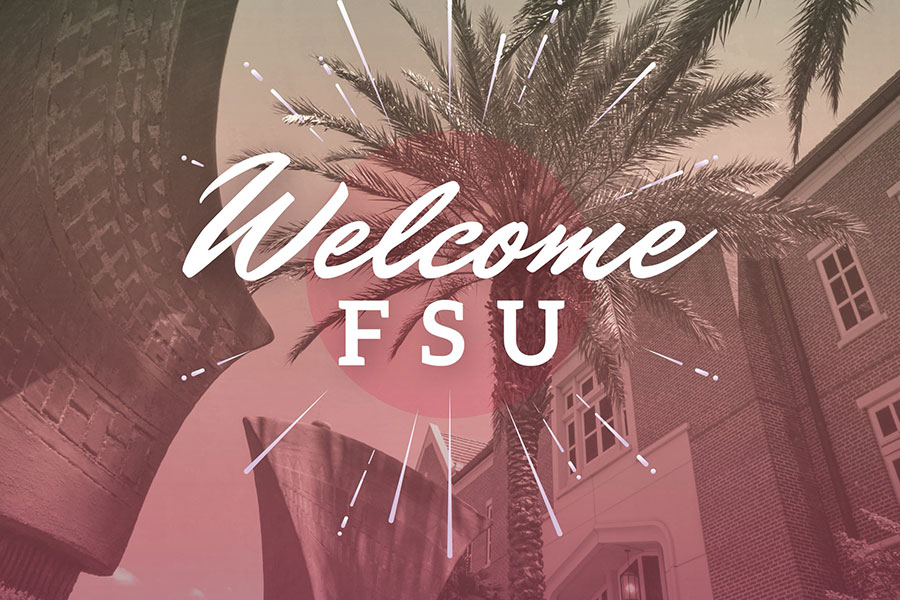 More than 2,000 freshmen will start their college careers at Florida State University during Summer Session C, which begins Monday, June 22. While they will not be together in the traditional sense, FSU's Division of Student Affairs is aiming to foster a sense of community through a virtual version of Welcome FSU.
Welcome FSU is a week of engaging events that promote student involvement and inclusion on-campus, but because classes will remain remote through the end of the summer semester, Student Affairs has reimagined the annual tradition.
"Even though our incoming students will not get the traditional experience of moving into the residence halls and starting their classes in-person, it was still important to find ways to build and encourage a sense of community," said Brandon Bowden, assistant vice president for Student Affairs. "Welcome FSU in a virtual format seeks to do just that, foster community and provide our new Noles an opportunity to meet staff, get involved and engage with other new students like they would if they were here in person."
This year, Welcome FSU will offer a wide array of virtual activities from Monday, June 15, through Saturday, June 27. From online fitness classes and dialogues to International Coffee Hour, gaming competitions and student live-tweeting events, the virtual version of Welcome FSU strives to provide incoming students with an interactive introduction that will help them embrace their Seminole spirit.
"We feel that if students take advantage of the opportunities and resources we have provided in this virtual format, it will be an easy transition when we are all able to gather in person again," Bowden said.
To help create a program that would best serve new students, the Division of Student Affairs enlisted currently enrolled students to provide ideas and input.
Miranda Lough, a senior majoring in criminology and psychology, served as a student leader on the Welcome FSU subcommittee. She felt it was important to support and encourage the interactive component that Welcome FSU typically embodies.
"When working on a virtual Welcome Week, I felt it was important to see and hear from students about their experiences, much like getting to mix and mingle with others at a traditional Welcome event," Lough said. "Videos, game nights, interactive social media stories and Q&As all help make the welcome feel more personal, and I am excited for all that is in store."
Welcome FSU also will introduce students to the 54 fraternities and sororities and six Student Government Association agencies on campus, and to more than 80 intramural sports and 700 student organizations available to them.
Student Body President Jonathan Levin, a rising senior studying international affairs, also served on the Welcome FSU subcommittee. Though unconventional, Levin is confident that the virtual version of Welcome FSU will enhance the incoming students' experience.
"I serve on the community committee which has compiled resources and different activities throughout the Tallahassee area to present to all students," Levin said. "Although this has not been a traditional factor of Welcome FSU, I truly believe it will enhance the community feel and love for being a Seminole."
To keep up with Welcome FSU on social media, follow the hashtag #WelcomeFSU.
To learn more about Welcome FSU, visit welcome.fsu.edu. For more information about virtual events and resources, visit studentaffairs.fsu.edu./virtualfsu.