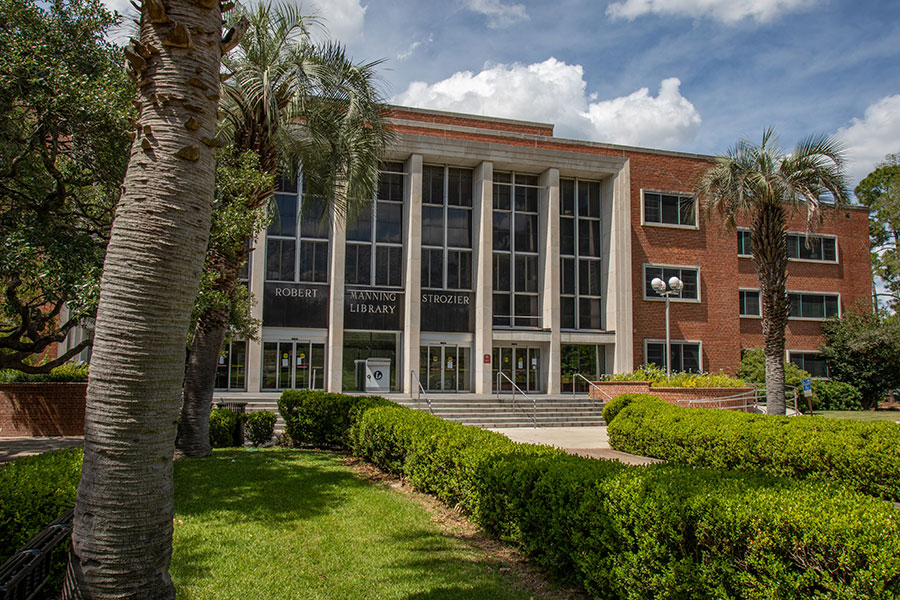 Florida State University Libraries provides a space where the university community gathers to study, access research materials and collaborate. Now, with classes being taught remotely through the end of the summer due to the COVID-19 pandemic, that central hub has become a virtual focal point and resource.
While its physical locations are currently closed, FSU Libraries continues to play a crucial role in the online campus community by providing electronic resources, online instructional support, open education resources, online tutoring and other remote services.
"While many think of FSU Libraries in terms of our rich physical collections of books, journals and media materials, our most vital strength is our expert faculty and staff," said Gale Etschmaier, dean of University Libraries. "Since the start of remote classes, our skilled teams have quickly pivoted from providing physical materials and in-person consultations to expanding the availability of online materials. Our experts are collaborating with research faculty on projects and advising them on how to transition in-person classes to the online environment.""
FSU Libraries' extensive collection of scholarly materials is not limited to print. They also provide access to cutting-edge electronic resources, including research databases, online journals, archival collections, streaming videos and e-books, which are always accessible on the FSU Libraries' website, lib.fsu.edu.
With libraries across the country affected by COVID-19, publishers and vendors have opened up temporary online access to many additional resources. FSU Libraries has established partnerships with these publishers and vendors to gain expanded access to these temporarily accessible materials.
"We appreciate the generosity of the vendors and publishers who have allowed researchers and learners access to additional content during this time of remote learning," said Valerie Boulos, associate dean for Resource Management and Discovery. "Access to online library resources can help support user needs while our print collections are inaccessible."
One of these is the HathiTrust Digital Library, which archives millions of titles digitized from libraries around the world. Expanded access to titles normally only available as physical copies allows researchers undisrupted access to the resources they need for their research until the library's print collections reopen to the public.
Librarians also are helping instructors identify digital, open and/or primary source resources to use in remote teaching. FSU Libraries has integrated their services and resources directly into the Canvas dashboard and course sites. Library modules, videos and tutorials covering a broad range of topics are available for classroom use.
"One example of how we've adapted our services to an online environment is in ENC 2135, the introductory composition class," said Liz Dunne, instruction and reference librarian. "We utilized Adobe Captivate to create a suite of eLearning modules. These interactive modules are designed to recreate our in-person instruction, taking students step-by-step through the research process."
FSU Libraries has also created research guides with lists of library-supported tools for conducting class activities at a distance or online.
Open educational resources (OER) are freely accessible, openly licensed textbooks, media and other digital assets that are useful for teaching and learning. FSU Libraries encourages instructors to explore open textbook and library-licensed e-book alternatives that are free or affordable.
Many faculty at FSU have opted to adopt e-books, journal articles, videos, images and other digital resources from the Libraries' collection. There are courses at FSU that already utilize open textbooks, such as CHM1045.
"At this time, students might be experiencing greater financial stress than usual if they're not able to work due to COVID-19," said Camille Thomas, scholarly communications librarian with the Office of Digital Research and Scholarship. "Providing low-cost or free OER options increases access to required course materials and saves students time and money during this stressful time."
In addition to textbooks, open resources available online include TED Talks, online news articles from publications such as The Guardian, government sites such as cdc.gov and other high-quality information. Some instructors also use Open Scholarly Monographs as educational resources in their courses, which carry the same open licenses.
FSU Libraries is dedicated to supporting students through their entire time at FSU, and this continues to be a top priority, whether in-person or online.
To help students get the extra assistance they need in subjects such as chemistry, math and physics, FSU Libraries has moved its free, drop-in tutoring to an online format. All tutoring sponsored by FSU Libraries operates on a normal schedule with the usual subjects available and are conducted via Zoom. Students can get the same assistance from wherever they are studying remotely.
Every finals week, FSU Libraries provides fun activities to help students alleviate end of semester stress. For the spring semester, Libraries moved "stress busters" online, providing virtual activities including an online escape room, quarantine bingo and how to tie dye at home. As the summer continues, FSU Libraries is creating virtual book displays, highlighting e-books accessible from lib.fsu.edu and starting a virtual summer reading club.
"I always look forward to the Libraries' stress busters to help me relax during finals week," said Bella Jaramillo, a junior at FSU. "Even when I'm not on FSU's campus, these activities help me feel like part of the community."
In the past, the library was always thought of as the building with the books. Today, the librarians at FSU provide an online experience that offers the same level of service, scholarship and community as an in-person visit to Strozier or Dirac. Through changing circumstances and evolving times, FSU Libraries remains "open" and ready to support the scholarly needs of FSU.