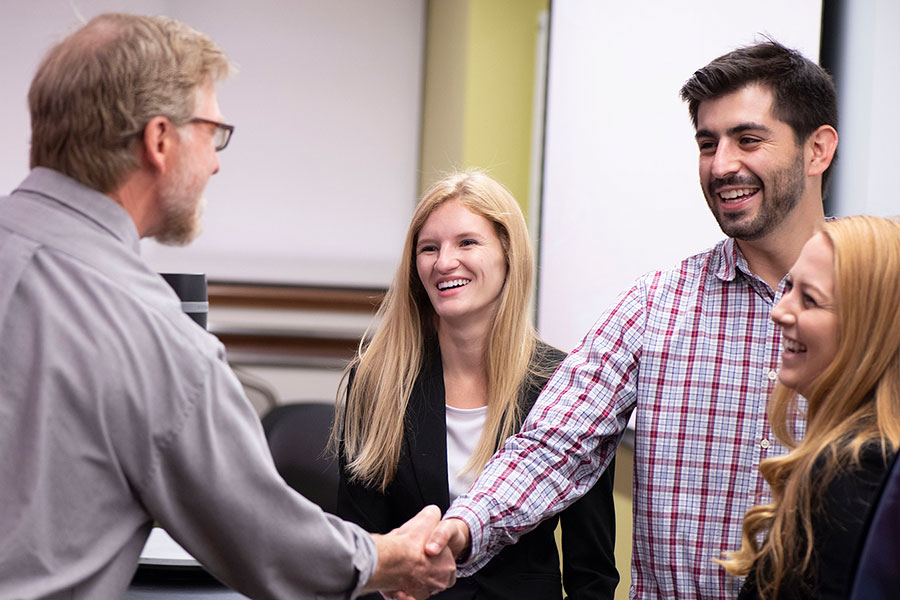 A desire to take his task of data collection to the next level drove Jessie Tolbert to pursue a Master of Science in Business Analytics (MS-BA) at Florida State University. Last weekend, he walked the stage as part of the College of Business' first MS-BA graduating class.
As an environmental scientist, Tolbert spent the first two years of his career collecting data samples from bodies of water throughout the state of Florida. The more data he accumulated, the more he wondered how officials were using all his hard work to determine water quality. He soon learned the answer involved coworkers employing statistical models to better understand the data, grade each water body's quality and predict big-picture outcomes.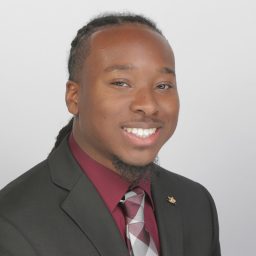 Hooked on a possible new career field, Tolbert set out to find a graduate program that could give him these skills. He said FSU's program has provided that and more.
"I've learned in-demand technical skills and built my professional network with other students, distinguished professors and FSU alumni who are in the industry," Tolbert said. After weighing multiple job offers, he recently accepted an operations research analyst post with Naval Air System Command in Jacksonville, Fla.
MEETING INDUSTRY DEMAND
Tolbert's classmates have similar reasons that led them to FSU's MS-BA program. All have strong quantitative academic backgrounds in business or other fields. All want to be ready to meet the growing demand for graduates with the deep analytical skills needed to dive into the rising tide of data, then surface with information businesses can use to make key decisions.
"The curriculum is designed to give graduates all the tools and skills they need, then give them the opportunity to apply what they learn," said Guanyi Lu, assistant professor of business analytics who teaches the program's capstone course.
One highlight for this first graduating class was the opportunity to present to business leaders serving on a new industry advisory board for the college's Department of Business Analytics, Information Systems and Supply Chain (BAISSC). Board members lauded the cohort's quality and knowledge.
"Not only did they obtain and develop outstanding analytical skills, but they also demonstrated the ability to apply those skills to real-world cases," said board chair Steve Pattison, chief financial officer and vice president for business analysis and risk management at Restaurant Services Inc. "The program will deliver skilled and qualified candidates in the analytics space."
The immense need for skilled business analysts continues to grow, Pattison said. Experts believe the nation is experiencing a shortage of 1.5 million analysts and analytics managers, he said. Global consulting firm McKinsey & Company estimates a gap of up to 60 percent exists between the demand for crucial analytical talent and the supply of qualified people to fill these posts.
RECEIVING MULTIPLE JOB OFFERS
Many members of this first graduating class already have jobs waiting for them. Kyle Johnson and Zachary Anders accepted business analyst positions at ReliaQuest, a cybersecurity firm in Tampa. Jillian Komskis is moving to Charlotte, N.C., to serve as an employee benefits analyst with USI. Kenneth Thomas secured a consumer research analyst position with GEICO in Washington, D.C. Other graduates have either obtained employment, are still interviewing or already weighing multiple offers.
Students also said they are finding that many employers are seeking them out.
Steve McClellan, principal data scientist at Integrated Musculoskeletal Care, Inc., saw an opportunity for IMC's small enterprise to gain key data help while providing students real-world experience. The Tallahassee-based company, which works to reduce doctor visits and costs related to joint pain, provided de-identified data for Lu's class to use for its capstone projects. Each student team was tasked with exploring the data and developing a project it could tackle to benefit IMC. Final presentation topics ranged from determining whether diagnosis and treatment patterns differed by patient zip code to predicting future medical costs based on a patient's previous diagnosis.
"It's a long game," said McClellan, who also mentored Komskis as an IMC intern. "We invest early, and in the end, we get an analysis of our subject matter. It's extremely rewarding to watch the growth from day one."
MS-BA students begin the one-year program with six intense weeks of lessons in Python programming, followed by another six weeks dedicated to learning quantitative methods. Another 12-week course focuses on machine learning, a method of automated analytical modeling used in artificial intelligence. Subsequent courses cover data management, forecasting, revenue management, pricing and probabilistic optimization. Students graduate with proficiency in the latest analytical skills and know how to help organizations employ the best tools and techniques to make better business decisions.
"The core faculty members have been collaborative in talking about what classroom outcomes they are seeing and adjusting as necessary for an optimal student learning experience," said Ashley Bush, MS-BA program director, Sprint Professor of MIS and chair of the Department of Business Analytics, Information Systems and Supply Chain. "We have this ongoing, iterative refinement of the program."
Bush said this first class has been surprisingly cohesive considering students' diverse backgrounds. They work together well in the classroom, and in their limited free time they have created a registered student organization for MS-BA students and initiated a scholarship that will be awarded annually to a future MS-BA student needing financial assistance.
"We've challenged them, and they've risen to the challenge," Bush said.
The MS-BA faculty welcomes the next class of students this month. Learn more about the MS-BA program and how to apply at business.fsu.edu/MS-BA.