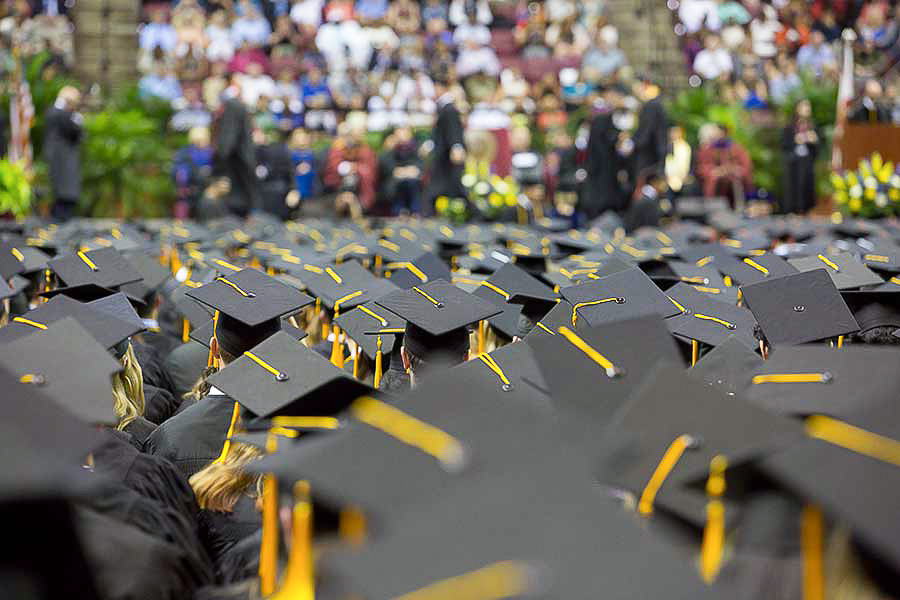 Florida State University will celebrate a historic moment when students in the first graduating class of the Jim Moran School of Entrepreneurship earn diplomas Friday, May 3.
The school, made possible by a record $100 million gift by Jan Moran and The Jim Moran Foundation in December 2015, will award bachelor's degrees to 137 students at Friday night's commencement ceremony.
"This is an exciting moment in FSU's history as we applaud the first graduates of the Jim Moran School of Entrepreneurship," FSU President John Thrasher said. "None of this would be possible without the generosity of Jan Moran and The Jim Moran Foundation, as well as the leadership of director Susan Fiorito and our faculty. I look forward to seeing what these talented entrepreneurs will do in the future."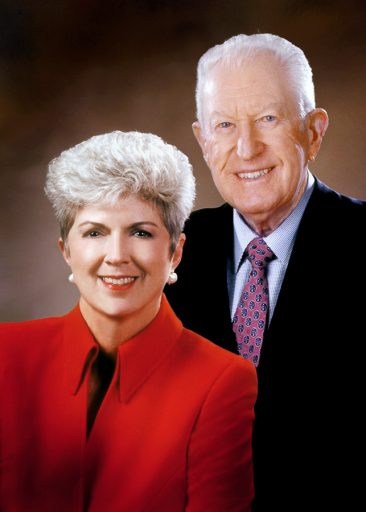 Jan Moran plans to attend the commencement ceremony at the Donald L. Tucker Civic Center to shake hands with the school's graduates.
"It is very meaningful to The Jim Moran Foundation and me, personally, to continue my husband's remarkable legacy at Florida State University through the Jim Moran School of Entrepreneurship," said Jan Moran. "Jim believed in working hard and providing opportunities for others to succeed, and he would be so happy that the Jim Moran School is preparing a new generation of entrepreneurial leaders across so many disciplines.
"Dr. Susan Fiorito and the faculty and staff have done an incredible job of making the Jim Moran School the very best by not only encouraging students to develop their ideas but also inspiring them to create brighter futures for themselves, their families and their communities. It is a tremendous honor for me to congratulate the first graduating class alongside President Thrasher on this extremely special occasion, and I am very proud of the graduates for their hard work and determination to pursue their dreams."
Under the original terms of the $100 million gift agreement, classes were not scheduled to start until fall 2018. However, faculty members and entrepreneurs in residence developed the school's core curriculum a year ahead of schedule.
The Jim Moran School of Entrepreneurship welcomed its inaugural class of 80 juniors in August 2017, including several at the FSU Panama City campus. One year later, the program added about 250 undergraduates when the Department of Retail Merchandising and Product Development moved from the College of Human Sciences to the Jim Moran School of Entrepreneurship.
Over the past two years, the program has been fueled by a mix of momentum, growth and inspiration, positioning it as a national model for entrepreneurial education.
Today, more than 600 students are taking entrepreneurship classes across three majors — commercial, social and retail entrepreneurship — about 1,000 students are enrolled in six entrepreneurship minors, and student-entrepreneurs are thriving.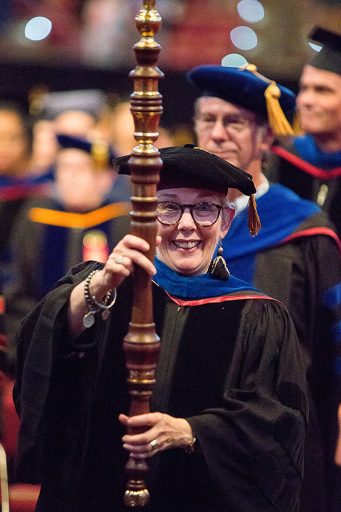 Professor Susan Fiorito, director of the Jim Moran School of Entrepreneurship, said it's an exciting time.
"I cannot believe it was December of 2015 that we signed the gift agreement, and now in May of 2019 we have a graduating class," Fiorito said. "Students couldn't be happier with the curriculum. These graduates are excited to be the first class leading the program into the future, and they have given us some great insights on how we can move it forward."
The school's curriculum prepares students for real-world challenges that entrepreneurs face as they start and grow their own businesses and existing companies. Fiorito said students are serious about incorporating the essential lessons that Jim Moran always emphasized, including persistence, innovation, creativity and hard work.
One example of that entrepreneurial mindset is graduating senior Hannah Miller.
"The Jim Moran School of Entrepreneurship has given my classmates and me an education that is unparalleled to any other," Miller said. "Thanks to this program and the incredible professors, I've gained such a diverse set of skills and knowledge that will help me excel in all future ventures."
Over the next year, the Jim Moran School of Entrepreneurship plans to launch two new graduate programs: one in textiles and apparel in fall 2019 and another in hospitality and entrepreneurship in fall 2020.
Incoming classes will continue to grow each year. By 2022, the program expects to have 750 accepted majors and graduate students. The current staff includes 19 full-time faculty members, 14 entrepreneurs in residence across campus and other instructional faculty.
Fiorito looks forward to what's on the horizon for entrepreneurial education at FSU.
"I think our school will eventually become a college, which will be the first in the world," Fiorito predicted. "I see us adding majors and fine-tuning courses, so we mentor students with the best approaches and develop the next generation of successful entrepreneurs."