The optimistic, enthusiastic spirit of entrepreneur and philanthropist Jim Moran was alive and well at a ribbon cutting for Florida State University's new entrepreneurship-focused Jim Moran Building, and so were his words.
Moran famously once said, "The future belongs to those who prepare for it."
FSU is preparing an exciting new entrepreneurial future for students and small business owners thanks to a transformational $100 million gift from Moran's wife, Jan, and the Jim Moran Foundation.
On Tuesday, students, faculty and community leaders gathered at the Jim Moran Building, a 19th-century building renovated with a portion of the gift, to honor Moran's legacy and recognize a new chapter in entrepreneurial education in Florida and the United States.
FSU President John Thrasher gratefully acknowledged the gift that created the Jim Moran School of Entrepreneurship — the nation's first stand-alone school of entrepreneurship at a public university — and elevated a separate program, the Jim Moran Institute for Global Entrepreneurship, which has operated at FSU for 23 years.
"We are forever grateful to Jan Moran and the Jim Moran Foundation for the $100 million gift that established this new school," Thrasher said. "To put that in perspective, this $100 million gift is the largest single gift to a public university in the history of the state of Florida."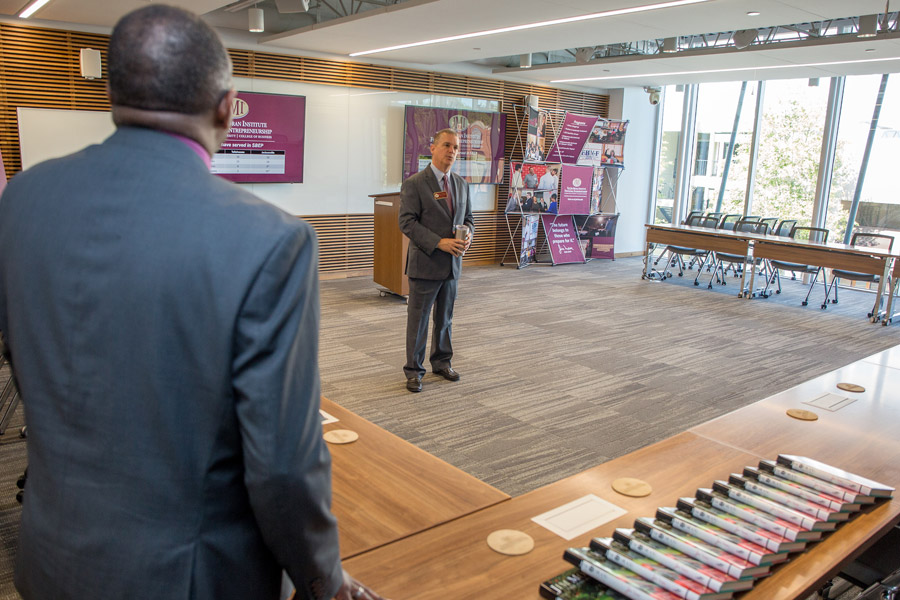 Over the past year, Culpepper Construction has transformed the 20,000-square-foot former bank into a state-of-the-art facility designed to cultivate entrepreneurial growth.
Its location in downtown Tallahassee is intended to help students connect with business leaders serving as mentors or lecturers, as well as offer business owners easier access to advice from experts like Randy Blass at the Jim Moran Institute for Global Entrepreneurship.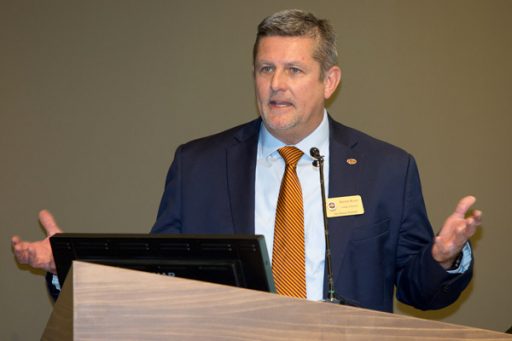 Blass, the executive director, described how a three-year-old idea to develop a headquarters in downtown Tallahassee was suddenly made possible by the huge gift.
"Suddenly, we had ideas and resources, and the result three years later is this wonderful facility," Blass said. "This is the entrepreneurial journey. An idea gets some traction and resources, and then it turns into action. As a testimony, we have this building, built by small businesses across Tallahassee with quality, care and passion."
The project also was made possible by a generous gift from FSU Trustee Kathryn Ballard and her husband, Brian Ballard, who donated the historic building on South Monroe Street to the university.
"We would not have this building but for their great generosity," Thrasher said. "The School will help students develop their entrepreneurial skills, while the Institute will continue its 23-year mission of cultivating, training and inspiring entrepreneurial leaders through its world-class executive education program."
While the Jim Moran Institute for Global Entrepreneurship focuses on serving owners of small businesses around Florida, the Jim Moran School of Entrepreneurship concentrates on student education. It offers three majors — commercial, social and retail entrepreneurship — and five minors.
The first class of 80 students in the Jim Moran School of Entrepreneurship started in fall 2017. This fall, the second class will expand to 100 students, and the school will accept 450 new students in the retail entrepreneurship major.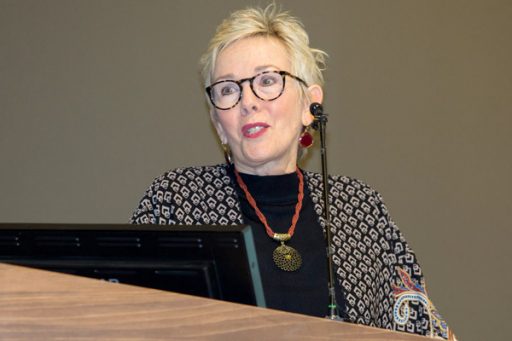 Professor Susan Fiorito, founding director of the Jim Moran School of Entrepreneurship, is excited about the school's potential.
"Our goal is to be able to serve every single student on FSU's campus in one way or another with entrepreneurial thinking," Fiorito said. "We believe that will be one of the best legacies we can give them here."
The look and feel of the Jim Moran Building is lively, bright and colorful, reflecting the personality of its namesake. Walls and windows throughout the facility display Moran's inimitable and inspiring quotes, while a three-story stairwell features a timeline of his successes, snapshots and stories.
M. Hays Layerd, creative director at Architects Lewis + Whitlock, said designers realized the project would have to include three key elements: connectivity, inviting people to connect in a way that nurtured creativity; inspiration, reaching out and lifting young entrepreneurs; and transparency, aligning with Moran's honest way of doing business.
"We've taken that idea of transparency, literally, in the building," Layerd said. "You see glass walls wherever possible. The fronts and backs of the building are glass to allow light and views to permeate through. We want everything to be open. We want to be open to the community, so people have a visual connection, understanding that the entrepreneurial process is not hidden or done in private. You really need to connect with people."
Thrasher called the Jim Moran Building a jewel in the crown of Florida State University and a symbol of the university's rising trajectory. This year, more than 51,000 students applied for about 6,200 spots.
"They want to come to a place where they know they can follow their hopes and dreams, where they can accomplish the goals they set for themselves, where faculty will help them, where this great community will support them," Thrasher said. "All of these things are happening, and I couldn't be prouder of Florida State."