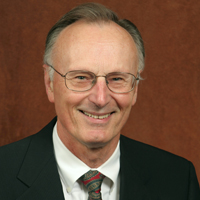 The Florida State University Policy Pub series concludes its spring schedule with a presentation on economic inequality, particularly as it applies to retired people.
David Rasmussen, dean emeritus of the College of Social Sciences and Public Policy and the James H. Gapinski Professor of Economics, will present "The Long-Term Consequences of Economic Inequality." After the brief presentation, the public will have the opportunity to ask questions and discuss the topic.
The event, which is free and open to the public, will take place at 5:30 p.m. Tuesday, March 20, at Backwoods Bistro, 401 E. Tennessee St. 
Policy analysts predict rising poverty among future retirees because Social Security cannot sustain its benefits and budgets will be strained by rising medical costs. In fact, Rasmussen argues, the situation is much worse. Trends in economic inequality will further erode the well-being of people turning 65 in the future.
Rasmussen brings a number of years of economics expertise to this important issue. His scholarly research and policy evaluation studies have addressed crucial public policy questions, including urban and regional economic development and the economics of housing, discrimination and crime and substance abuse policy.
Rasmussen, who is also affiliated faculty with the Pepper Institute on Aging and Public Policy, has written or co-authored five books and published more than 75 articles in leading professional journals.
Policy Pub is sponsored by the FSU College of Social Sciences and Public Policy. Pub sessions take place in the relaxed social atmosphere of Backwoods Bistro at the corner of Tennessee and Gadsden streets. Guests can enjoy food and drink from the menu while listening to and talking about the evening's topic.
The public is encouraged to arrive early to secure a parking spot in the restaurant's lot or surrounding streets.
For more information about the Policy Pub series, call (850) 644-6284 or visit coss.fsu.edu.