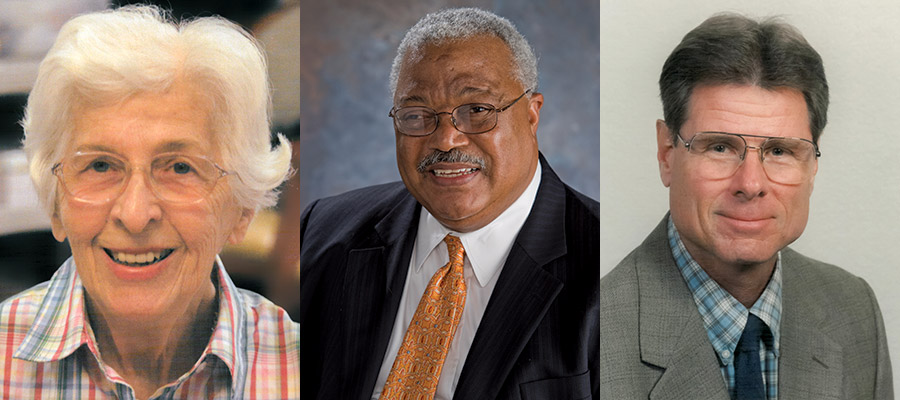 Three retired Florida State University College of Business faculty members were inducted into the 2018 Charles A. Rovetta Faculty Hall of Fame Thursday evening at a reception and dinner at University Center Club.
Edward McIntyre, Persis Rockwood and Melvin Stith were recognized for their outstanding academic and administrative accomplishments, as well as their significant impact on students, the university and the community.
During their tenure at the college, the three inductees were widely loved and respected by students and colleagues. They made extraordinary contributions to the college and broader community, and each received numerous nominations from alumni and former colleagues from across the country.
"We are delighted to recognize and honor the accomplishments of the many talented and inspiring men and women who have walked the hallways and provided models of excellence for young minds seeking knowledge," said Mike Pate (Business '68), chair of the selection committee and a 2012 inductee into the college's Alumni Hall of Fame.
The three inductees are:
Edward McIntyre, who joined the accounting faculty in 1970 and eventually achieved the rank of Ernst and Young Professor of Accounting before retiring in 2003. He is widely admired for his dedication to his students, his extensive research and his service to the university and the accounting profession.
Persis Rockwood, a professor of marketing and management, who joined the faculty in the 1960s and retired in 1989 as a full professor. She is considered a trailblazer, with many firsts to her credit, and a champion of faculty diversity. An inspiration to students and faculty colleagues, she is remembered for her steadfast commitment to higher education and her dedication to FSU.
Melvin Stith, who served as a Jim Moran Professor of Business Administration and chair of the Department of Marketing before being named dean in 1991. He is recognized as a transformational leader and for spearheading the Jim Moran Institute for Global Entrepreneurship and the Entrepreneurship Bootcamp for Veterans with Disabilities program in the college, among other achievements. He currently is serving as interim president of Norfolk State University in Virginia.
The faculty hall of fame was created in 2017 and named in honor of Charles A. Rovetta, who served as the second dean of the College of Business from 1953 to 1973. He was an influential and visionary leader, responsible for moving the college from a largely secretarial and clerical program to one focused on modern business. Rovetta was inducted posthumously into the inaugural faculty hall of fame in 2017.
"These remarkable individuals made their own indelible marks on the college and our students, and we have not forgotten their contributions," said Michael Hartline, the college's dean. "They laid a strong foundation from which we are able to build a preeminent business school, and the Charles A. Rovetta Faculty Hall of Fame is our way of ensuring they receive recognition now and by future generations."
The Charles A. Rovetta Faculty Hall of Fame is modeled after the college's Alumni Hall of Fame created in 2003 to honor successful graduates.
In addition to Pate, members of the selection committee included Tim Cole (Marketing '79), alumnus and 2012 Alumni Hall of Fame member; Rhoda Icerman, retired accounting professor; Pamela Coats, retired finance professor; Stacy Sirmans, J. Harold & Barbara Chastain Eminent Scholar in Real Estate; and Michael Hartline, dean of the college.
###
About the FSU College of Business     
Founded in 1950, the Florida State University College of Business is one of the nation's youngest business schools, yet its reputation for excellence has helped it become one of the largest. Consistently ranked as a top business school by U.S. News & World Report, several of its programs rank among the nation's Top 10. Florida State University is No. 33 among national public universities in the U.S. News & World Report rankings, and Forbes and Kiplinger rank Florida State as a best value that combines outstanding education and economic value.
The College of Business is proud of its international reputation, as well as the individual attention our faculty members give students who hail from around the world. Our faculty members are recognized worldwide and serve as visiting professors and lecturers at other prestigious institutions. The college takes pride in its alumni, who are respected business leaders making their mark on the global marketplace.