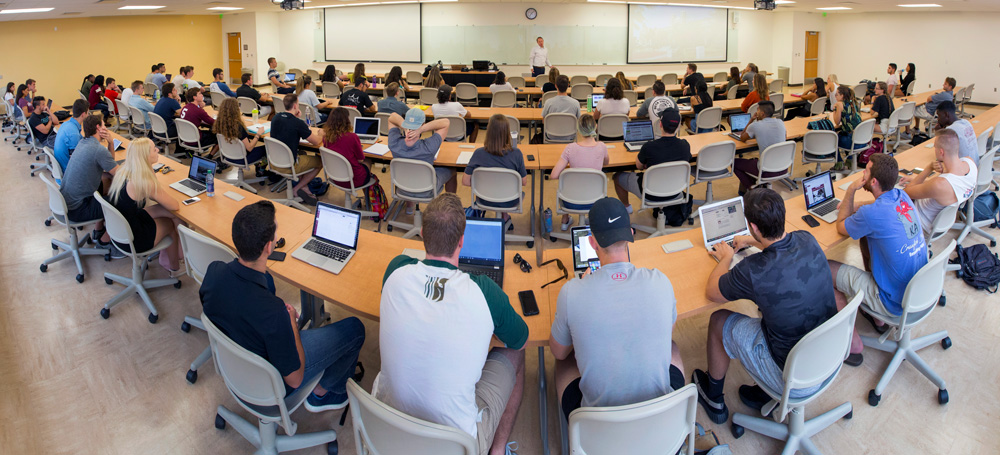 Florida State University's Jim Moran School of Entrepreneurship has formed a new partnership with the Greater Tallahassee Chamber of Commerce designed to help students secure internships.
The new program will provide students "courtesy" memberships with the Chamber of Commerce so they can connect more easily with local business leaders. The Chamber will pair students with mentors, who will offer business advice and organize internships in the Tallahassee workforce.
The partnership between FSU and the Chamber is also intended to help Tallahassee-area businesses retain top talent and boost local entrepreneurs.
The Jim Moran School of Entrepreneurship was founded in December 2015 with assistance from a $100 million gift from Jan Moran and The Jim Moran Foundation.
Eighty students are enrolled in the School's inaugural fall 2017 class. They are pursuing a degree in entrepreneurship, which requires students to complete an internship.
"The importance of an internship to our students' education cannot be understated," said Susan Fiorito, director of the Jim Moran School of Entrepreneurship. "Internships allow students to experience the work environment under a successful and caring mentor. We appreciate that the Greater Tallahassee Chamber of Commerce has taken such an interest in our entrepreneurship students by providing hands-on learning and business experience."
A guiding principle of the Tallahassee Chamber of Commerce is to create a talent-development system that supports the community's workforce needs now and in the future.
Chamber president and CEO Sue Dick said that kind of talent pipeline and enhanced entrepreneurship efforts are primary goals for the organization.
"In order to grow the Tallahassee economy, we must be able to pair talented students from local schools with opportunities to learn, grow and thrive here," Dick said. "Through this partnership, we will encourage entrepreneurially minded students to engage with the Tallahassee business community. The Jim Moran School is the perfect partner to develop a workforce infrastructure designed to retain top talent."
The new partnership was highlighted today at the Chamber's Annual Breakfast Meeting. Chamber Chair Heidi Otway said the program will benefit FSU students and Tallahassee businesses.
"We are committed to building a better future in Tallahassee by saying 'yes' to mentorships and internships for many talented and innovative students," Otway said.
The partnership begins this fall. Students will receive updates on Chamber activities and be invited to networking events and forums that focus on important issues in Tallahassee. In 2018, students will start teaming up with mentors and accepting internship opportunities.