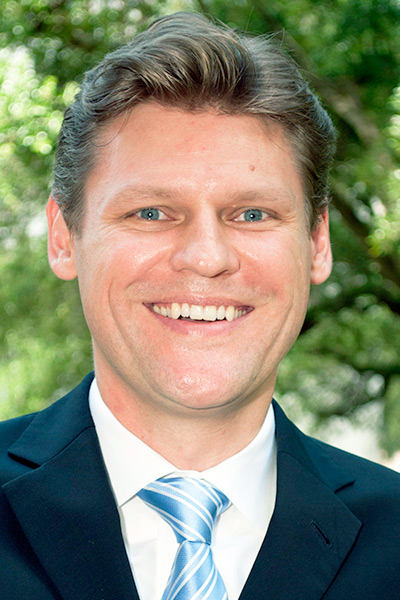 Martin Mende, an associate professor of marketing in the Florida State University College of Business, has been selected as the 2017 Emerging Scholar by the Marketing and Society Special Interest Group (MASSIG) of the American Marketing Association.
The award honors researchers in the early stages of their academic careers who tackle significant societal issues that substantially advance understanding in those areas.
Mende was commended for exemplary performance in several areas: rigorous scholarship focusing on consumer well-being, particularly in health care and financial services; his history of service to the marketing field; and his far-reaching impact on marketing research.
"I love what I do as a service scholar and I am energized by the idea that my work can help to make a meaningful contribution to consumers' quality of life," said Mende, who joined Florida State's faculty in 2013. "I support the efforts of the MASSIG community to encourage marketing research that promotes consumer, societal and environmental welfare. That's a mission benefiting all of us."
Mende also was recognized for his involvement with the Association for Consumer Research's (ACR) Transformative Consumer Research (TCR) initiative. It has helped increase the number of service scholars researching public policy and created several high-quality publications.
Mende serves on the TCR advisory board and is co-chair for the 2019 TCR Conference. He currently is working on a project that helps inner-city consumers move toward greater financial independence.
"The American Marketing Association is a global organization and the winner could have come from nearly any country in the world," said Michael Brady, chair of FSU's marketing department and the Carl DeSantis Professor of Business Administration. "Seeing the 'Emerging Scholar' award go to Martin this year, and to Maura Scott a few years ago, underscores the fact that our faculty members are doing great work, and it's work that matters."
Scott, the Madeline Duncan Rolland Associate Professor of Business Administration and Dean's Emerging Scholar in Florida State's Department of Marketing, received the award in 2014.
Mende holds a doctorate in marketing from the W. P. Carey School of Business at Arizona State University, as well as a doctorate in service management from the Ingolstadt School of Management at Catholic University of Eichstätt, Germany.
His research interests also include conspicuous consumption; complaint management and service recovery; and consumer attachments to service firms and service employees. His research has been published in leading journals including the Journal of Marketing Research, Journal of Service Research, Journal of Public Policy & Marketing, Marketing Letters and the Journal of Business Research.