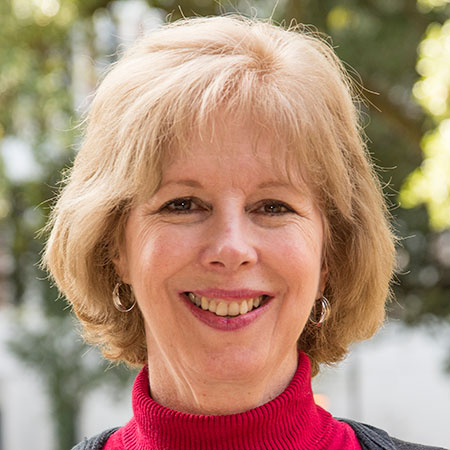 Florida State University's Jim Moran School of Entrepreneurship is proud to announce Wendy Plant, director of the Center for Student Engagement, has been elected as a Director at Large for the United States for Small Business and Entrepreneurship (USASBE).
USASBE is the largest independent, professional, academic organization in the world dedicated to advancing the discipline of entrepreneurship.
In the Jim Moran School's Center for Student Engagement, Plant consults with entrepreneurship students from across the FSU campus. She also manages the InNOLEvation ® Challenge business-model competition, InNOLEvation ® Center student incubator, speaker events, JM Micro Grant program and all co-curricular entrepreneurship student programs.
"Wendy has been an active member of USASBE and has been very dedicated to its mission to advance knowledge and foster business development through entrepreneurship education and research," said Susan S. Fiorito, founding director of the Jim Moran School of Entrepreneurship. "She continues to find ways to connect the university and the Jim Moran School with leaders in entrepreneurship education."
Plant earned a Master of Business Administration from the University of Tampa. She also holds certificates in Family Business Advising from the Family Firm Institute, as well as Incubator Management from the National Business Incubation Association. Plant currently serves as the executive director of the Roundtable of Entrepreneurship Educators of Florida (REEF), a statewide association of educators and entrepreneurship center directors from Florida's colleges and universities.
As USASBE's Director at Large, Plant will support the incoming board president, Heidi Neck — the Jeffrey A. Timmons professor of Entrepreneurial Studies and faculty director of the Symposia for Entrepreneurship Educators and the Babson Collaborative at Babson College.  She will work with Neck on her major strategic initiatives for the coming year. Her two-year term will start at USASBE's annual conference in January, 2017.
With over 1,000 members from universities and colleges, for-profit businesses, nonprofit organizations, and the public sector, USASBE is a diverse mix of professionals who share a common commitment to fostering entrepreneurial attitudes and behaviors. This community works to enhance understanding of the phenomenon of entrepreneurship and identify best practices on teaching entrepreneurial principles and facilitating the creation and growth of for-profit and social ventures.
For more information about the Jim Moran School of Entrepreneurship, visit the website at jimmoranschool.fsu.edu
About the Jim Moran School of Entrepreneurship
In December 2015, FSU announced the largest gift in its history, $100 million, from Jan Moran and The Jim Moran Foundation to create the nation's largest interdisciplinary, degree-granting school of entrepreneurship. Students will participate in traditional case-study learning along with innovative hands-on applications and experiences. Students accepted in the inaugural 2017-2018 class will graduate with a Bachelor of Science or Bachelor of Arts in Entrepreneurship.