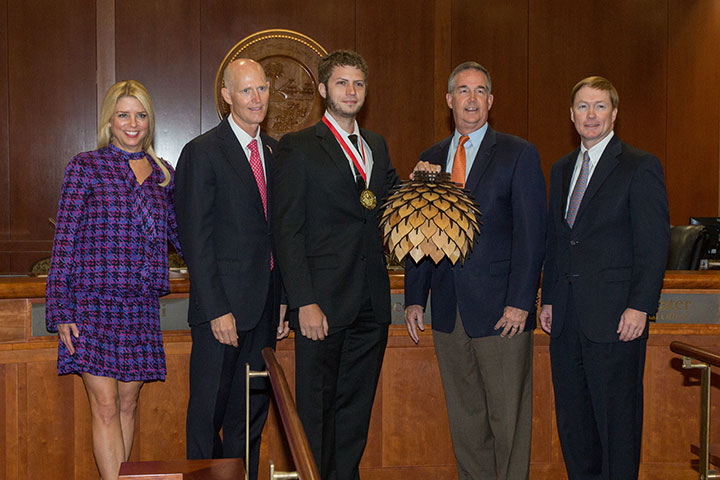 A Florida State University graduate has been recognized for starting an innovative business that utilizes "parametric design" to produce unique wooden products.
Today, Gov. Rick Scott presented the Governor's Young Entrepreneur Award to Nick O'Donnell, who graduated with a degree in entrepreneurship from FSU's College of Business in 2015.
O'Donnell is the founder and owner of a Sarasota-based startup called Terraform Design, where he creates "next-generation" furniture, light fixtures and precisely carved structures like you've never imagined.
O'Donnell loves the creative process of taking an idea and turning it into a tangible product.
"Being able to come up with an idea in your head, and to see it in your head, and then several days or weeks later to actually hold what started out as an idea is really one of my favorites things in the world," O'Donnell said.
He is thrilled to be recognized with the Governor's Young Entrepreneur Award.
"It's awesome to be recognized. I didn't think I'd have this kind of success only a year-and-a-half out of school."
The Governor's Young Entrepreneur Award recognizes Florida students, college graduates and young entrepreneurs who are excelling in the workplace and creating innovative ideas in the state.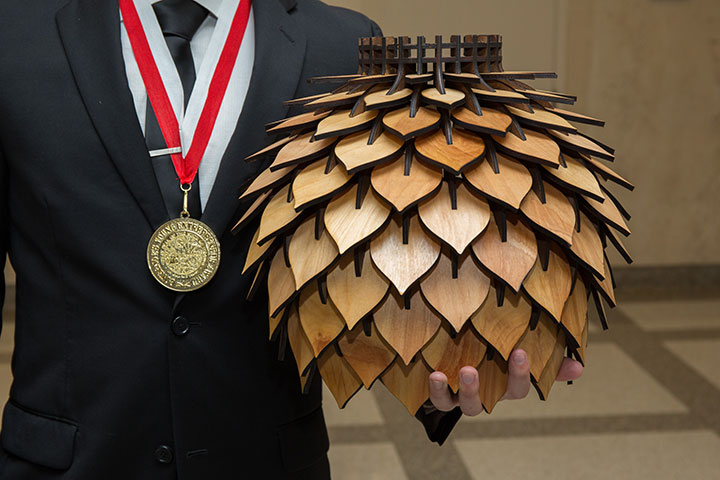 Florida State Board of Trustees chair Ed Burr attended today's Cabinet meeting at the Florida Capitol, where O'Donnell accepted the award and showed off one of his finely crafted light fixtures. Burr liked what he saw and planned to submit an online order soon.
"On behalf of the Florida State Board of Trustees, we congratulate Nick," Burr said. "He exemplifies what we do at Florida State University, trying to educate our young students to become great, productive adults, get jobs and create economic development."
Florida Attorney General Pam Bondi looked like another potential customer. She marveled at the intricate design of the "Spore Lamp" — a handmade light fixture constructed with 150 pieces of laser-cut wood. Bondi's enthusiasm is surely a good sign for O'Donnell's products.
"When she expressed interest, it was very exciting," O'Donnell said. "If someone that (influential) can appreciate the work that I do, then it gives me a lot of hope for the future for some good sales."
Florida State's entrepreneurship program is the predecessor to the Jim Moran School of Entrepreneurship scheduled to launch in the fall of 2018. O'Donnell's former professors are not surprised to see him earn the award.
"Nick is the third student from the entrepreneurship major to receive the Governor's Young Entrepreneur Award in the past year," said Jim Dever, associate director and Entrepreneur-in-Residence for the Jim Moran School of Entrepreneurship. "We are very excited for him and couldn't think of a more deserving person to be given this prestigious award."
FSU's entrepreneurship major provides both traditional learning and hands-on applications. Students take courses in technology commercialization, organizational design and venture finance. They also participate in team projects that focus on starting, managing and growing a successful venture.
"We are very proud of Nick's accomplishments and are so pleased to see him honored with this award," said Susan Fiorito, founding director of the Jim Moran School of Entrepreneurship, Jim Moran Professor and program director of entrepreneurship. "Our main goal is to train students in entrepreneurship and give them real-world opportunities so when they leave Florida State, they can achieve immediate success with business startups like Nick's."
O'Donnell admits he sometimes gets crazy ideas and maybe a generation ago they would have been too crazy to act on. But today he's able to employ a wide array of state-of-the-art tools, along with some traditional ones, to bring those ideas to life.
Terraform Design utilizes 3D computer-aided design software, algorithmic modeling, laser-cutting equipment, as well as pure, old-fashioned math to create gorgeous designs extraordinary in their detail and customization.
"It's really fun to have a crazy idea, something that might seem not doable and then to see it a little while later sitting there in front of you," O'Donnell said. "It's really cool."
He uses "parametric design" to develop 3D designs that can be customized infinitely depending on what the customer wants. Cutting the complex contours in his products demands perfect precision.
"The laser head has a lens that shoots out a laser that cuts the wood and the cutting path is less than 2 millimeters, so it's a very focused beam of light that cuts the wood," O'Donnell said. "It follows different paths that you put into the computer and tell it to follow."
He conceived the idea for Terraform Design as a student in FSU's InNOLEvation® — a business incubator for students. During a presentation at the College of Business, O'Donnell was fascinated to learn about an emerging industry known as "digital furniture fabrication."
Now, he produces geometric tables like the birch "Orbitalis Classic," flowing chairs like the "Terraform," fern-like light fixtures called the "Spore Lamp," and arching benches like the "Whispy" for malls, airports and corporate buildings.
For more information about Terraform Design, visit terraform-design.com. Learn more about the Governor's Young Entrepreneur Award, or nominate someone for the award at HireFloridaGrads.com.