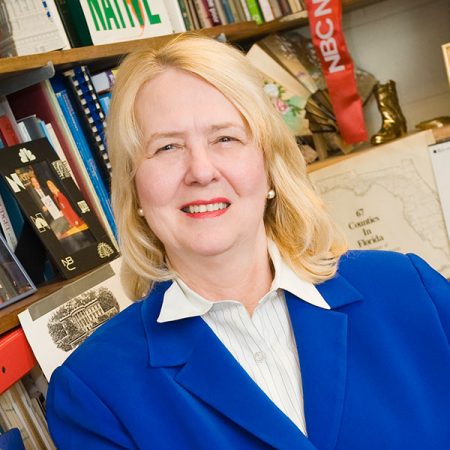 Florida State University alumnus Susan MacManus, a political science professor at the University of South Florida (USF) and a frequent national media commentator will return to her alma mater to share her expertise on elections and campaigns.
Her talk, "2016: An Election Like No Other," will focus on how reaching voters has changed significantly in today's high-tech world where personalities often "trump" policies.
The lecture, which is free and open to the public, takes place at 7 p.m. Thursday, Oct. 13, in Room 2004 of the William Johnston Building, 143 Honors Way.
MacManus is well versed on Florida's key role in national elections. She says the state is a microcosm of the country with a racial and ethnic makeup that is more like the entire U.S. than any other state.
An award-winning teacher and holder of a distinguished professorship at USF, MacManus is also a Fulbright Research Scholar. She has served as an expert witness before the U.S. Supreme Court on redistricting cases and written a recent book on Florida's minority trailblazers in state and national politics. She is Florida's most quoted political scientist, offering her commentary and analysis on major cable television, radio networks and in major newspapers throughout the state, the U.S. and abroad.
MacManus has also co-written textbooks with Florida State Emeritus Professor of Political Science Thomas Dye, who was her teacher and mentor when she earned her Ph.D. in 1975. She also earned a bachelor's degree in political science at FSU and will accept the Distinguished Alumna Award from the College of Social Sciences and Public Policy while she is on campus.
"Along with her brilliant academic career, Dr. MacManus is actively engaged with the world beyond campus and the policy issues and challenges our country faces today, and that's what we aim to instill in our students," said Tim Chapin, interim dean of the college. "We're looking forward to her sharp analysis of this unique campaign season and encourage everyone to take the opportunity to hear her speak."
MacManus is looking forward to returning to the university to accept her award and deliver the timely lecture.
"Every time I return to Tallahassee for political-related purposes, I still drive around campus and fondly remember my days as a student," she said. "Back home, my goal is to try to give my USF students the same high quality of teaching and mentoring that my FSU professors gave to me. Once a Nole, always a Nole!"
The talk is part of the College of Social Science and Public Policy's continuing Anderson-Ashby Lecture Series in Public Policy Journalism.