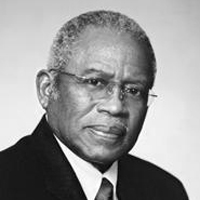 Historic civil rights attorney and author Fred Gray will give a public lectureat 3:15 p.m.Thursday, August 27,at the Florida State University College of Law.Gray's remarks, which will take place in Roberts Hall, room 101, are the first part of a Civil Rights Litigation class he is co-teaching at the law school during the fall 2015 semester.
Gray practices law in Alabama and has litigated some of the nation's most transformative civil rights cases. During his 60-year legal career, Gray represented Rosa Parks, Dr. Martin Luther King, Jr., Montgomery Bus Boycott participants, students who fought segregation in Alabama's educational system, and marchers in the Selma-to-Montgomery March preceding the passage of the Voting Rights Act of 1965. Gray also was one of the first African Americans to serve in the Alabama Legislature since Reconstruction and was the first African American president of the Alabama State Bar.
"It is an honor to have Attorney Gray at our law school to speak to our students and to the community," said Dean Donald J. Weidner. "His work is truly groundbreaking."
Immediately following Gray's remarks, there will be a reception in the College of Law rotunda.