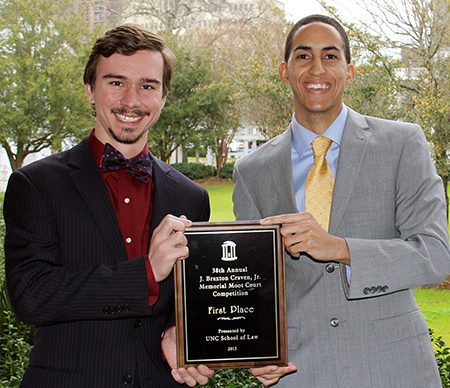 The Florida State University College of Law Moot Court Team won first place in the J. Braxton Craven, Jr. Memorial Competition held Feb. 18–21 at the University of North Carolina School of Law in Chapel Hill.
"Congratulations to our wonderful student advocates and to their coaches," said Donald J. Weidner, dean of the College of Law. "This victory is another testament to the excellence of our students and their advocacy skills."
Florida State also won the annual competition in 2009.
Twenty-two law schools participated in the competition, including Boston College, Fordham University, University of Maryland, University of Virginia, University of Wisconsin and William & Mary.
Third-year law student Jonathan Martin of Fort Lauderdale, Fla., and second-year law student Ian Waldick of Ocala, Fla., were members of the winning team. Judge Stephanie Ray ('95) of the Florida First District Court of Appeal and Tallahassee attorney Courtney Brewer, a shareholder at The Mills Firm, coached the team.
The judges for the final round were Judge Henry F. Floyd, United States Court of Appeals for the Fourth Circuit; Judge Laura Taylor Swain, United States District Court for the Southern District of New York; and Judge Stephanie D. Thacker, United States Court of Appeals for the Fourth Circuit.
The national moot court victory is on the heels of Florida State's Black Law Students Association (BLSA) first place wins in two major advocacy competitions. In January, the BLSA won the regional Thurgood Marshall Mock Trial Competition and the regional Frederick Douglass Moot Court Competition.