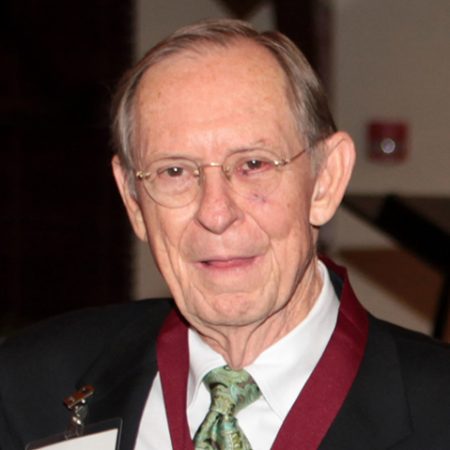 The College of Social Sciences and Public Policy at Florida State University will present its 2014 Distinguished Alumnus Award to Gordon Gaster, a semi-retired financial and investment consultant, at a special reception and Homecoming celebration Nov. 7 in the college's DeVoe Moore Center.
Gaster graduated from Florida State in 1956 with a Bachelor of Arts in economics. During his time at the university, he was a member of the Omicron Delta Kappa national leadership honor society, vice president of the student body, a three-year member of the Student Senate and president of the FSU chapter of Lambda Chi Alpha fraternity.
"FSU provided me with more than just an education," said Gaster, a Florida native. "It gave me a foundation for a strong life and was instrumental to my personal and professional successes."
Between graduating from high school and starting at Florida State in 1952, Gaster spent a year journeying across the country to work odd jobs and build his character. He worked as a roughneck on oil rigs, drove combines and other equipment on farms, and most importantly, gained the motivation to further his education. Because he came from a poor school district in Central Florida, he had to work extra hard to improve his reading skills, train himself in time-management and study habits, and learn to use the library most effectively.
His efforts in his studies were matched by the hours he spent on the jobs he needed to get himself through the university: stocking vending machines, managing his dorm laundry room, working in the dining hall and selling pots and pans to students planning their weddings. He even gained some important experience in an unexpected place.
"I joined the FSU Flying High Circus for one year, because it was a fun and efficient way to get an extra course credit," he says. "It was only later that I realized tossing students into the air — and catching them — was good practice for disciplined multitasking. Little did I know then that working on commission is a lot like performing live 'without a net,' which I have done my entire business career."
Gaster's professional career has included terms as senior vice president for Merrill Lynch and management positions with Dean Witter & Reynolds, Morgan Stanley and E.F. Hutton. He also was instrumental in securing municipal bond deals for the airport, the courthouse and a water company in Palm Beach County, Fla.
Despite his busy life, Gaster has stayed engaged with the college and with FSU, offering his service, support and example to the university community as, among other things, a trustee of the Florida State University Foundation, including a three-year term as vice chairman, and as president of the Florida State University Alumni Association. Gaster also is the founder of the Gordon D. Gaster Endowment Fund, which supports the Gus Stavros Center for Economic Education and its Economic Literacy Initiative. This unwavering dedication and generosity has earned him numerous awards and honors, including induction into the Alumni Association's prestigious Circle of Gold in 2010.
"I never regret the time I spend connecting with FSU and the college," he said. "As alumni, we all recognize that the knowledge we gained, the skills we learned and the relationships we built during our time at the university contributed tremendously to our lives and professions. That's why it's so important — and so satisfying — to give back to the generations who come after us, so they can benefit, too."