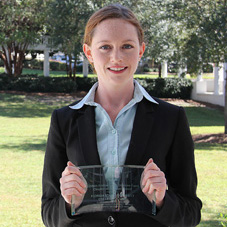 Florida State University's College of Law Student Animal Legal Defense Fund (SALDF) has won the 2014 Chapter of the Year Award, presented by the Animal Legal Defense Fund.
Florida State's SALDF was selected for the award from a group of 182 national and 20 international chapters. The award recognizes an SALDF chapter that has made outstanding efforts to advance the field of animal law and to advocate for animals through original projects and initiatives.
The honor was announced Saturday, Oct. 18, at the Animal Legal Defense Fund's annual Animal Law Conference in Portland, Ore. Florida State law students and SALDF members Sara McNeill and Sarah Bailey accepted the award at the event.
Florida State's SALDF was honored following a year of many accomplishments. During 2014, SALDF spoke to officials with the Florida Legislature and with the City of Tallahassee to advocate for animals, hosted lectures by animal law experts, and sponsored an animal law writing competition open to students from all Florida law schools. This November, SALDF also is co-hosting at the College of Law the Southeastern Animal Law Symposium, the first animal law conference in Florida.
"We are thrilled that the work of our Student Animal Legal Defense Fund is being lauded at the national level," said Dean Donald J. Weidner. "Congratulations and thanks go to the entire SALDF board and especially to its president, Christine Clolinger, for Florida State's award-winning submission."