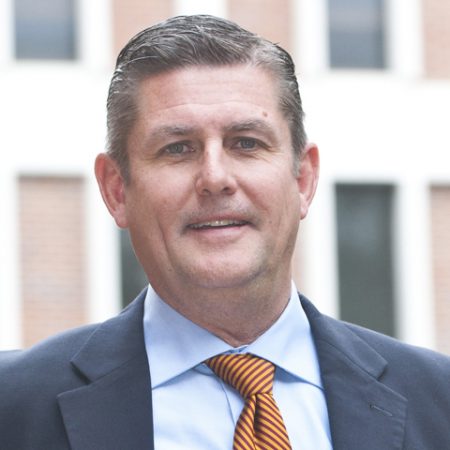 Randy Blass, research associate of organizational behavior in the Florida State University College of Business, has been named executive director of The Jim Moran Institute for Global Entrepreneurship.
Blass, who previously served as director of the institute, succeeds Tim Holcomb, who has accepted a position at Miami University's Farmer School of Business. In addition to his new role, Blass will continue teaching and leading the Entrepreneurship Bootcamp for Veterans with Disabilities as its director.
Under Blass' leadership, The Jim Moran Institute, which is housed in the College of Business, will continue to serve as one of the leading initiatives in Florida State's goal of becoming "The Entrepreneurial University."
As a source of education and expertise for entrepreneurs of all levels, The Jim Moran Institute offers programs designed to equip students with the tools they need to succeed as entrepreneurs.
Blass' expanded responsibilities include oversight of on-campus student activities, including business plan competitions, the student business incubator and Entrepreneurship Month activities. Blass also will direct community initiatives through outreach directors located in North and South Florida. These activities include CEO Peer2Peer Groups, the ESO Network, the Small Business Executive Program and an expert speaker series.
A retired U.S. Air Force lieutenant colonel, Blass holds a doctorate in business administration from Florida State, a master's degree in military arts and sciences from Air University, a master's in administrative sciences from George Washington University and a bachelor's in American studies from the University of South Florida. Before joining the Florida State faculty, Blass taught at the U.S. Air Force Academy.
Prior to his new appointment, Blass was senior research fellow at the Institute for Military Veterans and Families at Syracuse University; chairman of Florida State's Veteran Center Initiative Committee; director of the College of Business Center for Veteran Outreach; and faculty adviser of the student chapter of Society for Human Resource Management.
Blass also served as an invited consortium member of the White House Symposium on Promoting Economic Recovery and Job Creation Through Faith-Based and Community Partnerships and as a member of the Small Business Administration's Council on Underserved Communities Inaugural Meeting in Washington, D.C.
His research has been published in top management journals, and he has authored multiple articles and book chapters. He is co-author of the book "The 52ndFloor: Thinking Deeply about Leadership." In addition, Blass is principal at Blass and Associates, LLC, where his consulting activities are centered on critical thinking, social influence and human resource management skills in small business leader development.