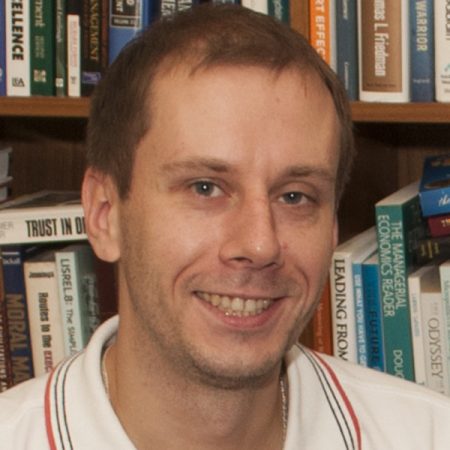 An executive director of the Russian Association for Entrepreneurship Education (RAEE) is at Florida State University to learn the American version of innovation and entrepreneurship while providing an international perspective to his U.S. colleagues, particularly about the challenges facing the growing number of aspiring Russian entrepreneurs.
Denis Matvienko arrived in Tallahassee in early October as a Russia Innovation Fellow and guest of The Jim Moran Institute for Global Entrepreneurship at Florida State's College of Business.
Russia Innovation Fellows are a part of the Professional Fellows Program (PFP), whose focus is on entrepreneurship and innovation. The program is sponsored by the U.S. Department of State, Bureau of Educational and Cultural Affairs and administered by American Councils for International Education.
PFP offers promising young professionals from Russian the opportunity to gain practical experience in, and exposure to, U.S. policies related to innovation and entrepreneurship. Short-term fellowships that expand participants' knowledge and interest in these topics are available in a variety of American organizations and state bodies across the United States.
"This is a remarkable opportunity for us to host Denis," said Randy Blass, director of The Jim Moran Institute and Matvienko's U.S. supervisor. "We're gaining valuable insights about the similarities and differences between the Russian and American approach to entrepreneurship and growing businesses."
Matvienko earned a Master of Science in mathematical methods in economics at Moscow State University of Economics, Statistics and Informatics and is on the faculty at one of Russia's largest private universities — Moscow University for Industry and Finance "Synergy." He was one of five Russian professionals selected for the fellowship through a competitive nationwide search that involved an extensive written application and in-person interview with American Councils and U.S. Embassy staff.
The 31-year-old Matvienko is interested in soaking up The Jim Moran Institute's expertise in student entrepreneurship education, competitions and outreach, as well as spending time at its student business incubator, the InNOLEvation Accelerator. His full schedule includes visiting Florida State entrepreneurship classes, networking with faculty members and gaining an understanding of developing an entrepreneurship curriculum. Also on his schedule is a visit to the FAMU-FSU College of Engineering to sit in on a class titled Technology Entrepreneurship and Commercialization and a meeting with a group of Tallahassee entrepreneurs and small business owners.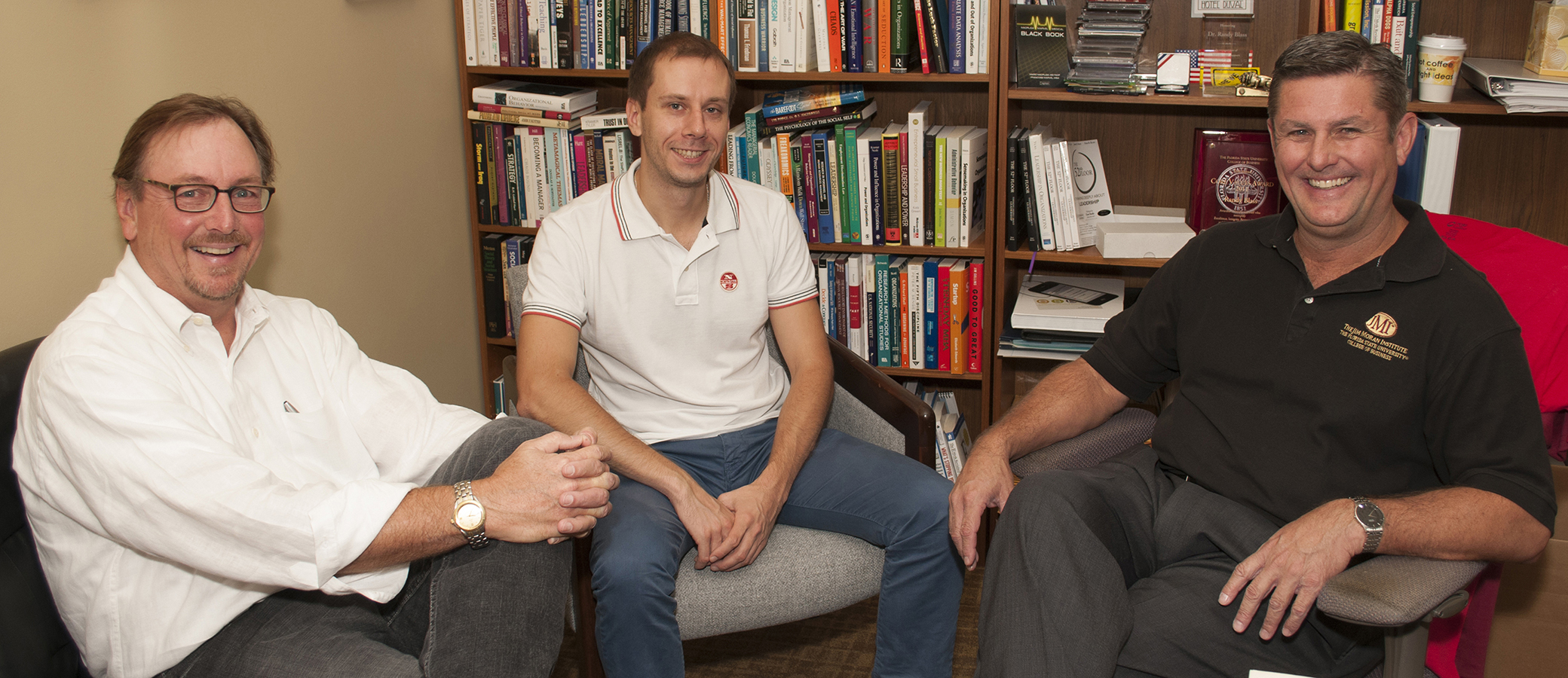 "I have met many great people at FSU — friendly, open-minded, professional in their sphere," Matvienko said. "I'm especially very glad to work with the team of The Jim Moran Institute, and believe this is the beginning of long-term mutually beneficial relationship between the Russian Association for Entrepreneurship Education and Florida State University."
During the course of their month-long visit to their host institutions, fellows are required to collaborate with their U.S. supervisor to develop a program proposal for overseas implementation in 2014 that will be mutually beneficial. The proposals will be competitively judged by a panel comprising American Councils staff. The American councils will fund travel for U.S. participants, whose collaborative project is selected. The projects are designed to reach a broad overseas audience, educate and provide insights the U.S. system of enterprise, engage participants in cross-cultural learning and break down stereotypes. Matvienko, along with his supervisor Blass and College of Business Entrepreneur-in-Residence Doug Tatum will spend the remainder of Matvienko' s visit hammering out ideas for a viable project.
"In his application, Denis said he wished to visit an entrepreneurship center engaged in higher education, outreach and research, and the U.S. State Department approached us about hosting him," said Dean Caryn Beck-Dudley. "I think this says a lot about our growing reputation as 'The Entrepreneurial University.' We are so pleased to have him with us, and hopeful this will be just the beginning of a mutually beneficial relationship between the college and Denis' colleagues in Russia."
Following his visit to Florida State, Matvienko will join a larger group of fellows, including four other Russia Innovation Fellows, who are scattered throughout the U.S., and Professional Legislative Fellows, who hail from Armenia, Azerbaijan, Georgia, Moldova, Turkey and Ukraine in Washington, D.C., in early November. Their discussions will cover topics of mutual interests and ideas for collaboration with U.S. counterparts.