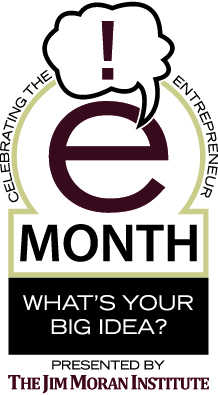 November is "eMonth" — short for Entrepreneurship Month — at Florida State University, and students in all majors across campus have been participating in an array of activities to see what it takes to be a successful entrepreneur. eMonth is sponsored by The Jim Moran Institute for Global Entrepreneurship, which is housed in FSU's College of Business.
Designed to foster a culture of entrepreneurship across campus, eMonth celebrates the entrepreneurial spirit and provides Florida State students from all discipline with an introduction to the world of business. The eMonth concept reflects the university's ongoing transformation into "the Entrepreneurial University" and a campuswide emphasis on creating a culture among students, faculty and staffthat embraces entrepreneurship, creativity and innovation, as well as the idea that those who take calculated risks can gain enormous benefits.
"Florida State students have innovative ideas, and eMonth encourages them to move forward with their 'big ideas' and learn what it takes to be an entrepreneur in today's highly competitive marketplace," said Randy Blass, director of The Jim Moran Institute and a research associate in the Department of Management. "We hope students will be inspired by the successful entrepreneurs who have agreed to share their stories and experiences with our students during eMonth."
eMonth gives students opportunities to network with other students and members of the local and nationwide business communities who are willing to share the secrets to their success. Several of the free events have already taken place, including:
ENTREPRElooza Student Expo: Held Nov. 7, the expo, held on Landis Green, provided entrepreneur-program students a venue to showcase the products and services their businesses have to offer. Free food and giveaways were available at the students' booths. Students also used their selling skills in a viral texting contest for an opportunity to win an iPad. In addition, the expo provided an opportunity for students from all over campus to meet peers who are majoring in entrepreneurship and learn how the College of Business fosters real-world educational experiences by providing a platform and support.
7 Under 30: Held Nov. 13 at the Turnbull Conference Center, the first annual event featured seven successful Florida State alumni who started businesses before they were 30 years old. The entrepreneurs provided insight on leadership topics such as the importance of vision and persistence, mentoring and networking, and diverse talents and start-ups. Students also were able to ask questions of the founders of the seven successful businesses. The entrepreneurial alumni were Roberto Torres, co-founder of Black & Denim Apparel Company; Mike Fingado, co-founder of Athletepreneur and Notelog.com and head of business development for Coursemodo; Simon Anderson, founder and chief futurist of Futur1st; Sean Flood, founder of GOTCHA Ride; Hemal Patel, founder of KB Studio and KeoloHosting; Garrett Johnson, co-founder of SendHub; and Travis Williams, co-founder and CEO of Sports Entertainment Gear.
In addition, another free event is upcoming:
Progressive Luncheon: Taking place Friday, Nov. 30, from 10:30 a.m. to 1 p.m. in the Futch Ballroom, located at the University Center Club. The luncheon will allow students to move from table to table, gaining firsthand knowledge about starting and operating a business from successful entrepreneurs and business leaders. The keynote speaker will be Andreas Widmer, a business executive, entrepreneur, investor, researcher and author of "The Pope & The CEO." Widmer also is president of the Carpenter's Fund and a co-founder of the SEVEN Fund, a philanthropic organization that invests in enterprise-based solutions to poverty. The luncheon will provide a great networking opportunity as students talk one-on-one with more than 40 successful entrepreneurs.
Attendance for all eMonth events is free, but registration is required for the 7 Under 30 and Progressive Luncheon events. Students can register for both events at www.jmi.fsu.edu.
About The Jim Moran Institute for Global Entrepreneurship:
Located in the Florida State University College of Business, The Jim Moran Institute for Global Entrepreneurship was established in 1995through donations from automobile-industry legend Jim Moran, his wife, Jan, and JM Family Enterprises Inc. These donations were supplemented with a major grant from the state of Florida, and additional funding from The Jim Moran Foundation Inc., to create a fully funded endowment. The mission of the institute is to cultivate, train and inspire entrepreneurial leaders through world-class education programs and curriculum; intensive consulting assistance and mentorship to entrepreneurs and business owners; leading-edge academic research; and applied education and public recognition. For more information about The Jim Moran Institute, visit www.jmi.fsu.edu.