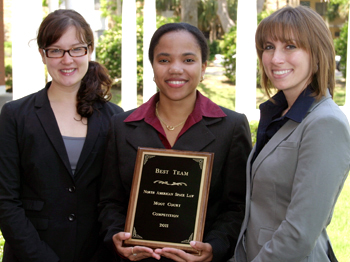 The Florida State University College of Law Moot Court Team has won the 2011 Manfred Lachs Space Law Moot Court Competition for the North American region. The competition was held April 16 in Washington, D.C., at Georgetown University Law Center. The team will represent North America in the international competition in Cape Town, South Africa, in October.
Winning team members are second-year law students Tanya Cronau, from Port St. John and Cape Canaveral and Lynn Guery, from Fort Lauderdale; and third-year law student Anne Marie Rossi, from Tampa. Tallahassee attorney Arthur Stern coached the team. Rossi also was named Best Oralist for the competition.
"We are all very proud to be celebrating another first-place win by our Moot Court Team," said College of Law Dean Don Weidner. "This national victory continues a tradition of extraordinary success."
Florida State defeated Georgetown in the final round of competition, which was judged by Circuit Judge Arthur Gajarsa, U.S. Court of Appeals for the Federal Circuit; Robert Stephens, chief counsel for the NASA Goddard Space Flight Center; and Jay Steptoe, NASA associate general counsel for international law. Other law schools participating included Catholic University, George Washington University, McGill University Institute of Air & Space Law, Rutgers University, Universidad Sergio Arboleda (from Colombia, by invitation), University of Mississippi, University of Nebraska and University of Virginia.
The Manfred Lachs Space Law Moot Court Competition is organized annually by the International Institute of Space Law. The competition is based on a hypothetical space law dispute before the International Court of Justice.
Florida State's advocacy teams are highly successful. In 2010, the Moot Court Team won first place in four national competitions and the Mock Trial Team placed first in the Florida Justice Association's E. Earle Zehmer Mock Trial Competition.