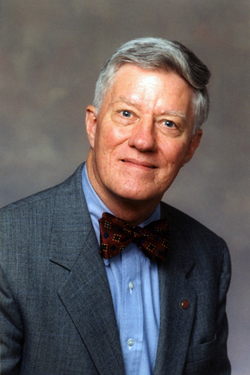 The Florida State University College of Business today announced the winners of the second annual Sunshine State Ethics in Leadership Award. The award, which is the only one of its kind in Florida, honors two individuals each year — one in the private sector and one best known for service in the public sector — who have demonstrated a deep and unwavering commitment to the highest levels of integrity, ethical behavior and principled leadership.
This year's public-sector winner is Talbot "Sandy" D'Alemberte, president emeritus of Florida State University; the private-sector winner is Steven L. Evans, an entrepreneur and IBM executive of 30 years prior to his retirement.
The awards, co-founded by the Florida State University College of Business, Ron Sachs Communications and Florida Monthly magazine, were sponsored this year by the Foundation for The Associated Industries of Florida. They were announced in a ceremony held at the College of Business.
"As an educational institution, we employ an individual approach to teach the complex intricacies of business while at the same time imparting the basic, yet vital, principle that the highest level of ethical behavior is the key to success," said Caryn L. Beck-Dudley, dean of the college. "We are pleased to honor FSU President Emeritus D'Alemberte and Mr. Evans, two individuals who live what they preach and embody the ethical principles we expect."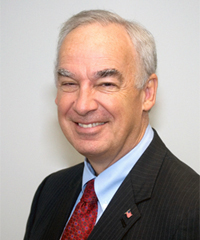 Recipients of the Sunshine State Ethics in Leadership Award are selected by the college's Ethics Roundtable, which works to promote and facilitate the highest standards of academic excellence and integrity as the required norms of a serious intellectual community among the college's students, faculty and staff.
Award recipients are selected based upon their dedication to ethics throughout their lives, including their professional and personal responsibilities, contributions to the public wellbeing, industry and statewide leadership, and their sterling reputations.
Talbot "Sandy" D'Alemberte is a household name in Tallahassee and across the state of Florida. He is well known for his work ethic and dedication to the people of Florida. D'Alemberte has served as a member of the Florida House of Representatives, as dean of the Florida State College of Law, and as president of Florida State University. He has sat on several boards, won countless awards and honors, and chaired a host of committees, including the Florida Commission on Ethics from 1974 to 1975.
D'Alemberte earned his juris doctorate in 1962 and has been an active member of the American Bar Association ever since, serving as president from 1991 to 1992. He also chaired the first American Bar Association committee on modern dispute resolution and served as a mediator, most notably for the recent water dispute between Florida, Georgia and Alabama.
Steve Evans retired from IBM after a 30-year career that included responsibility for the company's public sector industry. He also served as IBM's senior state executive for Florida, as well as vice president of marketing and sales for North America and for IBM's Global Education division. After retiring from IBM in 2003, Evans continued in business, becoming an entrepreneur and mentor. In addition, more than 200 people and numerous organizations have benefited from his guidance, including the Florida State University Foundation, where he recently served as interim president.
Evans has served as the chief operating office and senior adviser to the Florida TaxWatch Research Institute and interim CEO of Brandt Information Services. In addition, he shares his business savvy with budding entrepreneurs as a mentor and board member of The Jim Moran Institute for Global Entrepreneurship at FSU. In 2005, Evans was recognized by Leadership Tallahassee with the Servant Leadership Award, as well as the the Advocate of the Year Award from The Jim Moran Institute for Global Entrepreneurship at Florida State. In 2006, he was appointed to the State of Florida Government Efficiency Council.
In addition to receiving the Sunshine State Ethics in Leadership Awards, D'Alemberte and Evans will be featured in Florida Monthly magazine. They will also be invited to speak as part of the College of Business' Ethics Roundtable Speaker Series and at the college's annual Leadership and Scholarship Awards dinner later this year.
"In honoring these individuals, the FSU College of Business and Florida Monthly magazine are working to highlight the immense importance of ethics in leadership," Beck-Dudley said. "We are proud to be continuing a tradition of honoring the very deserving Floridians who are dedicated to the core principle of business — ethical behavior."
D'Alemberte and Evans join last year's inaugural winners: former Florida Gov. Reubin O'D. Askew for the public sector and Jeffrey Bartel, a corporate executive and successful entrepreneur, for the private sector.