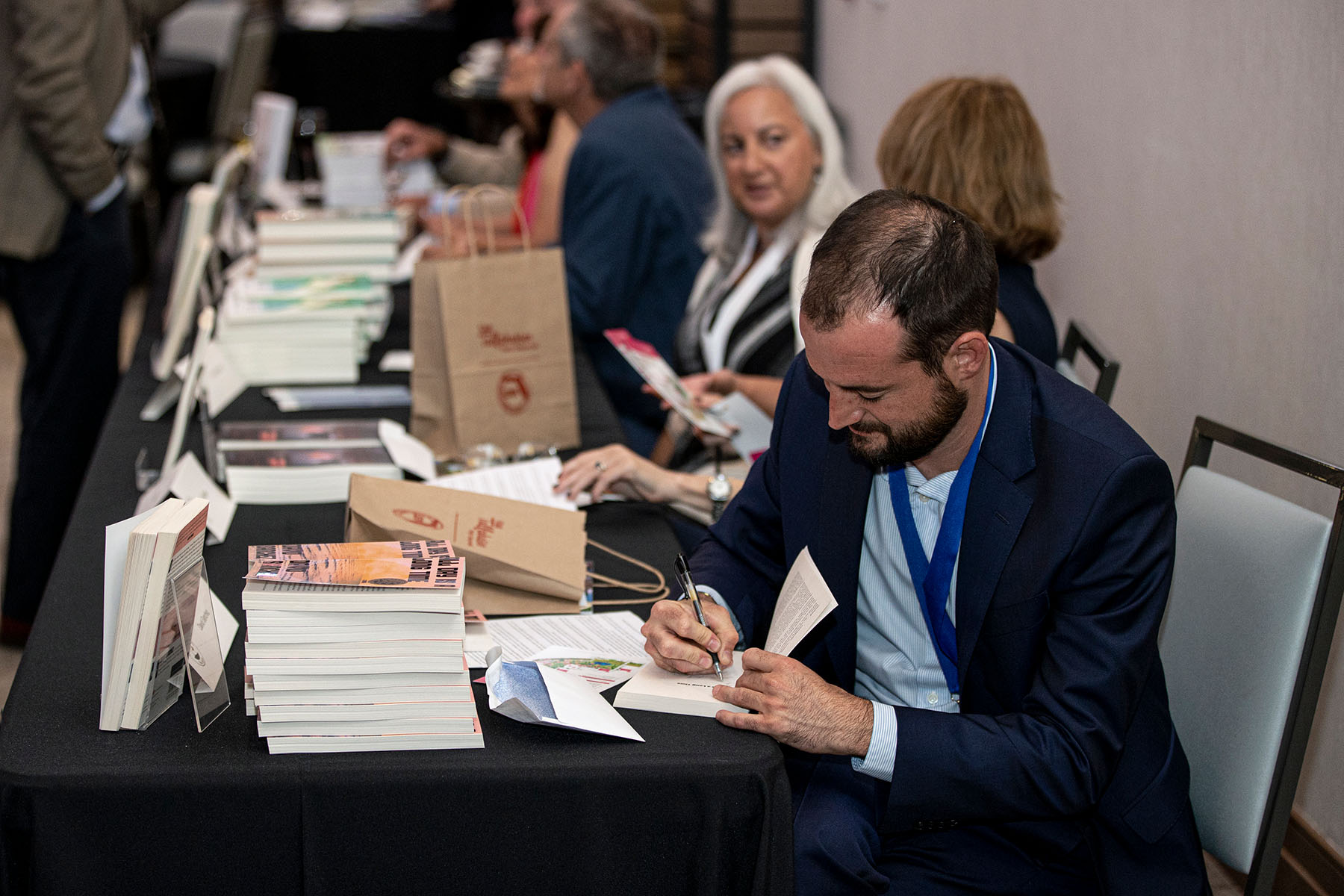 The Florida Book Awards, coordinated by Florida State University Libraries, has announced its 2023 competition for the best in Florida literature.
As the nation's most comprehensive state book awards program, the Florida Book Awards (FBA) recognizes and celebrates the best literature by Florida authors and books about the state.
Entries must be received no later than Jan. 18, 2024, and applicants are encouraged to submit their books for consideration immediately after publication.
"We look forward to continuing nearly two decades of celebrating Florida authors and writing," said Gale Etschmaier, dean of University Libraries. "Since the program's start in 2006, we have established new awards to spotlight emerging literary talent and recognize powerful stories, ranging from children's content and nonfiction to the visual arts and food. Our goal for this year is to expand relationships with libraries across the state to find innovative ways to connect Florida residents and visitors to life-changing books."
The Florida Book Awards includes awards in 11 categories, including cooking, fiction and nonfiction, children's literature, poetry, Spanish language and more.
All books nominated must have a 2023 copyright date and an ISBN number. Books may be submitted by authors, publishers or members of the public. Authors must be full-time Florida residents, except in the Nonfiction, Visual Arts and Cooking categories, in which the subject matter must focus on Florida.
Winners will be announced in the first week of March 2024.
For descriptions of categories and instructions for submitting nominations, visit floridabookawards.org.
---
The Gerald Ensley Developing Writer Award
Nominations for the Gerald Ensley Developing Writer Award are also open.
Established in 2019 in memory of the Tallahassee Democrat journalist, the award recognizes a writer who demonstrates exceptional talent and the potential for continued literary success and significance.
Recent awardees include Shana Smith, an assistant teacher for Sanbo Zen International, and Johnny Bell, a teacher at the PK Yonge Developmental Research School at the University of Florida.
Nominees for the Ensley Award must be Florida residents who have published at least one but no more than two books in any of the FBA categories and exhibit ability and promise for continued growth. The award is accompanied by a $1,000 prize. Nominations are due by Dec. 31, 2023.
To nominate a writer, visit floridabookawards.org/ensley-award.
---
A new executive director
Keith Simmons has been named FBA's new executive director.
Simmons is a communications strategist and marketing professional with a passion for nonprofits, technology, civic engagement and personal development.
A fourth-generation Floridian, he earned a bachelor's degree in history from Florida A&M University in Tallahassee and a master's degree in American history from the University of South Florida in Tampa.
"Storytelling is truly at the heart of the human experience," Simmons said. "And Florida is home to some of the most influential authors and storytellers in the world. It is truly a privilege to support the Florida Book Awards as we honor some amazing literary talent."
Simmons previously served as the communications director for Florida Humanities, the state affiliate of the National Endowment for the Humanities. In that role, he worked on professional development workshops for teachers, community conversations with Tallahassee-based organization Village Square and multiple virtual lecture series. Simmons was instrumental in communicating with state and federal officials and assisted with the Smithsonian Institution's Museum on Main Street program and the grantmaking program Florida Humanities offers.
The FBA partners with library, literary and cultural organizations throughout Florida, including the State Library and Archives of Florida, Florida Humanities, Florida Center for the Book, Midtown Reader and the Word of South festival.
Learn more about the Florida Book Awards at www.floridabookawards.org/.