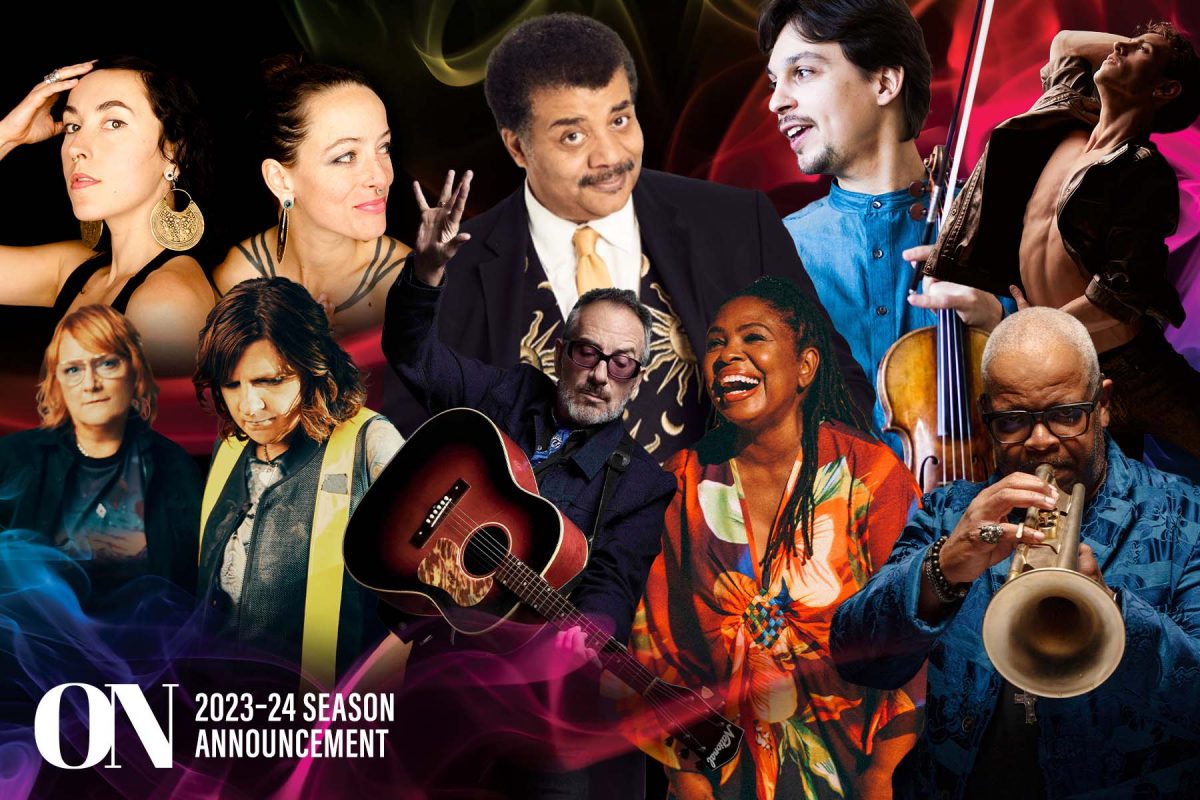 Singer-songwriter Elvis Costello, astrophysicist Neil deGrasse Tyson, actor Mandy Patinkin and the Vienna Boys' Choir are among the headliners for Florida State University's Opening Nights 2023-2024 season.
Legendary singer-songwriters Mary Chapin Carpenter and Shawn Colvin kick off a lineup of heralded and emerging artists in dance, music, literature, comedy and the visual arts on Oct. 1.
Performances will be held in a variety of venues on and off FSU's campus and feature collaborations with Challenger Learning Center, Colleges of Music and Fine Arts, as well as the Tallahassee Symphony Orchestra, Visit Tallahassee/Leon County, Word of South and LeMoyne Chain of Parks.
"The programs selected for this season demonstrate Opening Nights' continued commitment to presenting the very best," said Jennifer Wright, director of Opening Nights. "We have curated a season for arts enthusiasts of all ages as well as collaborating with on- and off-campus partners to present unique cultural experiences."
The lineup features well-known names such as Elvis Costello & The Imposters (Jan. 10) and Neil deGrasse Tyson (Jan. 24), along with up-and-coming acts like Ranky Tanky (Oct. 5), a South Carolina-based quintet.
The Gipsy Kings will perform Oct. 20 at Adderley Amphitheatre in Cascades Park. The evening, in collaboration with Leon County's Visit Tallahassee, will kick off with Tallahassee-based group the Maharajah Flamenco Trio.
This season will be filled with bluegrass and folk music. Groups Della Mae (Nov. 7), Damn Tall Buildings (March 21) and Rising Appalachia (April 27) will bring a blend of diverse Americana sounds.
In collaboration with FSU's School of Dance, ON will present FSU alumni Adele Myers and Dancers on Oct. 12 and Complexions Contemporary Ballet on Feb 14.
Opening Nights includes a new family-oriented lineup in its Ruby Jr. Series. Shows include techno-fusion dance group iLuminate on March 2 and interactive show Dinosaur World Live! on April 6.
For jazz enthusiasts, there's jazz and flamenco guitarist Jesse Cook (Jan. 11), Sing and Swing – A Jazz at Lincoln Center PRESENTS Production featuring Bria Skonberg and Benny Benack III (March 7), and Terence Blanchard featuring the E-Collective and Turtle Island Quartet (April 5).
Orchestra fans will enjoy Delirium Musicum (Jan. 18), a self-conducted contemporary chamber orchestra, and Pink Martini with China Forbes, a 12-piece group the members call a "little orchestra."
On Oct. 26, western swing band Hot Club of Cowtown will debut as the first Opening Nights act to perform at Phipps Farm.
MacMaster & Leahy Celtic Family Christmas will be the featured holiday program Dec. 7 at Opperman Music Hall.
February, the month that Opening Nights' forerunner –– the Seven Days of Opening Nights Festival — began, boasts numerous world-class arts and cultural experiences.
Sons of Serendip, a contemporary classical crossover group, will perform Feb. 1. On Feb. 7, relive the journey of Paul Simon and Art Garfunkel with The Simon & Garfunkel Story.
PRISM, featuring various College of Music ensembles and the world-renowned Marching Chiefs, will be held Feb. 11. The Vienna Boys' Choir, one of the oldest and most famous choirs in the world, will perform Feb. 12 as part of its 525th anniversary tour.
In collaboration with the Tallahassee Symphony Orchestra, Classical Mystery Tour: A Tribute to The Beatles will be held Feb. 17. A performance by blues musician Ruthie Foster on Feb. 29 will wrap up the month.
Fans of the theater will enjoy The Phony Awards, an interactive comedy improv show built on audience suggestions, at The Moon on Nov. 1.
On March 9, Tony award-winner Mandy Patinkin will present Being Alive with Adam Ben-David on Piano.
Representing visual arts, LeMoyne Chain of Parks Presenting Artist and FSU graduate Dean Mitchell (April 18) will discuss "Navigating the Art World: Building Success Against the Odds" at the Jim Moran Building in downtown Tallahassee.
Opening Nights will collaborate with the FSU English Department in presenting award-winning author Jesmyn Ward on March 18.
Indigo Girls, one of the most successful folk duos in history, will conclude the season May 1.
This season's FSU venues include Ruby Diamond Concert Hall, Opperman Music Hall, Nancy Smith Fichter Dance Theatre, FSU President's House and the Jim Moran Building. Opening Nights will also host performances at Tallahassee Community College in the Fred Turner Auditorium, Goodwood Museum and Gardens, the Phipps Farm, The Moon, and the Adderley Amphitheater at Cascades Park.
Opening Nights will return to its pre-pandemic practices of having one on-sale window for the 2023-2024 season. Opening Nights sponsors and members may purchase tickets Aug. 1-24 in advance of general public ticket sales. Tickets will go on sale to the general public at 11 a.m. Aug. 28.
To order tickets and view the full season lineup, visit OpeningNights.fsu.edu.