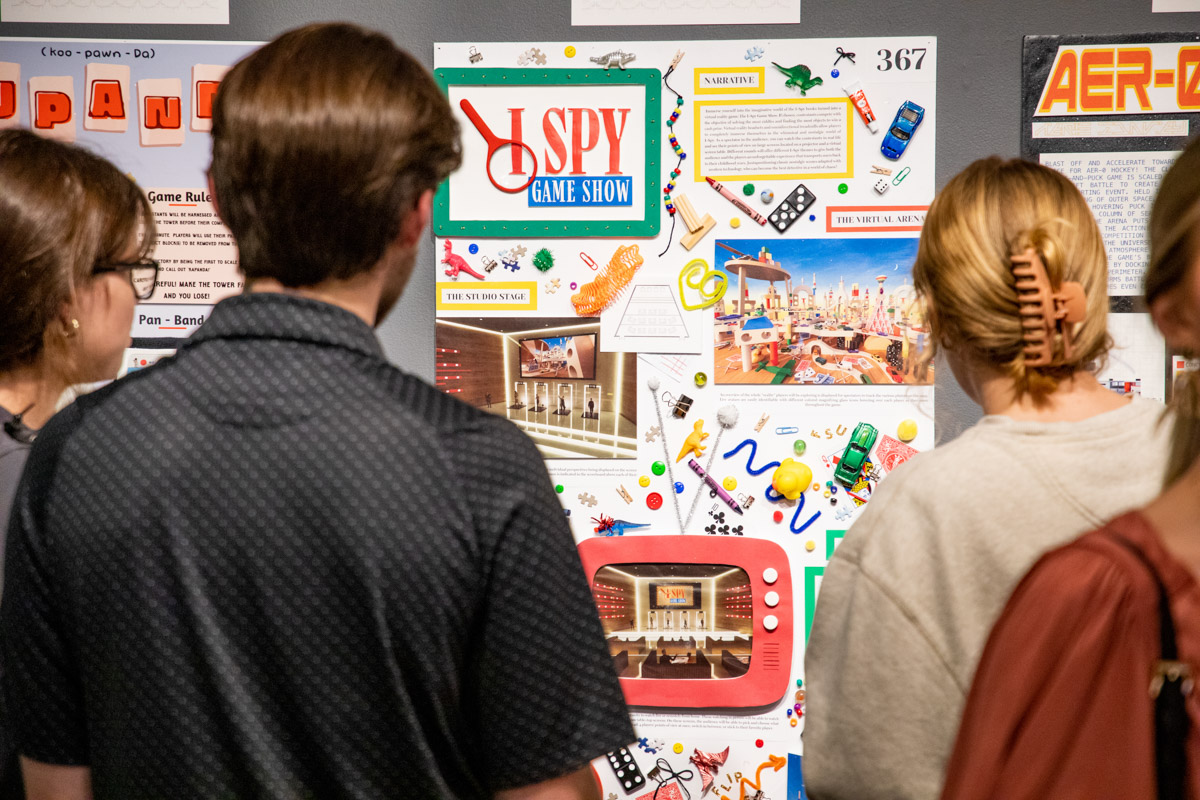 Florida State University's Department of Interior Architecture and Design is celebrating 10 years of immersive student design competitions with an exhibit highlighting winning projects from its annual Student Design Charrette.
Winning designs from the past nine years will be featured along with designs from this year's charrette, a term used to describe a brief and focused collaborative design process. The exhibit will run through Sunday, Feb. 26, at the WJB Gallery located in the William Johnston Building.
"I am always blown away by the work our students do on the charrette," said Jim Dawkins, associate professor and chair of the department. "Over the past 10 years, this competition has become an important part of our program that students and faculty look forward to every year."
Coordinated by Associate Professor Steven Webber and Assistant Professor Terry Londy, the annual competition affords students the opportunity to tackle complex design problems in small groups. Projects from previous years have focused on challenges from surviving a zombie apocalypse to building a sustainable colony on Mars and more.
This year's theme, "Game On," encouraged students to draw inspiration from a favorite childhood game and reimagine it as a life-sized experience. Projects include a Candy Land game show and this year's winner, a Jenga-inspired game the size of a high-rise building created by students Lucinda Caldwell, Tyler Williams, Morgan Kolb and Natalia Sailly.
"This competition is great practice for our students to work as part of a team and tackle a complex issue," Webber said. "In a professional setting, you don't always get to choose who you work with. Being involved with the charrette, I learned a lot about how our emotional intelligence impacts the way we work with others and informs our work as designers."
Webber uses empathy and systemizing quotient scores based upon tests that students take prior to the charrette to optimize the mixture of second, third and fourth-year students on each team. Students can participate in an assessment provided by Webber that helps inform the makeup of the teams.
"It's been really interesting to see how the projects have evolved over the past 10 years," said Jill Pable, professor in the Interior Architecture and Design department, and fellow and past national president of the Interior Design Educators Council. "At first, the projects were very practical and featured elements like complex HVAC systems. Now, they've become a bit more fantastical. I just love seeing the students unleash their creativity."
Department faculty members judge the projects anonymously. The experience helps foster creativity and form connections between students in the program.
"This charrette has been really special," said Haley Valtz, a senior interior design student. "It has really allowed me to look back on my past three years as a student and reflect on how much I've grown and what I've learned. It's kind of bittersweet since it's my last one."
All members of the FSU community are invited to come explore this exhibit.
Visit interiordesign.fsu.edu for more information.