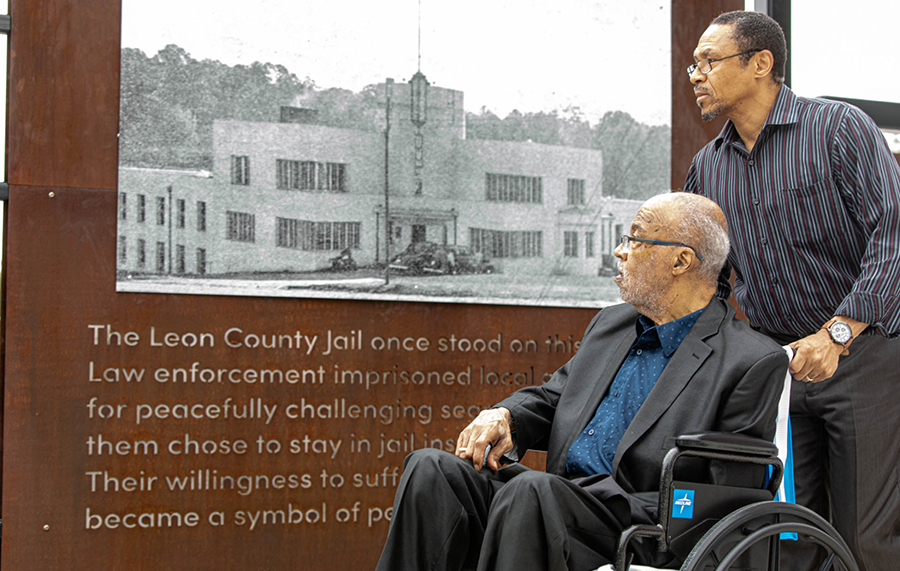 Florida State University's Master Craftsman Studio recently unveiled two historical structures at Tallahassee's Cascades Historical Plaza, showcasing the studio's project-design capabilities and highlighting the area's social and civil rights history.
Located near East Gaines and South Gadsden streets, the Tallahassee Civil Rights Memorial and Four Corners of History exhibit result from a years-long commemoration process of historical research and input from the community.
"Working on the monument was an honor and an opportunity to learn more about the architectural heritage of the city, the history of the community and the people who were involved in supporting and fighting for equal rights," said Phil Gleason, production supervisor at Master Craftsman Studio, or MCS.
In collaboration with the Cascades Historical User group, North American Properties and the Taproot agency, MCS spearheaded the design, manufacturing and installation of the exhibits from November 2020 to February 2022. From user-group conception to installation, the piece took nearly five years to complete.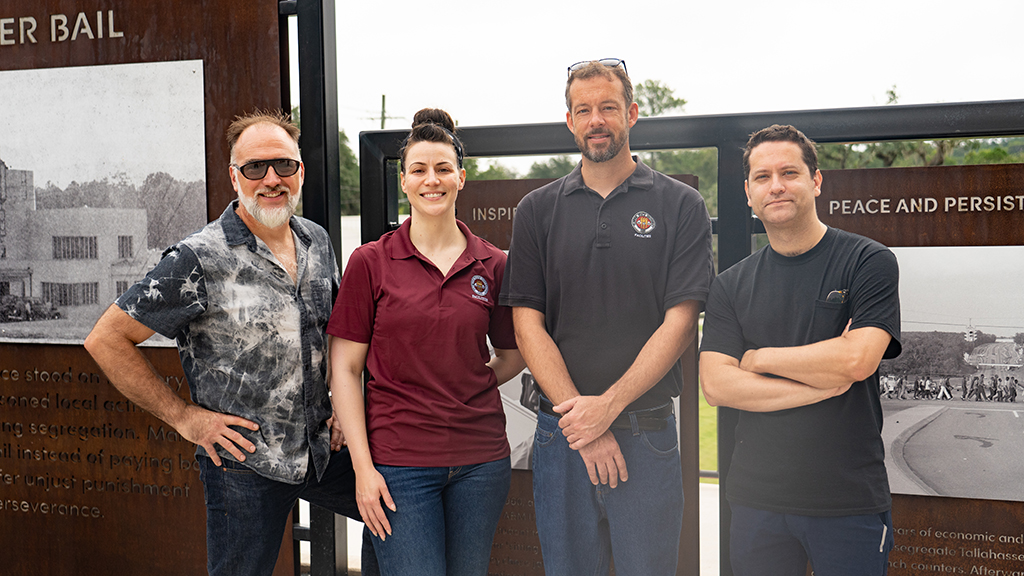 Built on the former site of the Leon County Jail, the Tallahassee Civil Rights Memorial honors the civil rights activists who held a nonviolent "jail-in" to protest segregation in the 1960s. The larger of the two exhibits, the Tallahassee Civil Rights Memorial, is over eight feet tall and more than 33 feet long.
The double-sided monument includes black and white photographs and text that mark the events leading up to and following the jail-in. A central panel that reads "Jail Over Bail" represents the site on which the monument was erected. The backside includes a reproduction of a letter written by Dr. Martin Luther King Jr. to Tallahassee activists and names of Tallahassee's civil rights "foot soldiers."
The Four Corners of History exhibit references the significant Art Moderne architectural heritage at the intersection of East Gaines and South Gadsden. Made of aluminum, the five-foot-tall monument depicts several existing historical structures, including the Old City Waterworks, the Caroline Brevard Grammar School, the former Leon County Health Unit and the former site of the Leon County Jail.
The exhibit uses historical photographs and text to call attention to architectural details and the growing importance of public institutions at the turn of the 19th century.
For more information, visit facilities.fsu.edu/depts/mastercraft/.