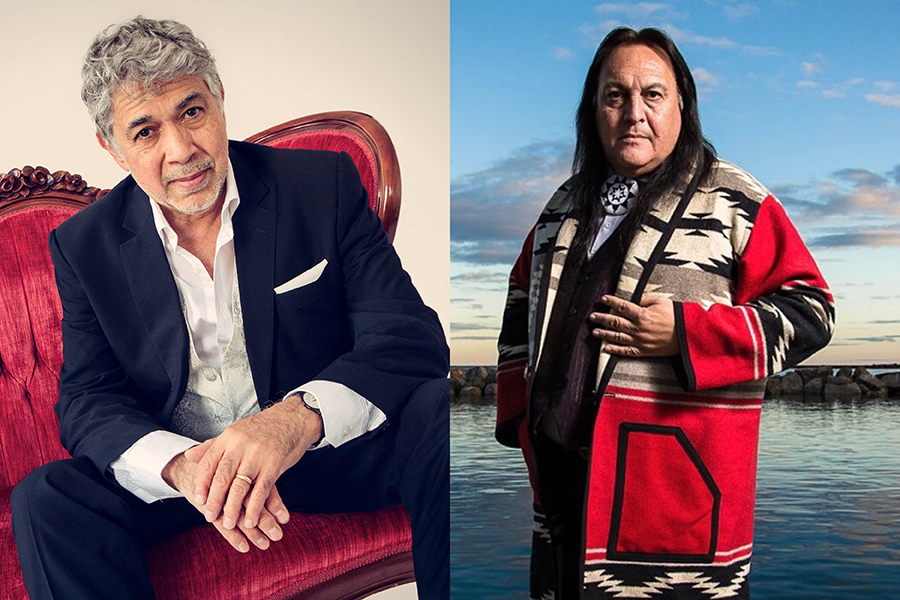 Florida State University's College of Music recently kicked off a guest artist residency series featuring masterclasses and performances by artists and scholars from genres across the musical map.
The next installment of the Housewright Virtuoso Series will feature Grammy-nominated pianist Monty Alexander performing with the college's top jazz ensemble on Tuesday, Oct. 19, followed by Grammy-winning Native American singer-songwriter, guitarist and flutist Bill Miller Friday, Oct. 22 in the Opperman Music Hall.
"We are proud to continue to bring world-class artists to the Tallahassee community through the Housewright Virtuoso Series and are excited to host these extraordinary artists," said Todd Queen, dean of the College of Music.
A native of Kingston, Jamaica, Alexander resisted formal musical instruction as a child, instead absorbing by ear all the musical flavors that would comprise his mature sonic palette.
Alexander moved to New York in the 1960s, quickly establishing a place for himself in some of the most iconic jazz venues in the city. Over the years, Alexander went on to play with jazz luminaries including Quincy Jones, Herbie Hancock, Dizzy Gillespie and Sonny Rollins.
"I love Jamaica; I love America," Alexander said. "I love them both together more than each one separately. I inhabit the rhythmic aspect of both things. I can't explain why. I do it naturally and joyfully."
Alexander's style is a mix of sophisticated voices and endless melodies.
"The one thing that I can say that comes out in all of his music is the influence of Jamaica — that sound of the Caribbean," said Leon Anderson, associate professor of Jazz Drum Set and director of FSU's Jazz Ensemble I. "You always hear that. Whether we're playing swing, or we're playing a Latin tune, you always hear that influence in his sound."
Miller will present an eclectic mix of folk, rock, blues and traditional Native flute music. A powerful singer-songwriter, Miller is known for his percussive guitar style and intense vocals; and his Native American flute-playing has earned him three Grammy awards.
Drawing upon his Mohican heritage, Miller sings powerfully about the experiences of Native peoples, combining the traditional singing styles of northern tribes with classic rock, gospel, blues and Native flute.
Miller and FSU Associate Professor of Musicology Sarah Eyerly will be joined by Rachel Wheeler, a religious studies scholar at Indiana University-Purdue University in Indianapolis and Chris Harvey, a linguist from the University of Toronto, to discuss their work with the Stockbridge Munsee Community in Wisconsin to re-sound 18th-century Mohican-language hymns that almost were lost to history.
Miller said he will be coming to FSU to share his life stories and the wisdom he has attained over the years.
"There are four elements of my music: tonality, texture, dynamics and the fourth most important part is spirit," he said. "A healing experience is what I intend to share."
Highly admired in music circles, Miller has performed and toured with Pearl Jam, Tori Amos and Arlo Guthrie, among others, and recently participated in a Johnny Cash documentary and tribute album.
The Housewright Virtuoso Series will continue into 2022. During their residency, each artist will provide expertise and insight through masterclasses and lectures to FSU students as well as performance critiques.
While most of these guest artists perform during their visit, the greater value of the residency lies within the uniquely collaborative and educational opportunities that are built into each residency.
The dates and times of the events are:
Monty Alexander
"Jazz Ensemble I with Monty Alexander" 
7:30 p.m. on Tuesday, Oct. 19 at the Opperman Music Hall
"Creativity and Inspiration in the Jazz Language" 
2:30 p.m. on Wednesday, Oct. 20 at the Lindsay Recital Hall
Bill Miller
"Songs of the Spirit: An Evening with Bill Miller" 
7:30 p.m. on Friday, Oct. 22 at the Opperman Music Hall
Lecture: "Naaxkohmãak "Jesu Paschgon Kia" [Singing "Jesu Paschgon Kia]"  
4 p.m. on Thursday, Oct. 21 at the Lindsay Recital Hall
For more information about the Housewright Virtuoso Series or to purchase tickets, visit tickets.music.fsu.edu.