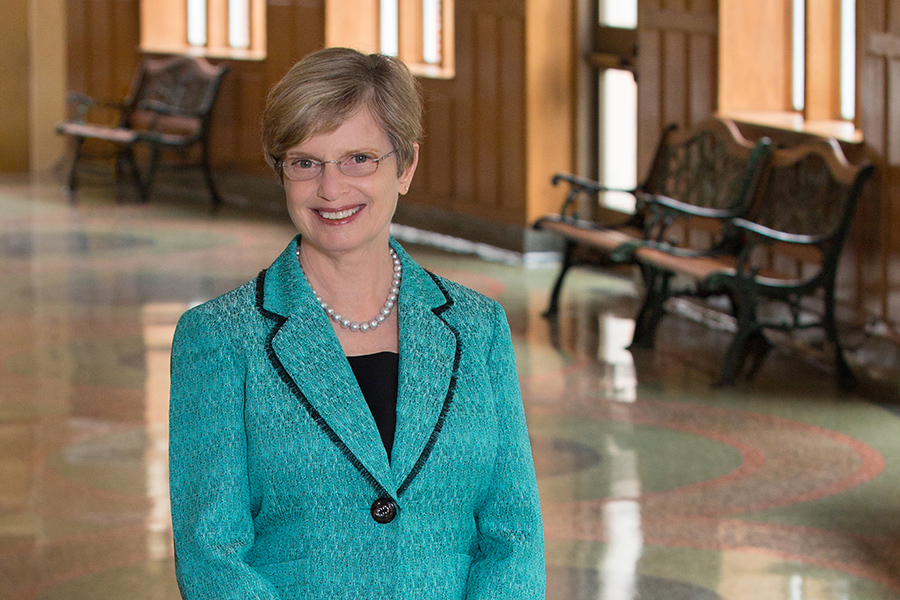 Florida State University changes people's lives for the better, and the College of Music's Dean, Patricia Flowers, is a classic example. 
Flowers, who graduated with a doctorate from the FSU College of Music in 1981, has served as dean since 2013. She will step down from that position in June after helping build upon the college's outstanding reputation for the past seven years. 
"FSU reaches people from all walks of life, opening the door to possibilities that would have otherwise remained unknown," Flowers said. "FSU prepares its students for what is to come, giving them the knowledge, experience and resilience to pursue their aspirations. I strongly believe in the mission of public higher education and understand its power in making a difference to people and society. FSU changes the world." 
As dean, Flowers has made a direct impact on how FSU, and specifically the College of Music, is changing the world by setting several priorities to sustain the college's legacy well into the future. 
Under her direction, the college has raised more than $26 million dollars and opened 50 new funds for students, faculty, programs and facilities.  
Those funds have supported the purchase of new instruments for the Marching Chiefs, the creation of the Callaway Courtyard, setting the plan in motion for the new Rockwood organ, as well as numerous music scholarships and special funds to support student learning. Flowers also facilitated the purchase of new Steinway pianos for Opperman and Ruby Diamond Concert Halls and faculty studios. 
One of the most meaningful and memorable highlights for Flowers was overseeing a fundraising campaign that aided in sending the Marching Chiefs to participate in France's official D-Day Normandy Parade last June, which marked the 75th anniversary of the bold mission and honored the brave soldiers who helped win World War II. 
"We are overwhelmed by the generosity of so many who made the trip possible," Flowers said. "Not only was it an opportunity to honor those who sacrificed for our country in a time of dire need, but also an occasion to reflect on the value of freedom and our responsibility to preserve it at all costs." 
In addition to fundraising, Flowers' focus has been on hiring outstanding new faculty members who would pick up the mantle as faculty retired. Over the past seven years, she's hired 27 new faculty members, approximately 30 percent of the full-time music faculty.  
"They will become part of the storied history of this great institution," Flowers said. 
The arts have a strong history at FSU, and music has been part of the curriculum since 1901.  
"No individual can take credit for the success of the College of Music," Flowers said. "Its legacy began 120 years ago and grew to its current status through the hard work of dedicated faculty, alumni, administration and friends." 
Flowers said that the continued success of the program is a collective effort, and she's especially grateful for the ongoing support of President John Thrasher and Provost Sally McRorie who recognize the value of the arts in culture and life. 
"Dean Flowers has been remarkably successful in leading our renowned College of Music. Her love for everyone who is part of that great community, or just one of its thousands of fans, shines through every day. Her unwavering leadership will be missed." 

— Provost Sally McRorie
"Dean Flowers has been remarkably successful in leading our renowned College of Music," McRorie said. "Her love for everyone who is part of that great community, or just one of its thousands of fans, shines through every day. Her unwavering leadership will be missed." 
During her tenure, Flowers has traveled from coast to coast, meeting College of Music alumni, ranging from recent graduates to those well into their 90s.   
"What impresses me is the appreciation people express for their education at FSU and their connection to it decades later," she said. "I will never forget this powerful community and am grateful to have been a part of these conversations." 
Prior to arriving at Florida State, Flowers served on the faculty of Ohio State University's School of Music, where she served for 15 years as chair of graduate studies in music and received awards for outstanding teaching and research.   
Originally trained as an oboist, Flowers earned her bachelor's and master's degrees at Kent State University before pursuing a doctorate at FSU. She has been honored as a distinguished alumna at both institutions. 
During her lengthy career in music education, she has served in numerous leadership capacities and received recognition for her research and contributions to the field, including the Senior Researcher Award given by the National Association for Music Education (NAfME).  
When the dean position opened at FSU in 2013, Flowers was intrigued by the prospect of returning to her alma mater. 
"I thought that I had a sufficiently broad background in higher education to understand the challenges of a large university music program and hoped that I could help position the college well for changes to come," she said. "The renown of the college and its people were also an enticement. I wondered if it would be as good as its reputation and quickly found out it's even better."  
As Flowers steps down as dean, she said the greatest joy of her seven years has been working with the fine people associated with the College of Music and the university at large. 
"The level of commitment and love for this institution is exceptional," Flowers said. "In good times and bad, there is a sense of teamwork that lifts the entire enterprise. I have loved hearing our students and faculty perform and learning about their scholarly and service projects. The scope and quality of the work is impressive, and I always knew that anything I could do to support this college would be worth the effort." 
Flowers will return to the college's music education faculty July 1.