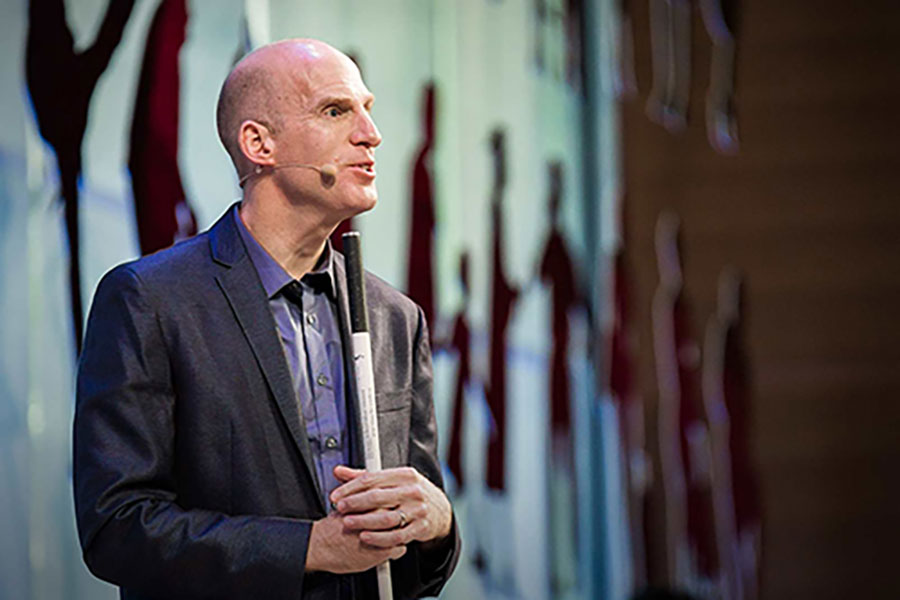 The Florida State University College of Fine Arts, in conjunction with the Florida A&M University School of Architecture and Engineering Technology and the Tallahassee chapter of the American Institute of Architects (AIA), presents the inaugural Master Lecture Series, a new program designed to bring educational and interesting speakers to the Tallahassee community.
This year, the Master Lecture will be a component of the Architecture, Media, Politics and Society (AMPS) conference, an international conference that will take place Jan. 16 – 17 at Florida State University.
The featured speaker for the first Master Lecture Series is Chris Downey, a San Francisco-based architect who lost his eyesight in 2008 after undergoing surgery to remove a benign brain tumor that was pressing against his optic nerve. Since then, he has combined 20 years of architectural experience with new perceptions to specialize in projects for the visually impaired. Refusing to let blindness end his career as an architect, Downey will speak on how the loss of his sight gave him a unique perspective on how people with disabilities experience the built environment.
"He has a phenomenal story," said Rhonda Hammond, the AIA Tallahassee chapter president. "When faced with a personal tragedy, rather than giving up on himself and his work, he chose to reinvent how architecture is done and experienced."
Recently featured on CBS' 60 Minutes, Downey serves on the California Commission on Disability Access, is president of Architecture for the Blind and board president for the SF LightHouse for the Blind. He's participated in the design of notable buildings like LightHouse for the Blind and Visually Impaired, Salesforce Transit Center and the UPMC Vision and Rehabilitation Hospital. He also teaches accessibility and universal design at the University of California, Berkeley.
Downey's lecture, which is free and open to the public, will take place at 7 p.m. Thursday, Jan. 16, at Lee Hall at Florida A&M University, 1601 S. Martin Luther King Jr. Blvd. The Florida Lottery, Hammond Design Group and Prime Meridian Bank are sponsoring the event.
In addition to, but separate from the Master Lecture Series, the AMPS conference will also feature a keynote speaker event that is free and open to the public. Ergonomist Angela Spangler, the director of the International WELL Building Institute (IWBI), uses her expertise in human factors and human-environment relations to help IWBI further its mission of transforming buildings and communities in ways that help people thrive. The event will take place at 8:15 a.m. Friday, Jan. 17, at the Nancy Smith Fichter Dance Theatre at Florida State University, 130 Collegiate Loop.
For more information about the AMPS conference and the College of Fine Arts at FSU, visit interiordesign.fsu.edu. To learn more about the AIA Tallahassee chapter and the inaugural Master Lecture Series with Chris Downey, visit aiatallahassee.org. For more information about the FAMU School of Architecture and Engineering Technology, visit famu.edu/architecture.