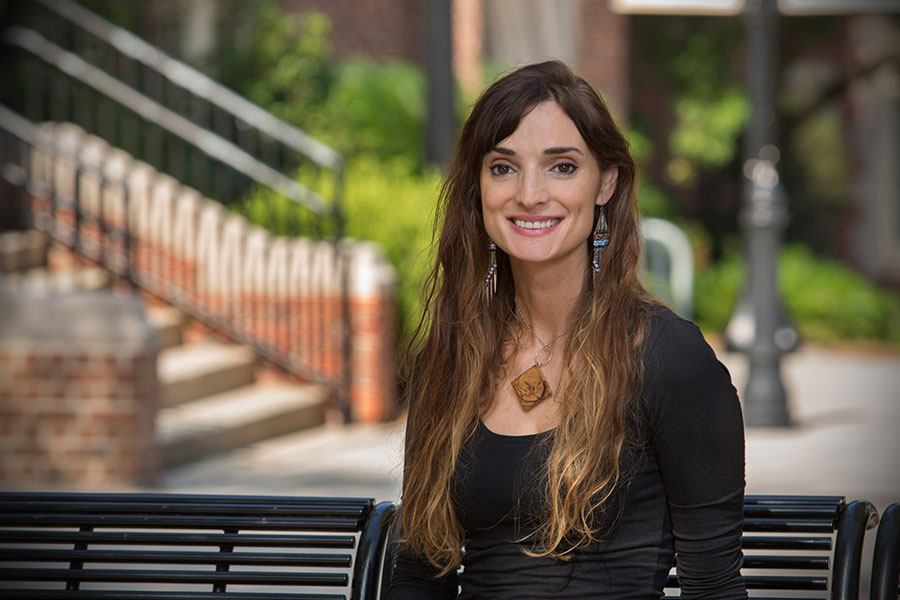 Florida State University doctoral student Dyan Neary is driven by a passion to give a voice to the voiceless, using her writing skills to reach communities and empower them to share their stories.
Since coming to Tallahassee to pursue a doctorate in creative writing from Florida State, the New York University graduate has dedicated herself to bringing literacy to underserved communities. She has spearheaded two creative writing programs at Gadsden Correctional Facility and the Palmer Munroe Teen Center.
"We talk in academia about promoting literacy," Neary said. "To work in places where people otherwise wouldn't have access to these types of opportunities is super important. To go into a place and say here's a world of literature — it's uplifting, it's a privilege."
The journalism graduate was drawn to the work and study of incarceration when she volunteered with Books through Bars in New York.
"There was no glamour, no glory," she said. "It was three or four of us sitting in a dusty library fulfilling book requests for hours and I thought to myself, 'this is necessary work'."
When a death-row inmate was executed before the group could fulfill his request, it really struck a chord with Neary.
"This felt like a calling, not only to encourage literacy but to recognize that the greater and more pressing structural problem of how incarcerated people are viewed and treated needs to change. For them to be requesting something as simple a book, that should not be happening," she said. "There should be robust prison libraries."
Currently, Neary serves as the nonfiction editor of the Southeast Review, a national literary magazine housed in the English department at FSU. Using her platform, Neary has published essays from the women she's worked with in the prison system and will solicit others to submit pieces to publish in the magazine.
Neary is one of seven PEO scholarship recipients at Florida State for the 2019-2020 academic year. The Philanthropic Educational Organization, which was founded in 1869, seeks to celebrate the advancement of women through scholarships, grants, awards and loans. The scholarship helps women who are completing the last two years of their doctoral degree.
"I was overjoyed to have gotten the fellowship," Neary said. "The other women who were up for the award at FSU were doing groundbreaking work in science fields, and I felt fortunate just to be able to meet them."
Neary also is the recipient of the inaugural Adam M. Johnson Fellowship. The award, named in honor of FSU English department alumnus Adam Johnson, is designed to support off-campus research of a graduate student in creative writing.
She will use the assistance to conduct research for her dissertation and, ultimately, a book on the history of confinement in America. She plans to travel to Eastern State Penitentiary in Pennsylvania as a part of her research.
Neary hopes to continue her work to bring literacy into the hands and hearts of those who may need it most. She's grateful for her experiences at FSU that have prepared her to pay it forward to the next generation of writers.
"I can't speak highly enough of my experience here at FSU," she said. "I've been so supported by the faculty I've worked with. I am really fortunate to be part of a community that's so supportive and believes in my work."
For more information on the FSU English department, visit http://english.fsu.edu.