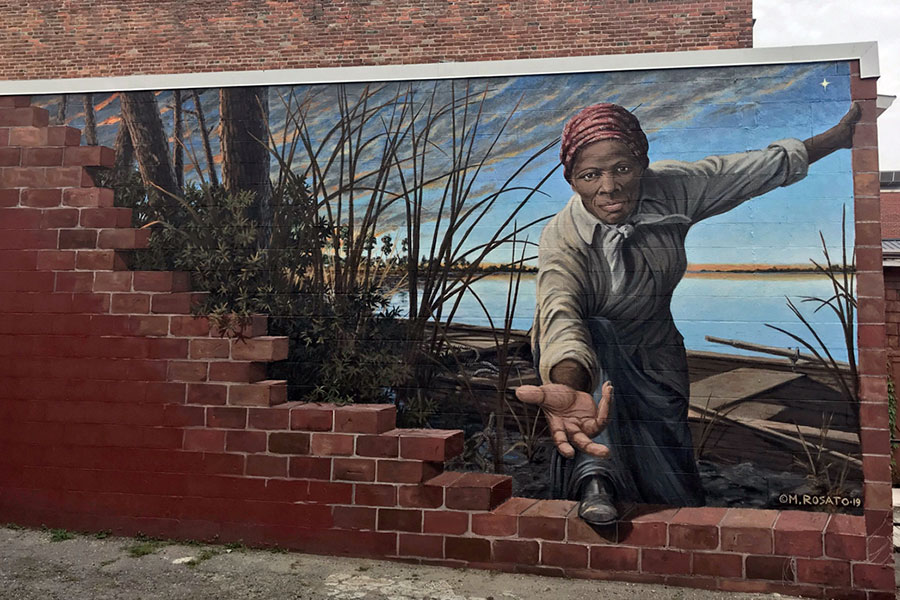 Opening Nights at Florida State University is partnering with LeMoyne's Chain of Parks Art Festival to present a cultural arts program to launch the 20th annual art festival in downtown Tallahassee.
The program will feature large-scale muralist Michael Rosato who will deliver a lecture April 16, 2020, as part of the university's performing arts series. The event is made possible through the Laurie & Kelly Dozier Endowment.
Michael Rosato has garnered national acclaim for his recent mural "Take My Hand," which depicts Harriet Tubman, an abolitionist and conductor on the Underground Railroad. The mural is one of several Rosato has painted as part of the Chesapeake Mural Trail in Dorchester County, Maryland.
"Animating the visual arts through articulation is an exciting platform to use in extending the reach of a still image to a broader audience," said Michael Blachly, director of Opening Nights. "Having Michael Rosato kick off the 2020 Chain of Parks Art Festival through his discussion of murals and their current role in public places provides such an opportunity."
Rosato is a graduate of Florida State University. He describes his style as representational realism, and he enjoys telling vivid and often emotional stories through his work. Event patrons will have the opportunity to meet the artist during a pre-lecture reception.
"We are thrilled to have an artist of the quality and caliber of Michael Rosato launch the 20th anniversary of LeMoyne's Chain of Parks Arts Festival," said Kelly Dozier, chair of the annual festival. "The arts raise awareness for different ideas and cultures and bring people together for discussions. Michael's murals are perfect examples of doing just that."
In September, Sunshine Artist™ magazine ranked LeMoyne's Chain of Parks Art Festival as No. 3 on its list of the nation's Best 100 Fine Art and Design Festivals. Each year, the magazine names the 100 Best Fine Art & Design Shows in the country and Tallahassee's Chain of Parks Art Festival has made the list for five consecutive years. Sunshine Artist™ is the leading publication for art and craft show exhibitors, promoters and patrons in the United States.
The Michael Rosato Chain of Parks Art Festival Event will take place at 6:30 p.m. Thursday, April 16, 2020, at the FSU Alumni Center. Tickets are $25 and include a pre-lecture reception with the artist. To purchase a ticket, visit www.OpeningNights.FSU.edu.
LeMoyne's Chain of Parks Art Festival will take place April 18-19, 2020, at the Bloxham, Lewis and Randolph "Chain of Parks," located in downtown Tallahassee. The festival will feature one-of-a-kind works of fine art by 170 artists from across the nation. Festival hours are 10 a.m. to 7 p.m. Saturday and 10 a.m. to 5 p.m. Sunday. The event is free to the public.
For more information about LeMoyne's Chain of Parks Art Festival, visit www.ChainofParks.com.