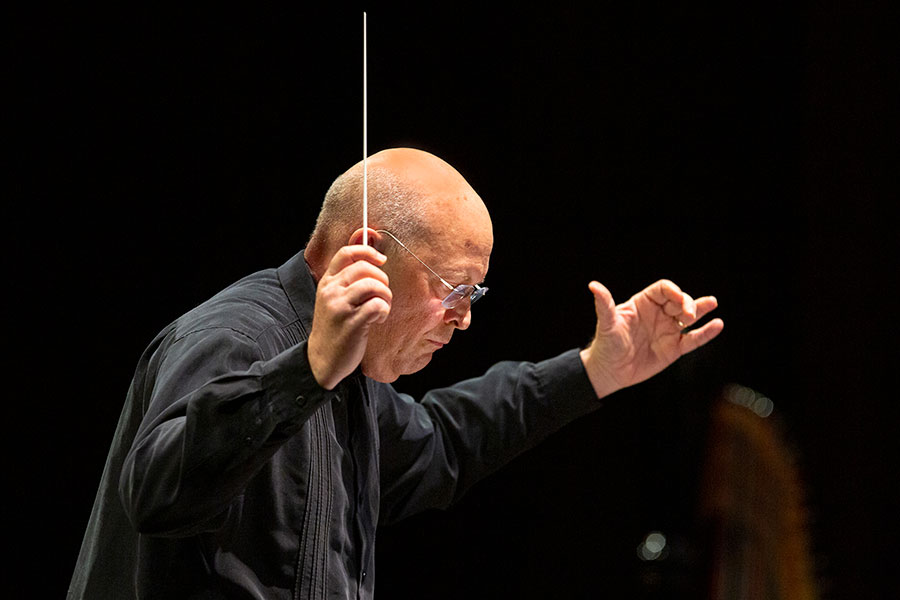 The Florida State University College of Music celebrated its faculty members who have served as president of the College Band Director's National Association with the world premiere of a brand-new work performed by the FSU Wind Orchestra during a Sept. 27 concert at Ruby Diamond Concert Hall.
The new work, "Pi'ilani and Ko'olau," was commissioned by the FSU College of Music with support from Florence Helen Ashby, a patron and alumna who earned her bachelor's degree in music education from the College of Music in 1957.
Ashby is a former Marching Chief, who was a member of the band when it was under the direction of Manley Whitcomb, the first of the four College Band Director's National Association (CBDNA) presidents produced by Florida State.
"Florida State University and the College of Music have been precious to me since I attended the summer music program for high school students," Ashby said. "As a clarinetist, the Wind Orchestra is especially close to my heart, and I am pleased to celebrate FSU's history of talented band directors with this commission."
Since the CBDNA's inception in 1941, Florida State is the only university to have had four faculty members lead the organization: Manley Whitcomb (1964-1967), James Croft (1995-1997), Patrick Dunnigan (2015-2017) and Richard Clary (2017-2019). The CBDNA is an inclusive professional organization for musicians, teachers, conductors and administrators involved in collegiate band programs.
"The CBDNA is the national professional organization for both concert and athletic band conductors," Dunnigan said. "It's significant for four of our College of Music faculty members to be selected to serve as presidents because the CBDNA encompasses all universities in the country. For our colleagues across the country at SEC, ACC and Big 10 schools to honor us by electing us to serve says a lot about Florida State."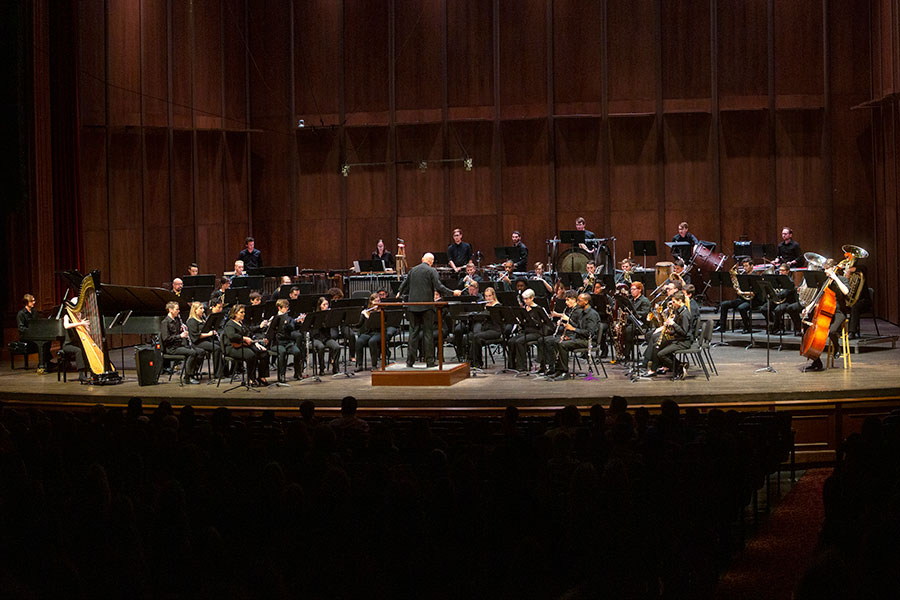 Each of the four College of Music faculty who have served as CBDNA presidents also made significant contributions to Florida State.
Whitcomb, who arrived at FSU in 1953, transformed the Marching Chiefs into what they are today. He initiated fast-marching tempos and a high step with arm swing known as the Chiefs Step. He also developed new concepts in wind band concert performances by programming original works at a time when serious wind band music was not widely heard.
Croft began his tenure at FSU in 1980 as the coordinator of Winds and Percussion and remained until his retirement in 2003. A distinguished conductor and champion of wind band music, he also became a part of the Marching Chiefs band staff soon after his arrival.
Dunnigan, an FSU faculty member since 1991, is the music director and conductor of the University Wind Ensemble and co-directs the Marching Chiefs with David Plack.
"When you think of band schools, you think of Michigan and Indiana and Illinois — the Big Ten schools with all the history — but none of those places have produced four national presidents," Dunnigan said.
Clary, who joined the FSU faculty in 2003, is a professor of conducting, the senior band conductor and director of wind ensemble studies. He serves as music director and conductor for the Chamber Winds and the internationally renowned University Wind Orchestra, who performed the premiere of "Pi'ilani and Ko'olau."
"It is a great and unexpected honor to be in the company of the marvelous music educators and conductors Manley Whitcomb, James Croft and Patrick Dunnigan," Clary said. "I suspect that what allowed this to happen is the sustained national respect that the FSU College of Music and the University Band program has earned over many decades. I believe each of us has made our own unique contributions to this, and I am proud to have been asked to serve in this progression and continuity."
Prior to FSU, Clary served 10 years as director of bands at the University of Kentucky. His combined tenures have seen him conduct acclaimed performances for the 1997, 2003, 2007 and 2015 National Conferences of the CBDNA. Clary assumed his appointment as CBDNA National Executive Board President in March 2017.
"It is a compelling call to service to our profession and to contribute leadership and guidance to the College Band Director's National Association — a dynamic and close-knit organization that has served as a valuable resource for its members since its inception," Clary said.
While a presidential term is two years, the commitment to the CBDNA executive board actually spans five terms. Clary is currently serving as the CBDNA's immediate past president, while Dunnigan is in his final term as past president.
"Pi'ilani and Ko'oalu" was composed by Jonathan Newman, director of composition and coordinator of New Music at Shenandoah Conservatory in Virginia. A Juilliard School alumnus, Newman based the "imagined ballet" on the Brooklyn playwright Gary Winter's theatrical rendition of the vivid historical folktale set among a colony of lepers in Hawaii.
If you missed the concert and would like the opportunity to watch it, visit wfsu.org.
For more information about the FSU College of Music, visit music.fsu.edu.