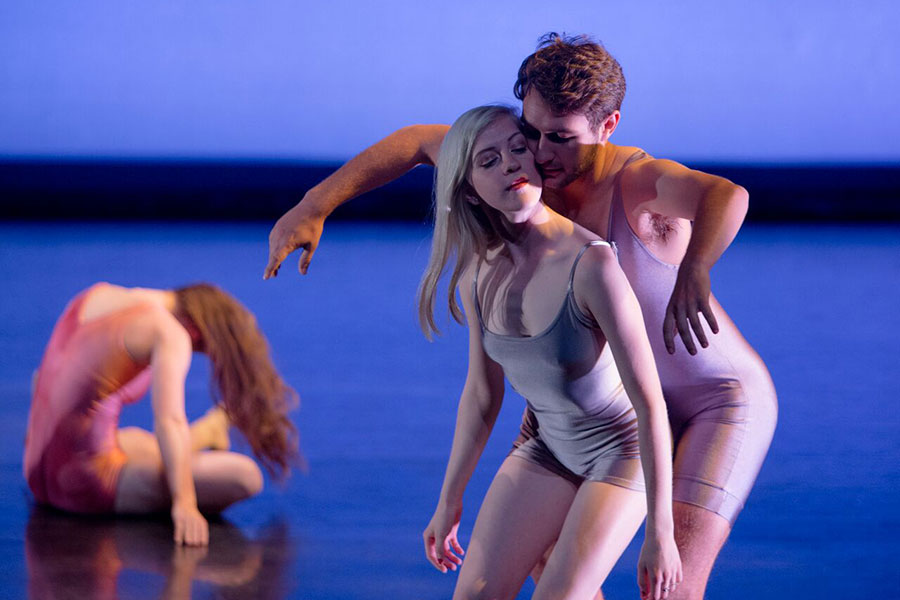 Florida State University's School of Dance will present a performance featuring three choreographies by graduate students that examine, question and promote a new understanding of form.
Master of Fine Arts candidates Julie Opiel, Bridget Close and Sarah Rose will present "Fractured Form" at 7:30 p.m. Friday, March 1, and Saturday, March 2, in the Nancy Smith Fichter Dance Theatre at Montgomery Hall. The evening of dance will explore the form of the female body, of nature, of dance performance and, ultimately, of the concert being presented.
Opiel's "Fourth Girl on the Left" opens the concert with a look into the relationship of the female body to classical ballet. Opiel collaborated with designer and three-dimensional artist Justin Bailey to create structures that act as both scenic design and as dancers within the corps de ballet, demonstrating the use of bodies as props in ballet.
This work reflects Opiel's experiences as a ballet dancer, representing her simultaneous reverence for and resistance to the aesthetic. "Fourth Girl on the Left" opens with a solo in which Opiel explores her own body as a physical structure. The dance unfolds into an enchanting corps de ballet of multiple bodies moving in and out of unison, dancing through and alongside Bailey's elegant archways.
In the second performance, Close explores human relationship to nature in "Consider the Source," a 25-minute contemporary dance piece featuring 11 dancers. Each dancer generates movement by embodying discarded and fallen flora: branches, leaves, seeds and flowers. Their movement is creaturely and gestural. The whimsical and magical environment created for the piece is built from the same foundation as the movement: Earth's debris.
Discarded flora, originally gathered by the performers during the choreographic process, are used as props and become part of the dance score. The music is generated on stage using voice and percussive instruments, some of which are suspended in the air alongside fallen nature, raising natural debris up from its fallen position.
Rose's "Opening, again," which questions the expectations of dance performance, will close the concert. What counts as dance? Where should it happen? How should it be created, viewed, recorded and performed?
This piece is the result of a two-year collaboration with six undergraduates from the School of Dance and promotes a new way of viewing dance by inviting the audience to watch two simultaneous live versions: the live dancing bodies in front of them and a live feed broadcast over Instagram live on their own phones. The viewers' phones come together to create an audience "orchestra" which in turn creates the music for the dance.
Admission is free, and donations to support the Florida State University School of Dance will be accepted.
For more information, visit http://dance.fsu.edu.