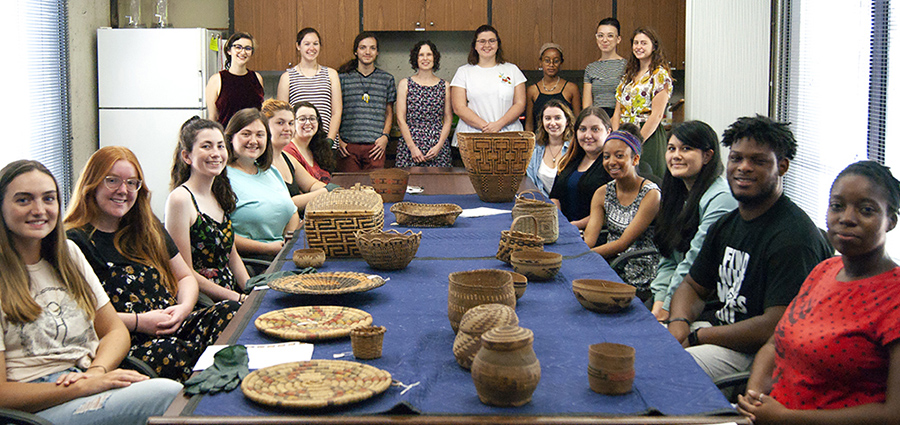 Florida State University's Museum of Fine Arts and the Department of Art History will present "Interwoven: An Exploration of Native American Basketry" in recognition of Native American Heritage Month this November.
The exhibit explores the art, history and culture of Native American basket weaving, featuring works from the Mary Douglas Lewis North American basket collection housed at the Florida State University Museum of Fine Arts.

The exhibit was curated by the Department of Art History's Museum Objects class under the direction of Associate Professor Kristin Dowell.
The opening reception for "Interwoven" will take place from 5-7 p.m. Thursday, Nov. 8, at the William Johnston Building gallery. The exhibition will run through Friday, Nov. 30. Gallery hours are 10 a.m. to 4 p.m., Tuesday through Friday.
Dowell, a visual anthropologist, guides undergraduate students as they learn about the display and acquisition of objects in modern art museums and galleries, resulting in a class-created art show.
"I feel fortunate to have the opportunity to teach this course which offers undergraduate students a unique and unparalleled opportunity to gain curatorial and exhibition design experience, invaluable skills which will prepare them for graduate school and/or careers in the museum profession," Dowell said.
The "Interwoven" exhibition features a collection of 25 woven baskets curated by the class from FSU's Museum of Fine Arts. The selected baskets were collected by Tallahassee native Mary Douglas Lewis from 1910-1950 and donated to the university in 1954. The exhibit includes baskets with a wide range of purposes, originating from Native American groups spanning from Florida to Alaska.
In addition, the gallery will showcase voices of contemporary Native American basket weavers through excerpts of two documentaries. "Cedar: Tree of Life" and "Artbound: The Art of Basket Weaving" will also be shown in their entirety at a film screening at 7 p.m. Friday, Nov. 9, in the William Johnston Building, Room G40. Each film explores basket weaving as a traditional and cultural practice and documents the role it plays in the lives of Native Americans today.
Visitors to the exhibit will witness the changes and hardships Native Americans experienced reflected in their art. From contacting European settlers, to loss of land and removal to reservations, the changes in basket weaving techniques mirror the turbulence in the lives of Native Americans at the time.
Through this exhibition, students hope to honor the skill and craftsmanship of women basket weavers. The baskets shown carry historical and artistic significance and track the evolution of woven baskets from cultural artifacts, to souvenirs, to contemporary art objects.
This exhibition is an opportunity for community members to learn about and honor Native American heritage and history during Native American Heritage Month. Woven baskets are central to Native American identity and culture and serve as beautiful yet utilitarian objects for many tribal groups.
"I am really proud of my students who have worked hard all semester and whose work is leaving a lasting legacy for this basket collection," Dowell said. "Their exhibition is providing a platform for greater visibility for the artistic tradition of Native American basket weaving. They have integrated Native perspectives and voices into the exhibition design wherever possible, and their research has contributed new and more detailed documentation of these baskets, which will remain in the FSU Museum of Fine Arts inventory and collection for future researchers."