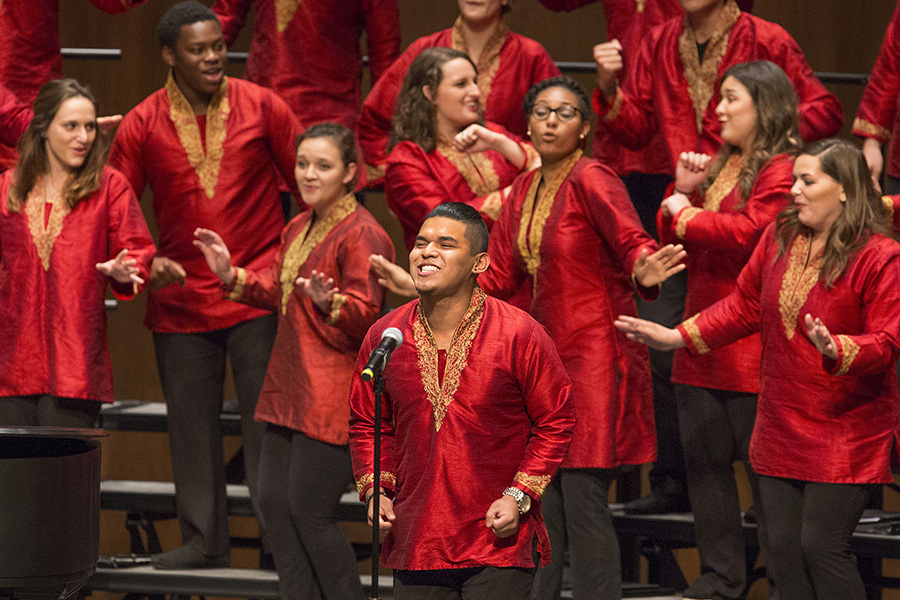 The Florida State University Singers and alumni choir will raise their voices to celebrate 70 years during their spring concert, "We Enter with Singing! Celebrating 70 Years," April 14 at Ruby Diamond Concert Hall.
Kevin Fenton, director of the University Singers, and former director André Thomas, will lead the choirs, featuring more than 100 alumni who are returning for the performance. The concert will take place at 7:30 p.m. Saturday, April 14, at Ruby Diamond Concert Hall.
Alumni of the choir are welcome to join the festivities and can register through Friday, April 13. For more information, visit www.music.fsu.edu/university-singers-2018-reunion.
The performance is part of the 2017-2018 University Musical Associates Concert Series and will be ticketed. Tickets are available through the College of Music Box Office, located in the lobby of Ruby Diamond Concert Hall, in advance and at the door. Tickets are $10 general admission; $7 seniors/non-FSU students; and FSU students are free with ID. Contact (850) 645-7949 to purchase tickets.
ABOUT THE UNIVERSITY SINGERS
The University Singers, founded in 1948 by Wiley Housewright, is the premier undergraduate touring choir at Florida State University. The auditioned choir consists mostly of students majoring in music. During its rich history, University Singers has performed with remarkable musicians Simon Halsey, Krzysztof Penderecki, Bobby McFerrin, Sir David Willcocks, Aaron Copland, Norman Dello Joio, Billy Taylor and the esteemed Atlanta Symphony conductor, Robert Shaw. Several distinguished conductors have led the University Singers in its 70-year history, including Walter James, Joseph Flummerfelt, Clayton Krehbiel and André Thomas. Traditions established by these outstanding conductors have been carried on since 2000 by Kevin Fenton. During the past 15 years, University Singers has been invited to perform at national and regional conventions of the Music Educators National Conference and the American Choral Directors Association, including their performance at the national conventions of ACDA in 2007 and 2013. Recent tours have included performances throughout the Southeastern United States and Central Europe.