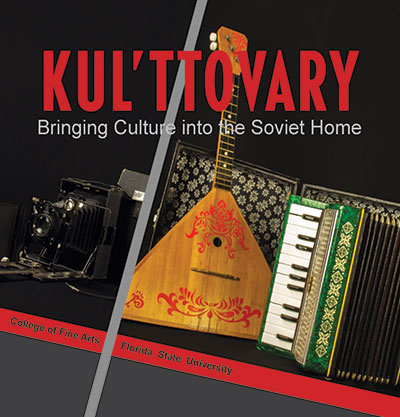 Nearing the 100th anniversary of the Russian Revolution, the Florida State University Department of Interior Architecture + Design will present "Kul'ttovary: Bringing Culture into the Soviet Home," a collection of Soviet 'kul'ttovary' or cultural goods dating back to 1917.
The exhibition explores the period immediately following the Bolshevik government's recognition of the importance of sports, literacy, and the arts in building a new state and a new way of life.
"Kul'ttovary: Bringing Culture into the Soviet Home," curated by Interior Architecture + Design  specialized faculty member Yelena McLane and designed in collaboration with the program's graduate students, will kick off with an opening reception from 5:30 to 8 p.m. Thursday, Sept. 28, at the William Johnston Building Gallery. The exhibition is free and open to the public from 9 a.m. to 4 p.m. Monday through Friday and runs through runs through Nov. 4.
The gallery highlights the Communist Party's first five-year plan set forth to increase the cultural level or "kul'turniy uroven" of the urban and rural poor and connect cultural construction or "kul'turnoye strioitelstvo" with industrialization as the mutual foundations of socialism.
During the 1920s and 1930s, tens of millions of Soviet peasants were relocated to cities and other areas where their exposure to artistic and cultural activities was increased. This was intended to raise self-esteem, inspire volunteerism and encourage the discipline and accountability necessary for the Soviet planned economy. The era produced a new outlook on artistic and cultural expression, and consequently, the items displayed in this new gallery installation.
These culturally enriching items were affordable and broadly available to workers and farmers. Homes were filled with items such as art supplies, radios, records and phonographs, musical instruments, sports equipment, photo cameras and toys. For decades, each city or town had at least one retail store — the "Kul'ttovary" — which sold these household items. The objects selected for the exhibition were designed and manufactured in the USSR and are representative of the range of kul'ttovary common to almost every Soviet home.
For more information, contact Yelena McLane at ymclane@fsu.edu.