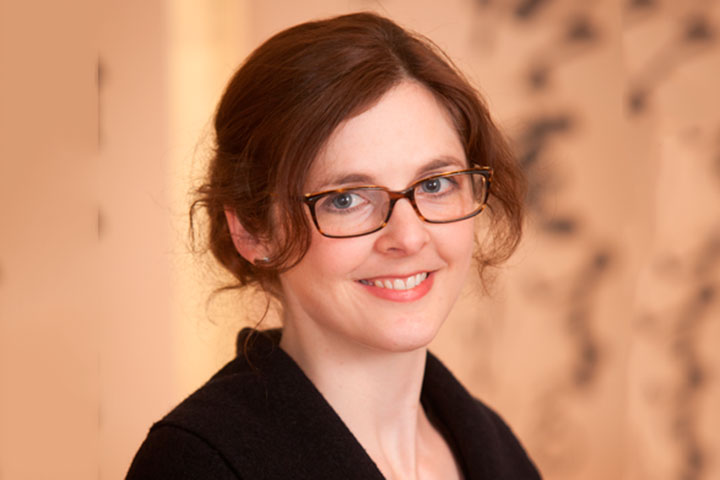 A noted scholar and curator has been named the Curator of Asian Art at the John & Mable Ringling Museum of Art. Rhiannon Paget will oversee Asian art exhibitions and collections, including publications, collection development and research. She begins her responsibilities at The Ringling on July 31, 2017.
Paget comes to The Ringling from the Saint Louis Art Museum, where she was the Andrew W. Mellon Fellow for Japanese Art in the Department of Asian Art. While in this role she co-curated the major exhibition, "Conflicts of Interest: Art and War in Modern Japan," which was on view at the Saint Louis Art Museum from October 2016 to January 2017, and co-authored its catalogue.
"Asian art has been a priority at The Ringling since John and Mable Ringling began collecting objects of Asian origin nearly a century ago," said Steven High, executive director of The Ringling. "I am pleased to welcome a curator of Rhiannon Paget's caliber and potential to our team and look forward to a number of exciting Asian projects and initiatives under her auspices in the coming years."
Paget received her Bachelor of Arts in art history and theory from the University of Sydney in 2004 and her Master of Arts/Ph.D. from the Department of Art History and Film Studies at the University of Sydney in 2015 with an emphasis on Japanese painting and prints from the Edo period to the mid-20th century.
Prior to her position at the Saint Louis Art Museum, Paget served as research associate at the Clark Center for Japanese Art and Culture in Hanford, California, and as curatorial intern at the Art Gallery of New South Wales in Sydney, Australia.
A specialist in Japanese art and culture, Paget has actively published in the field of Asian art. Her most recent book, "Hiroshige & Eisen: The Sixty-Nine Stations along the Kisokaido," co-authored with Andreas Marks, will be released by Taschen in October 2017. A forthcoming volume by Paget on Hokusai will also be published by Taschen. She authored the Shin Nanga entry in the "Routledge Encyclopedia of Modernism" (2016) in addition to numerous essays, journal articles and catalogue entries and has also been a frequent reviews contributor to Japan Times.
In addition to "Conflicts of Interest," Paget curated several exhibitions and gallery rotations at the Saint Louis Museum of Art, among them, "A Century of Japanese Prints, Japanese Painting and Calligraphy: Highlights from the Collection and Journey to the Interior: Ink Painting from Japan."
"Asian art is a focus of the John and Mable Ringling Museum of Art, and its growing collection has reached formidable depth in some areas," Paget said. "I'm looking forward to working with a creative and energetic team, including a dedicated community of local Asian art enthusiasts, to share these objects and the cultures that created them with museum visitors."
As a key member of the curatorial team at The Ringling, Paget will collaborate across departments and programs to promote Asian art, engagement and scholarship.
The Ringling's Asian art holdings have broadened over time to include Chinese, Korean and Southeast Asian ceramics, Japanese woodblock prints, Buddhist sculpture and Central Asian jewelry and decorative objects. In recent years, the Ringling has organized and hosted dozens of exhibitions, performances and programs celebrating the arts and culture of Asia.
The Asian art curator position at The Ringling will oversee The Ringling's new Center for Asian Art, which opened in May 2016. The 25,000-square-foot center, designed by Machado Silvetti, fosters the exploration of historical and contemporary Asian cultures through research, exhibitions and programs.
About The Ringling
The Ringling is a preeminent center for the arts, history and learning that is dedicated to bringing the past and contemporary culture to life through extraordinary visitor experiences. From its inception, The Ringling has joined the diverse visual traditions and theatrical spectacle of yesterday with the genre-defying global practitioners of today.
A place of exploration, discovery and respite, The Ringling's campus in Sarasota, Florida – which includes the Museum of Art, Circus Museum, a historic home, an 18th-century theater and bayfront gardens – is listed on the National Register of Historic Places.
As the State Art Museum of Florida and part of Florida State University, The Ringling fulfills an important educational mission. The Ringling offers formal and informal programs of study serving as a major resource for students, scholars and lifelong learners of every age across the region and country and around the world.