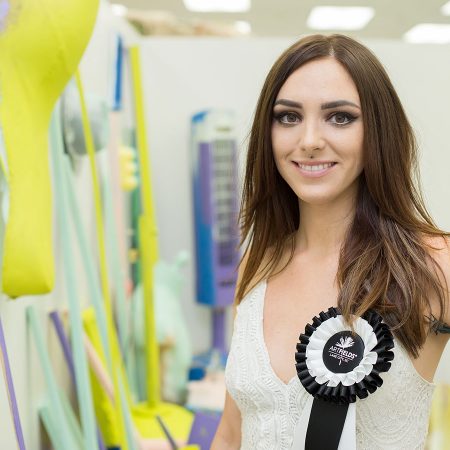 A Florida State University College of Fine Arts alumna recently claimed the Juried Panel Prize at ArtFields, an annual art competition and festival held in Lake City, S.C.
Brittany Watkins, a 2016 graduate of FSU's Master of Fine Arts program, was one of 400 Southern artists featured during the nine-day festival in April, which also sponsors the largest art competition of its kind. Watkins, a native of Carrolton, Ga., received a $25,000 cash grand prize along with the juried prize.
Artists from 12 different states in the Southeastern United States were invited to participate at ArtFields. Watkins' piece "<Accept [(Self]+Elsewhere]" was site-specific to Lake City and largely inspired by the history and culture of the town, as well as the current residents themselves.
"I discovered a crucial part of the process was learning from and about the lives of the townspeople who I encountered," said Watkins, who earned FSU's Jim Boone Endowed Art Scholarship as a graduate student in 2016. "If you look closely, you will see and hear both real and metaphorical details from these stories weaved into the concept."
Watkins said that one of her biggest inspirations came from her hosts during her time in Lake City.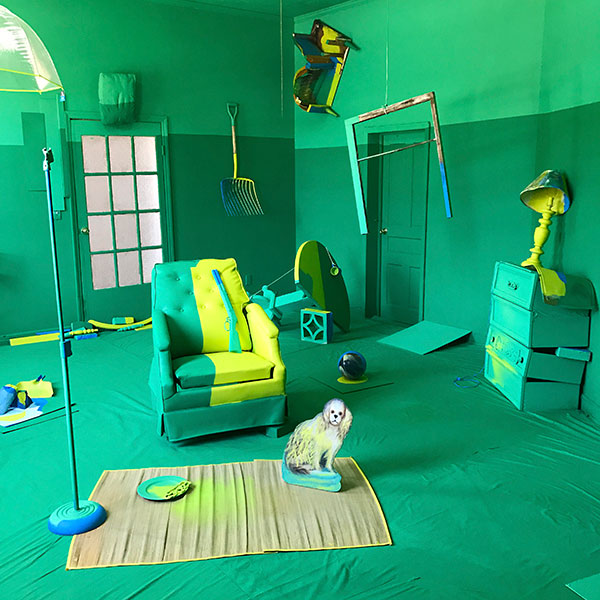 "I was welcomed into the home of two locals, Amber Herring and Jessy Amaya, without whom the piece would not exist," she said. "Amber and Jessy took me on a nontypical tour of the city, helping to collect discarded household items and furniture off the streets."
Watkins' piece is almost entirely comprised of these items and used them to juxtapose the various perspectives of the American South — from rural haven to downtrodden and oppressive.
"I examine the individual, subtle, interior psychological space alongside its counterpart: the public, edited, physical, external world," Watkins said. "You are faced with differing perspectives of the American South and rural America. These items teeter the line between playful and ominous as they simultaneously point to scarcity and excess."
While Watkins' work has been shown and recognized in the Tallahassee area and Georgia, she is now garnering exposure outside the local art scene. In addition to winning the ArtFields Juried Panel Prize, she's had pieces featured during the international contemporary art fair Aqua Art Miami and the inaugural Nasty Women Exhibition in Brooklyn.
For more information about the FSU Department of Art, visit http://art.fsu.edu/.