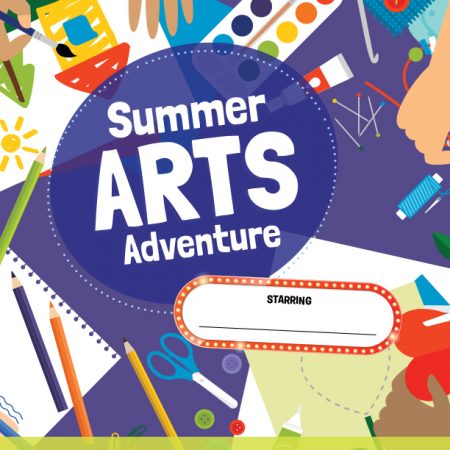 'Summer Arts Adventure' Booklet Available Free Throughout Community
Florida State University's Florida Center for Reading Research and Opening Nights Performing Arts have developed the "Summer Arts Adventure" activity booklet to encourage elementary school-age students to read and engage with the arts during the summer break.
Students can get their free copy at all Leon County public libraries, Council on Culture & Arts (COCA) and Midtown Reader.
"Summer break should not be a break from reading," said Jimmy Cole, director of Development, Public Relations & Outreach at the Florida Center for Reading Research. "Students who do not read during the summer months risk falling behind their peers. The Summer Arts Adventure is a fantastic resource to make summer reading fun that hopefully will inspire unmotivated readers."
Highlighting five professions in the arts — author, director, actor, musician and dancer — the illustrated, full-color booklet teaches associated vocabulary words, nurtures creativity and provides activities that help develop reading and writing skills. By using this activity booklet, students will have read five books, learned 25 new vocabulary words and been introduced to five arts professions before they return to school in August.
"Arts education is at the core of Opening Nights Performing Arts," said Calla MacNamara, education and engagement manager for FSU's Opening Nights Performing Arts. "This partnership is a perfect fit because it uses the performing arts to encourage reluctant readers to not only read but to create."
The activity booklet also may be downloaded from the Opening Nights Performing Arts website at https://openingnights.fsu.edu/engage/2017-summer-arts-adventure/ or from the Florida Center for Reading Research at http://fcrr.fsu.edu/summer/.
About Opening Nights Performing Arts
Opening Nights Performing Arts is Florida State University's official performing arts presenter, bringing world-class talent to campus and the capital region. Opening Nights Performing Arts' mission is to provide our campus, local, and global communities with educational and entertaining experiences – and to make Tallahassee a destination where one can engage in meaningful artistic and cultural activities.
About Florida Center for Reading Research
Florida Center for Reading Research (FCRR) is a multidisciplinary research center at Florida State University. FCRR explores all aspect of reading research-basic research into literacy-related skills for typically developing readers and those who struggle, studies of effective prevention and intervention and psychometric work on formative assessment.