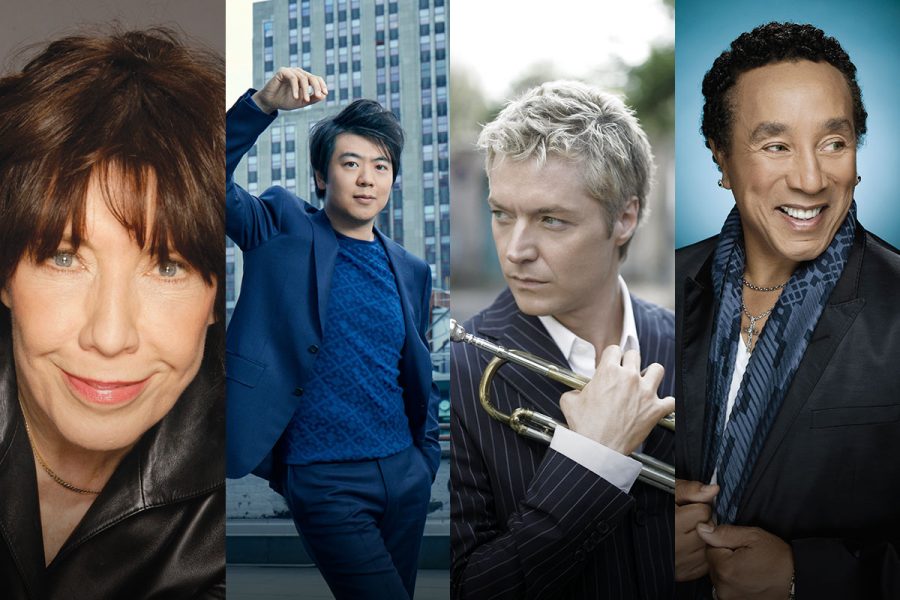 The 19th season of Opening Nights Performing Arts at Florida State University is underway, offering numerous world-class performances and events in music, dance, theatre, spoken word, film and visual arts.
Series highlights include performances by Lily Tomlin, Smokey Robinson, Chris Botti and concert pianist Lang Lang.
"This season is undoubtedly our most diverse and star-filled yet," said Christopher Heacox, director of Opening Nights Performing Arts. "Take a chance on something extraordinary or savor something familiar. Whether you're attending a performance by an up-and-coming artist or a living legend, you won't be disappointed."
Tickets are still available and may be purchased at openingnights.fsu.edu/tickets.
Feb. 1 – Southern Circuit Film Tour: Shake 'Em On Down, 7:30 p.m., Askew Student Life Cinema. Shake 'Em On Down is the story of Fred McDowell, the godfather of the North Mississippi style of blues and major influence on the music of the Rolling Stones, Bonnie Raitt, R.L. Burnside, Taj Mahal and the North Mississippi Allstars.
Feb. 3 – Amy Helm & The Handsome Strangers with the Sarah Mac Band, 8 p.m., Fred Turner Auditorium at Tallahassee Community College. Amy Helm has won widespread praise as a singer, songwriter and live performer as a member of the New York-based folk music group Ollebelle. Opening for Helm will be Tallahassee's own Sarah Mac Band, which has been traveling extensively in the Southeast and Midwest United States amassing an impressive resume including performances at South by Southwest, Suwannee Springfest and countless regional festivals.
Feb. 4 – Nora Jane Struthers & The Party Line with Kelsey Waldon, 8 p.m., Fred Turner Auditorium at Tallahassee Community College. Nora Jane Struthers has worked with bluegrass stars like Tim O'Brien, Stuart Duncan and Bryan Sutton and released two critically acclaimed albums. In 2012, Struthers formed The Party Line, a model-supporting band, a la the Heartbreakers or the Cardinals. Country music singer and songwriter Kelsey Waldon released her critically acclaimed debut LP The Goldmine in late 2014, and it received hefty praise from Rolling Stone, American Songwriter, USA Today, Billboard and many more.
Feb. 5 – PRISM in collaboration with the FSU College of Music, 2 p.m., Ruby Diamond Concert Hall. Featuring students from Florida State's top-ranked College of Music, PRISM offers a wide array of entertainment from Chamber Winds, Symphonic Band, jazz ensembles, the Marching Chiefs and many more exciting groups.
Feb. 6 – Vocalosity, 7:30 p.m., Ruby Diamond Concert Hall. Vocalosity is the live concert event from the creative mind of artistic producer Deke Sharon (Pitch Perfect, The Sing-Off) that takes a cappella to a whole new level. This fast-paced production features 12 dynamic voices singing some of today's chart-topping hits in brand-new arrangements too incredible to miss.
*Feb. 8 – Twyla Tharp Dance, 7:30 p.m., Ruby Diamond Concert Hall. Since graduating from Barnard College in 1963, Twyla Tharp has choreographed more than 160 works, received one Tony Award, two Emmy Awards, 19 honorary doctorates, the Vietnam Veterans of America President's Award, the 2004 National Medal of the Arts, the 2008 Jerome Robbins Prize and a 2008 Kennedy Center Honor. Her dances are known for creativity, wit and technical precision coupled with a streetwise nonchalance.
Feb. 10 – An Evening of Classic Lily Tomlin, 7:30 p.m., Ruby Diamond Concert Hall, SOLD OUT. Lily Tomlin, one of America's foremost comediennes, continues to venture across an ever-widening range of media, starring in television, theater, motion pictures, animation and video. Throughout her extraordinary career, Tomlin has received numerous awards, including seven Emmys, a Tony for her one-woman Broadway show, Appearing Nitely, a second Tony for Best Actress, and a Drama Desk Award and an Outer Critics' Circle Award for her one-woman performance in Jane Wagner's The Search for Signs of Intelligent Life in the Universe.
Feb. 11-12 – Smokey Robinson, 7:30 p.m., Ruby Diamond Concert Hall. Once pronounced by Bob Dylan as America's "greatest living poet," acclaimed singer-songwriter Smokey Robinson's career spans over four decades of hits. He has received numerous awards, including the Grammy Living Legend Award, NARAS Lifetime Achievement Award, an Honorary Doctorate from Howard University, Kennedy Center Honors (2006) and the National Medal of Arts Award from the President of the United States, and he's also been inducted into the Rock 'n' Roll Hall of Fame and the Songwriters' Hall of Fame. During the course of his 50-year career in music, Robinson has accumulated more than 4,000 songs to his credit and continues to thrill sold-out audiences around the world with his high tenor voice, impeccable timing and profound sense of lyric. Never resting on his laurels, Smokey Robinson remains a beloved icon in our musical heritage.
Feb. 12 – Mandolin Orange, 2 p.m., Pebble Hill Plantation, SOLD OUT. It's hard to explain how magic happens when two talented songwriters fit perfectly together. Mandolin Orange (Andrew Marlin and Emily Frantz) seem to just sit back and ride their intuitive harmonies and languid lyricism through songs about faith and life's little unpredictable changes. Marlin's lyrics flow into each other, making the melody feel like something that happens on its own. It all feels so effortless and beautiful, you don't even realize you've been sucked in until the songs reach in and tug hard at your heart. – NPR Music
Feb. 13 – Richard Thompson & The Blind Boys of Alabama, 7:30 p.m., Ruby Diamond Concert Hall. Named by Rolling Stone as one of the Top 20 Guitarists of All Time, Richard Thompson is also one of the world's most critically acclaimed and prolific songwriters. The Blind Boys of Alabama have the rare distinction of being recognized around the world as both living legends and modern-day innovators. They are not just gospel singers borrowing from old traditions; the group helped to define those traditions in 20th century and almost single-handedly created a new gospel sound for the 21st.
Feb. 14 – Chris Botti, 7:30 p.m., Ruby Diamond Concert Hall. After hearing Miles Davis play "My Funny Valentine" at age 12, Botti instantly made a lifetime commitment to both mastering the trumpet and developing a deep affection for melody, space and balance, which has become an intrinsic aspect of his musical vision today. Now a major, Grammy-winning artist in his own right, performing worldwide with the likes of the Buddy Rich Big Band, Frank Sinatra, Paul Simon, Sting, and many more plus selling more than 3 million albums, Botti has found a form of creative expression that begins in jazz and expands beyond the limits of any single genre.
Feb. 15 – Lang Lang, 7:30 p.m., Ruby Diamond Concert Hall. If one word applies to concert pianist Lang Lang, it is inspiration. He inspires millions with his open-hearted, emotive playing, whether it be in intimate recitals or on the grandest of stages such as the 2014 World Cup concert in Rio, the 56th and 57th Grammy Awards, the Opening Ceremony of the 2008 Beijing Olympics, the Last Night of the Proms at London's Royal Albert Hall and the Liszt 200th birthday concert.
Feb. 16-26 – Disney's Beauty and the Beast in collaboration with the FSU School of Theatre, Richard G. Fallon Theatre. It's a "tale as old as time." Based on the Academy Award-winning animated feature, Beauty and the Beast tells the classic fairy tale of Belle, a young French maiden who doesn't feel as if she belongs, and the Beast, a prince trapped in the body of a monster by the spell of an enchantress. In order for the Beast to become human again, he must learn what it means to love and be loved before the last petal of the rose falls. Disney's Beauty and the Beast is presented through special arrangement with Music Theatre International (MTI).
Feb. 17-March 26, FSU Museum of Fine Arts Exhibit: Broken Ground, New Directions in Land Art. Curator Jeff Beekman states that Land Art, one of the seminal art movements that began in the late 1960s, was largely born out of a frustration with the growing commercialization of the art world and the limitations of the traditional "white cube" gallery. At its core, this movement sought to tie together artwork and landscape to the point that the works were inextricably merged.
*Feb. 23 – Pablo Sáinz Villegas, 7:30 p.m., Opperman Music Hall. The soul of the Spanish guitar runs in Pablo Sáinz Villegas' blood. Born and raised in La Rioja, Spain, he is distinguished by performances as charismatic as they are intimate. With his singing tone and consummate technique, his interpretations conjure the passion, playfulness and drama of his homeland's rich musical heritage. Villegas has collaborated with orchestras in more than 30 countries, including the New York, Los Angeles, and Israel Philharmonics and the Boston, San Francisco, Houston and Toronto Symphonies.
Feb. 24 – Mitchell Jackson, 6:30 p.m., FSU Alumni Center Ballroom. Mitchell S. Jackson's debut novel The Residue Years was praised by publications including The New York Times, The Paris Review, and The Times of London. Jackson is the winner of a Whiting Award. His novel also won The Ernest J. Gaines Prize for Literary Excellence and was a finalist for the Center for Fiction's Flaherty-Dunnan First novel prize, the PEN/Hemingway award for first fiction, and the Hurston/Wright Legacy Award. Jackson's honors include fellowships from TED, the Lannan Foundation, the BreadLoaf Conference and the Center for Fiction. His writing has appeared in publications including The New York Times Book Review, Salon and Tin House. He serves on the faculty at New York University and Columbia University.