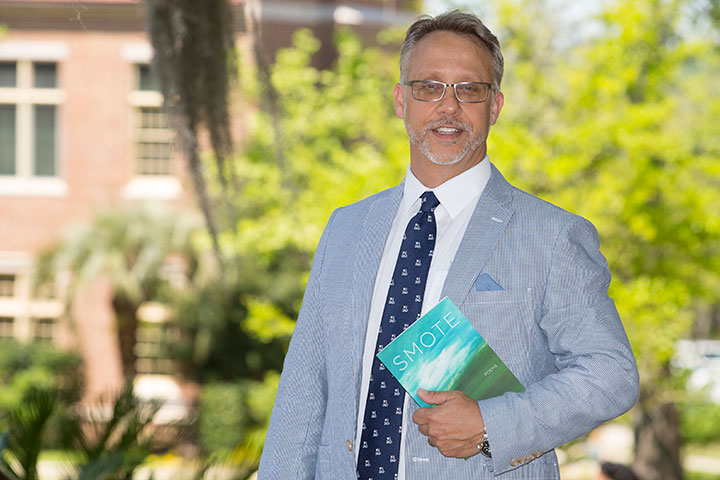 Florida State University English Professor James "Jimmy" Kimbrell has been chosen as one of 37 writers to receive a highly selective fellowship from the National Endowment for the Arts for 2017. 
Kimbrell, who specializes in poetry, was selected from more than 1,800 eligible applicants for his second NEA individual creative writing fellowship. His first was in 2004.
"It is a tremendous honor to be among this year's NEA Fellows," said Kimbrell, who joined the FSU faculty in 2000. "There's no better affirmation and encouragement than to be selected by a panel of one's peers."
The National Endowment for the Arts gives writers the time and space to create, revise, conduct research and connect with readers through the creative writing fellowships program. Applications are reviewed through an anonymous process on their artistic excellence. Fellowships of $25,000 alternate between poetry and prose each year. There is a limit of two per lifetime.
"The NEA has an excellent record of supporting writers who have gone on to have impressive literary careers," said NEA Director of Literature Amy Stolls. "With their talent and diverse backgrounds, this year's Creative Writing Fellows, including James Kimbrell, will add to our country's rich literary history."
The NEA fellowship will enable Kimbrell to continue working on his new collection of poetry, currently titled "Flea Trap."
It's been a banner year for Kimbrell. In April, he received a highly competitive Guggenheim Fellowship for 2016 from the John Simon Guggenheim Memorial Foundation.
In addition, he received a coveted Pushcart Prize for his poem, "Pluto's Gate Mississippi," which was first published in the Cincinnati Review and included in his latest collection of poetry, "Smote." It also appears in the 2017 edition of The Pushcart Prize: Best of the Small Presses anthology, published every year since 1976 and one of the most honored literary projects in America.
Perhaps one of Kimbrell's proudest moments this year was when one of his doctoral students, Kaveh Akbar, received the Ruth Lilly Fellowship — an award Kimbrell won as a young poet in 1992. The Ruth Lilly Fellowship is one of the most prestigious pre-book awards for young poets in the United States, and the $25,800 prize is intended to encourage the further study and writing of poetry.
"I am so proud of Kaveh and was thrilled to learn that he'd been awarded a Ruth Lilly Fellowship," Kimbrell said. "Kaveh is dedicated and driven, and I couldn't be more pleased that his hard work and commitment are earning accolades of this caliber. He is that kind of graduate student who reminds you what a joy and privilege teaching can truly be."
Kimbrell also is a past recipient of the Whiting Writer's Award, the "Discovery"/The Nation Award, a Ford Foundation Fellowship, the Florida Book Award and has twice received the Academy of American Poets Prize.
Kimbrell has written three collections of poetry: "Smote" (Sarabande Books, 2015); "My Psychic" (Sarabande Books, 2006); and "The Gatehouse Heaven" (Sarabande Books, 1998).
In addition to his three volumes of poetry, Kimbrell has co-authored "Three Poets of Modern Korea" (Sarabande Books, 2002), a translation of leading representatives of three generations of Korean poets.
Kimbrell's poems, reviews and translations have appeared in magazines and anthologies, including Poetry, Field, Fence, The Nation, Prairie Schooner, The Boston Book Review, American Poetry: The Next Generation (Carnegie Mellon University Press), The Bread Loaf Anthology of New American Poets (University Press of New England), and Best American Poetry, 2012 (Scribner).
Kimbrell earned a doctorate from the University of Missouri in 1999. He earned a Master of Fine Arts degree from the University of Virginia in 1994 and a Master of Arts degree from the University of Southern Mississippi in 1992. A native of Mississippi, he is a member of the Academy of American Poets, the Poetry Society of America and the Mississippi Institute of Arts and Letters.