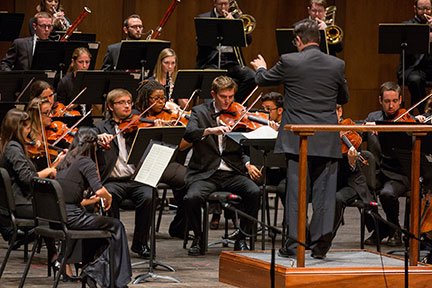 For the first time ever, music lovers around the world can experience one of the Florida State University College of Music's live performances from the comfort of their own homes. 
Family, friends and music aficionados will be able to watch via livestream.com/musicFSU when the University Symphony Orchestra — one of the premier ensembles of the College of Music — performs at 3 p.m. Sunday, Oct. 16, at Ruby Diamond Concert Hall. 
For a portion of the program, the orchestra will be joined on stage by nearly 200 members of the combined choirs of Florida State University who will give voice to alumnus Stephen Montague's Requiem. The event is the culmination of the college's Homecoming Week activities.
Works for the evening include: 
"Fêtes" from Three Nocturnes by Claude Debussy
Pastoral Symphony (Symphony No. 3) by Ralph Vaughan Williams
Requiem – "The Trumpets Sounded Calling Them to the Other Side" by Stephen Montague
Claude Debussy (1862-1918) is widely considered one of the greatest French composers to have ever lived. "Fêtes" ("Festivals") was composed as the central movement of a work of three Nocturnes written between 1897 and 1899. The work is the most thrilling of the three works, and the composer describes the piece as "giving us a vibrating, dancing rhythm of the atmosphere with sudden flashes of light."  
Pastoral Symphony (Symphony No. 3) by Ralph Vaughan Williams was written in 1922 at a time of great emotional turmoil for much of the Western world, including the composer himself. Vaughan Williams composed his Pastoral Symphony after serving as a stretcher-bearer in two of the most gruesome battles in World War I and is the composer's most intimate and personal piece.
Requiem – "The Trumpets Sounded Calling Them to the Other Side" by College of Music alumnus Stephen Montague ('65, '67) was commissioned by the Portsmouth Grammar School (Portsmouth, England) in memory of the 110 pupils of the school who were lost in the Second World War. A massive work for solo voice, choir and orchestra, Montague's Requiem brilliantly and vividly depicts the troughs of battle and the "timeless lament of the tragedy of war." The University Symphony Orchestra will be joined by University Singers, Chamber Choir and Men's and Women's Glee under the direction of Professor Alexander Jiménez.
Tickets are $10 for adults, $7 for seniors/non-FSU students and free for FSU students. For tickets, call the College of Music Box Office at (850) 645-7949.              
For updates and details about the live stream, follow the FSU College of Music on Facebook at Facebook/musicFSU.