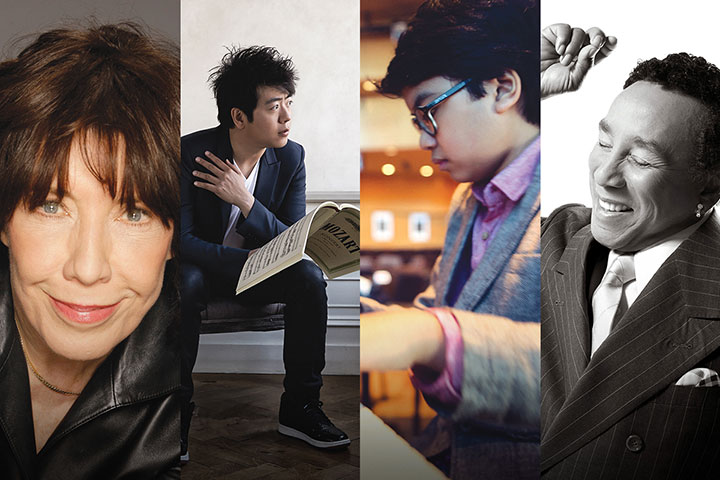 Opening Nights Performing Arts at Florida State University will kick off its 19th season of world-class performances and events in music, dance, theatre, spoken word, film and visual arts Tuesday, Sept. 14.
Series highlights include performances by Smokey Robinson, Lily Tomlin, Grammy and Tony Award-winner Patti LuPone and concert pianist Lang Lang.
"This season is undoubtedly our most diverse and star-filled yet — we can't wait to watch our community take it all in," said Christopher Heacox, director of Opening Nights Performing Arts. "Take a chance on something extraordinary and savor something familiar. Whether you're attending a performance by an up-and-coming artist or a living legend, you won't be disappointed."
Ticket sales for Opening Nights members begin Aug. 10, depending on membership level, and continue through Sept. 13. Tickets for the general public go on sale at 11 a.m. Sept. 14. Student tickets will be offered for most performances, pending availability and limited to two RUSH tickets per student ID, on Sept. 14. For additional ticket information, visit openingnights.fsu.edu.
The 2016-2017 season will offer more performances and educational events than ever before, including Director's Choice performances, the Southern Circuit Film Tour, world premiere and commissioned performances.
The world premiere of Rasamala Dance Company's Written in Water debuts Oct. 5. The work was co-commissioned by Opening Nights Performing Arts and The Arts Center at NYU Abu Dhabi. It was created during a choreographic and production residency at the Maggie Allesee National Center for Choreography (MANCC) at Florida State University.
"The work is stunning, and we're thrilled to bring back this wonderful company by hosting both the world premiere and an encore performance in Nancy Smith Fichter Dance Theatre," Heacox said.
The 2016-2017 calendar will also feature an Americana music festival at Tallahassee Community College, a comedy festival co-presented with Union Productions/Club Downunder and exciting Broadway shows co-presented with the Donald L. Tucker Civic Center.
The Southern Circuit Film Tour returns this season and will provide a mix of six award-winning films via ONPA's collaboration with the Askew Student Life Cinema, the FSU College of Motion Picture Arts, the Torchlight Program, South Arts and the National Endowment for the Arts. Opening Nights Performing Arts staff curated this series with the Tallahassee community in mind, and every film is totally different than the next.
Opening Nights Performing Arts continues its collaboration with Leon County Schools through Partners in Education, a national education program of the Kennedy Center for the Performing Arts providing arts integration workshops to area teachers. In October, Mipso, a North Carolina-bred bluegrass/pop ensemble, will present in-school performances as a part of Opening Nights' K-12 North Florida School Tour. Free master classes, K-12 opportunities and additional community engagement events are scheduled throughout the season. For more information on these opportunities, visit openingnights.fsu.edu/engage.
Dates and performances for the Opening Nights 2016-2017 season are as follows:
(*indicates Director's Choice performances curated especially for ONPA audiences)
Sept. 14 – Southern Circuit Film Tour: Agents of Change, 7:30 p.m., Askew Student Life Cinema. Focused on the crossroads of the civil rights, black power and anti-Vietnam war movements at a pivotal time in America's history, Agents of Change examines the racial conditions on college campuses and around the country that led to major protests in the late 1960s.
Oct. 5-6 – Rasamala Dance Company, World Premiere of Written in Water, 8 p.m., Nancy Smith Fichter Dance Theatre. Under the direction of Ranee and Aparna Ramaswamy, Rasamala Dance Company has been hailed by The New York Times as "providing some of the most transcendent experiences that dance has to offer."
Oct. 12 – Southern Circuit Film Tour: Donald Cried, 7:30 p.m., Askew Student Life Cinema. After Peter LaTang's last living relative passes away, he returns to the small New England town where he grew up. When the bus arrives, he can't find his wallet, so he calls his childhood friend Donald Treeback for some help. What was supposed to be just a ride turns into a long day's journey through their awkward past.
*Oct. 13 – Roomful of Teeth, 7:30 p.m., Opperman Music Hall. Roomful of Teeth is a Grammy-winning vocal project dedicated to mining the expressive potential of the human voice. Through study with masters from singing traditions the world over, the eight-voice ensemble continually expands its vocabulary of singing techniques and, through an ongoing commissioning process, forges a new repertoire without borders.
Oct. 18 – Mipso, 7:30 p.m., The Carriage House at Goodwood Museum and Gardens. Influenced by the contradiction of their progressive home of Chapel Hill, N.C., and the surrounding rural southern landscapes, Mipso explores and mixes the complexities of traditional bluegrass with modern instrumentation and smart pop melodies.
*Nov. 1 – Birdman Live with Antonio Sánchez, 7:30 and 10 p.m., Askew Student Life Cinema. The film screening of Birdman with live simultaneous performance by film composer/jazz drummer Antonio Sánchez.
Nov. 9 – Southern Circuit Film Tour: NUTS!, 7:30 p.m., Askew Student Life Cinema. NUTS! is the mostly animated, mostly true story of John Romulus Brinkley, a small-town Kansas doctor who discovers that he can cure impotence by transplanting goat testicles into men in 1917.
Nov. 15 – Joe Pug, 7:30 p.m., The Carriage House at Goodwood Museum and Gardens. Joe Pug is a singer-songwriter who has performed at Lollapalooza, Bonnaroo, The Newport Folk Festival and most recently at Willie Nelson's Luck Reunion Festival.
Nov. 22 – Joey Alexander Trio, 7:30 p.m., Ruby Diamond Concert Hall. Through festival appearances and awards for his improvisational brilliance, the world has taken notice of this phenomenal and exciting pianist with astonishing technique and soulful sound. Alexander's debut album, My Favorite Things, received a Grammy nomination for Best Instrumental Jazz Album, and his interpretation of Giant Steps earned a Grammy nomination for Best Improvised Jazz Solo.
Nov. 23 – ANNIE, 7:30 p.m., Donald L. Tucker Civic Center. The world's best-loved musical returns in time-honored form this fall. Directed by original lyricist and director Martin Charnin and choreographed by Liza Gennaro, this production of Annie will be a brand new incarnation of the iconic original.
Dec. 8 – The Hot Sardines – Holiday Stomp, 7:30 p.m., Opperman Music Hall. Bandleader Evan "Bibs" Palazzo and lead singer "Miz Elizabeth" Bougerol combine with the Sardine ensemble of powerhouse musicians — and their very own tap dancer — to play "hot jazz" as it was in the era when live music was king: with a little glamour, a little grit and a lot of passion. Even while giving voice to the history-defining jazz of the 1920s, 30s, and 40s, the Hot Sardines' vibrant performances bridge generations and captivate 21st century audiences.
Jan. 17 – Branford Marsalis Quartet with Special Guest Kurt Elling, 7:30 p.m., Opperman Music Hall. It's no secret that the Branford Marsalis Quartet can be as freewheeling off the bandstand as in performance. Saxophonist Marsalis, pianist Joey Calderazzo, bassist Eric Revis, and drummer Justin Faulkner are each bold personalities with strong opinions, equally intense in both musical and verbal exchanges.
Jan. 22 – Jeanne Robertson, 7:30 p.m., Richard G. Fallon Theatre. At 72, humorist Jeanne Robertson continues to charm audiences with her witty observations about life around her. With eight nationally released DVDs, three books, hundreds of hours on SiriusXM satellite radio and over 36 million YouTube hits, the demand for Robertson's family-friendly and engaging brand of comedy has grown exponentially.
Jan. 23 – Tom Segura, 7:30 p.m., Ruby Diamond Concert Hall. Tom Segura, a comedian for almost 20 years, has appeared on
 Conan, Not Safe with Nikki Glaser, Happy Endings, The Late Late Show and more. Segura's noted podcast, Your Mom's House, which he co-hosts with his wife, comedian Christina Pazsitzky, was a finalist for Best Comedy Podcast at the Stitcher Awards and was profiled by VICE.
Jan. 24 – Marc Maron, 7:30 p.m., Ruby Diamond Concert Hall. For more than 20 years, Marc Maron has been writing and performing raw, honest, and thought-­provoking comedy for print, stage, radio, television and more. A legend in the stand-­up community, Maron has appeared on many television talk shows, but he is perhaps most known for his thoughtful and compelling podcast, WTF with Marc Maron.
Feb. 1 – Southern Circuit Film Tour: Shake 'Em On Down, 7:30 p.m., Askew Student Life Cinema. Shake 'Em On Down is the story of Fred McDowell, the godfather of the North Mississippi style of blues and major influence on the music of the Rolling Stones, Bonnie Raitt, R.L. Burnside, Taj Mahal and the North Mississippi AllStars.
Feb. 3 – Amy Helm & The Handsome Strangers with Matt Andersen, 7:30 p.m., Fred Turner Auditorium at Tallahassee Community College. Amy Helm has won widespread praise as a singer, songwriter and live performer as a member of the New York-based folk music group Ollebelle. Helm will be joined by Matt Anderson, a powerhouse performer with a giant soul-filled voice and commanding stage presence, who has nearly 10 million views on YouTube, a 2013 European Blues Award, and the title of Best Solo Performer at the Memphis Blues Challenge.
Feb. 4 – Nora Jane Struthers & The Party Line with Kelsey Waldon, 7:30 p.m., Fred Turner Auditorium at Tallahassee Community College. Nora Jane Struthers has worked with bluegrass stars like Tim O'Brien, Stuart Duncan and Bryan Sutton and released two critically acclaimed albums. In 2012, Struthers formed the Party Line, a model-supporting band, a la the Heartbreakers or the Cardinals. Country music singer and songwriter Kelsey Waldon released her critically acclaimed debut LP The Goldmine in late 2014, and it received hefty praise fromRolling Stone, American Songwriter, USA Today, Billboard and many more.
Feb. 5 – PRISM in collaboration with the FSU College of Music, 2 p.m., Ruby Diamond Concert Hall. Featuring students from Florida State's top-ranked College of Music, PRISM offers a wide array of entertainment from Chamber Winds, Symphonic Band, jazz ensembles, the Marching Chiefs and many more exciting groups.
Feb. 6 – Vocalosity, 7:30 p.m., Ruby Diamond Concert Hall. Vocalosity is the live concert event from the creative mind of artistic producer Deke Sharon (Pitch Perfect, The Sing-Off) that takes a cappella to a whole new level. This fast-paced production features 12 dynamic voices singing some of today's chart-topping hits in brand-new arrangements too incredible to miss.
*Feb. 8 – Twyla Tharp Dance, 7:30 p.m., Ruby Diamond Concert Hall. Since graduating from Barnard College in 1963, Twyla Tharp has choreographed more than 160 works, received one Tony Award, two Emmy Awards, 19 honorary doctorates, the Vietnam Veterans of America President's Award, the 2004 National Medal of the Arts, the 2008 Jerome Robbins Prize and a 2008 Kennedy Center Honor. Her dances are known for creativity, wit, and technical precision coupled with a streetwise nonchalance.
Feb. 10 – An Evening of Classic Lily Tomlin, 7:30 p.m., Ruby Diamond Concert Hall. Lily Tomlin, one of America's foremost comediennes, continues to venture across an ever-widening range of media, starring in television, theater, motion pictures, animation and video. Throughout her extraordinary career, Tomlin has received numerous awards, including seven Emmys, a Tony for her one-woman Broadway show, Appearing Nitely, a second Tony for Best Actress, and a Drama Desk Award and an Outer Critics' Circle Award for her one-woman performance in Jane Wagner's The Search for Signs of Intelligent Life in the Universe.
Feb. 11-12 – Smokey Robinson, 7:30 p.m., Ruby Diamond Concert Hall. Once pronounced by Bob Dylan as America's "greatest living poet," acclaimed singer-songwriter Smokey Robinson's career spans over four decades of hits. He has received numerous awards, including the Grammy Living Legend Award, NARAS Lifetime Achievement Award, an Honorary Doctorate from Howard University, Kennedy Center Honors (2006) and the National Medal of Arts Award from the President of the United States, and he's also been inducted into the Rock 'n' Roll Hall of Fame and the Songwriters' Hall of Fame. During the course of his 50-year career in music, Robinson has accumulated more than 4,000 songs to his credit and continues to thrill sold-out audiences around the world with his high tenor voice, impeccable timing and profound sense of lyric. Never resting on his laurels, Smokey Robinson remains a beloved icon in our musical heritage.
Feb. 12 – Mandolin Orange, 2 p.m., Pebble Hill Plantation. It's hard to explain how magic happens when two talented songwriters fit perfectly together. Mandolin Orange (Andrew Marlin and Emily Frantz) seem to just sit back and ride their intuitive harmonies and languid lyricism through songs about faith and life's little unpredictable changes. Marlin's lyrics flow into each other, making the melody feel like something that happens on its own. It all feels so effortless and beautiful, you don't even realize you've been sucked in until the songs reach in and tug hard at your heart. – NPR Music
Feb. 13 – Richard Thompson & The Blind Boys of Alabama, 7:30 p.m., Ruby Diamond Concert Hall. Named by Rolling Stone as one of the Top 20 Guitarists of All Time, Richard Thompson is also one of the world's most critically acclaimed and prolific songwriters. The Blind Boys of Alabama have the rare distinction of being recognized around the world as both living legends and modern-day innovators. They are not just gospel singers borrowing from old traditions; the group helped to define those traditions in 20th century and almost single-handedly created a new gospel sound for the 21st.
Feb. 14 – Chris Botti, 7:30 p.m., Ruby Diamond Concert Hall. After hearing Miles Davis play "My Funny Valentine" at age 12, Botti instantly made a lifetime commitment to both mastering the trumpet and developing a deep affection for melody, space and balance, which has become an intrinsic aspect of his musical vision today. Now a major, Grammy-winning artist in his own right, performing worldwide with the likes of the Buddy Rich Big Band, Frank Sinatra, Paul Simon, Sting, and many more plus selling more than 3 million albums, Botti has found a form of creative expression that begins in jazz and expands beyond the limits of any single genre.
Feb. 15 – Lang Lang, 7:30 p.m., Ruby Diamond Concert Hall. If one word applies to A concert pianist Lang Lang, inspires millions with his open-hearted, emotive playing, whether it be in intimate recitals or on the grandest of stages such as the 2014 World Cup concert in Rio, the 56th and 57th Grammy Awards, the Opening Ceremony of the 2008 Beijing Olympics, the Last Night of the Proms at London's Royal Albert Hall or the Liszt 200th birthday concert.
Feb. 16-26 – Disney's Beauty and the Beast in collaboration with the FSU School of Theatre, Richard G. Fallon Theatre. It's a "tale as old as time." Based on the Academy Award-winning animated feature, Beauty and the Beast tells the classic fairy tale of Belle, a young French maiden who doesn't feel as if she belongs, and the Beast, a prince trapped in the body of a monster by the spell of an enchantress. In order for the Beast to become human again, he must learn what it means to love and be loved before the last petal of the rose falls. Disney's Beauty and the Beast is presented through special arrangement with Music Theatre International (MTI).
Feb. 17-March 26, FSU Museum of Fine Arts Exhibit: Broken Ground, New Directions in Land Art. Curator Jeff Beekman states that Land Art, one of the seminal art movements that began in the late 1960s, was largely born out of a frustration with the growing commercialization of the art world and the limitations of the traditional "white cube" gallery. At its core, this movement sought to tie together artwork and landscape to the point that the works were inextricably merged.
*Feb. 23 – Pablo Sáinz Villegas, 7:30 p.m., Opperman Music Hall. The soul of the Spanish guitar runs in Pablo Sáinz Villegas' blood. Born and raised in La Rioja, Spain, he is distinguished by performances as charismatic as they are intimate. With his singing tone and consummate technique, his interpretations conjure the passion, playfulness and drama of his homeland's rich musical heritage. Villegas has collaborated with orchestras in more than 30 countries, including the New York, Los Angeles, and Israel Philharmonics and the Boston, San Francisco, Houston and Toronto Symphonies.
March 7 – Rosi Golan, 7:30 p.m., The Carriage House at Goodwood Museum & Gardens. Rosi Golan is an Israeli-born singer-songwriter who has made many stops in her travels, including Germany, Paris, and finally ending up in Los Angeles. During her travels, she not only managed to hone her infectiously melodic songwriting, but she also learned to speak three languages fluently: French, Hebrew, and English. Golan has a unique talent for rich, dark melodies and a voice that not only draws you in in the present but still haunts you the next day. Golan was the winner of the first ASCAP Robert Allen Award for songwriting excellence, for which she performed at Lincoln Center.
March 9 – Taj Express, 7:30 p.m., Donald L. Tucker Civic Center. Taj Express explodes with the sounds of India and Bollywood, capturing the vibrant, expressive spirit of the world of Bollywood movies that have been entertaining billions of people in India for generations. Through a fusion of film, dance, and music, this dazzling international sensation takes audiences on a live cinematic journey through modern Indian culture and society.
*March 23 – Manual Cinema, 7:30, Richard G. Fallon Theatre. Manual Cinema is a performance collective, design studio, and film/video production company founded in 2010 by Drew Dir, Sarah Fornace, Ben Kauffman, Julia Miller and Kyle Vegter. Manual Cinema combines handmade shadow puppetry, cinematic techniques and innovative sound and music to create immersive visual stories for stage and screen.
March 25 – A Movie You Haven't Seen, 7:30 p.m., Askew Student Life Cinema. Since its inception in 1999, Opening Nights has presented an annual "movie you haven't seen." Silent films, local creations, Oscar nominees and international film circuit delights — each film has added to the collective cinema experience in Tallahassee. Our selected film will be appropriate for all audiences unless otherwise expressed and will include a panel discussion with industry professionals.
March 29 – Southern Circuit Film Tour: Some Beasts, 7:30 p.m., Askew Student Life Cinema. Living in an insular farming community, Sal Damon, a modern-day Thoreau, seeks solace from a past relationship in Appalachia. After his neighbor dies, and he discovers a feral child living on the lam, he must reconcile his place in a world that lives outside of the law.
April 1 – Patti LuPone, 7:30 p.m., Ruby Diamond Concert Hall. Patti LuPone is an internationally praised singer and actress who is best known for her work in stage musicals. She is a two-time Grammy Award winner and a two-time Tony Award winner, and she also was an American Theater Hall of Fame inductee in 2006. She won the Tony Award for Best Actress in a Musical for her role as Eva Perón in the 1979 original Broadway production of Evita and also won a Tony Award for her role as Mama Rose in the 2008 revival of Gypsy.
April 4 – Anne-Sophie Mutter, 7:30 p.m., Ruby Diamond Concert Hall. For over three decades, Anne-Sophie Mutter has been one of the most acclaimed violin virtuosos of our time. Since her Lucerne Festival debut in 1976 and 1977 Salzburg debut with Herbert von Karajan, she has performed concerts in all the major music centers of Europe, North and South America and Asia. In addition to performing major traditional works, she has continually treated her audiences to new and innovative range, both in chamber music and orchestral works.
*April 13 – Wayne Shorter Quartet, performing The Unfolding, with the FSU Chamber Winds conducted by Richard Clary, 7:30 p.m., Ruby Diamond Concert Hall. Wayne Shorter is one of the most influential saxophonists and composers in the pantheon of modern music, let alone jazz. Regarded as a pioneer since his emergence in the 1950s, Shorter's trajectory has restlessly embodied continual exploration and unencumbered momentum. A generation of musicians and fans see and hear him as a humble master who created a timeless vocabulary as vital as it is unbound. The Unfolding is a contemporary work commissioned by Opening Nights Performing Arts, the John F. Kennedy Center for the Performing Arts, the Monterey Jazz Festival, and the Jazztopad Festival (Wroclaw, Poland). This new piece is inspired by recent scientific interpretations of the Big Bang theory that describe the expansion of the universe as an "unfolding" of matter in the time and space continuum.
April 19 – Southern Circuit Film Tour: Hunky Dory, 7:30 p.m., Askew Student Life Cinema. After his ex-girlfriend disappears, Sidney, a transgender glam rock dilettante, is forced to look after his 11-year-old son full-time. His "cool dad" facade quickly falls apart, and his life goes into a tailspin as he struggles to let go of his rock-and-roll lifestyle.